Roller Coaster Ride Ends On A High
After shares of Relypsa (NASDAQ:RLYP), maker of the hyperkalemia treatment Veltassa (pictured above), spiked 67% in April on a buyout rumor, we wrote about a way Relypsa longs could lock in most of their gains (Relypsa: Protecting Your Gains). A couple of weeks later, after sharing biotech analyst Julia Skripka-Serry's take on the likelihood of a near-term buyout, we suggested hedged Relypsa longs consider buying-to-close the call legs on their collars when they could do so cheaply, to eliminate their upside caps (Consider This Course Correction).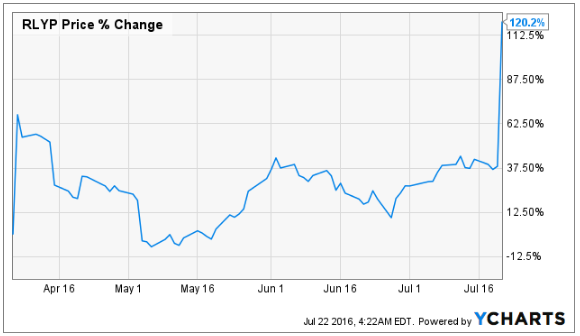 After reading the news that Galenica (OTC:GNHAY) would buy Relypsa, we checked back in with Skripka-Serry to congratulate her and see what other acquisition targets were on her radar. More on that below. First, let's recap the original hedge, how the course correction enabled hedged longs to participate in the post-acquisition announcement upside, and why we suggested it.
April 8th's Optimal Collar Hedge:
As of April 8th's close, this was the optimal collar to hedge 400 shares of RLYP against a greater-than-24% drop by mid-September, while not capping an investor's upside at less than 20% by the end of that time period (These screen captures are from the Portfolio Armor iOS app)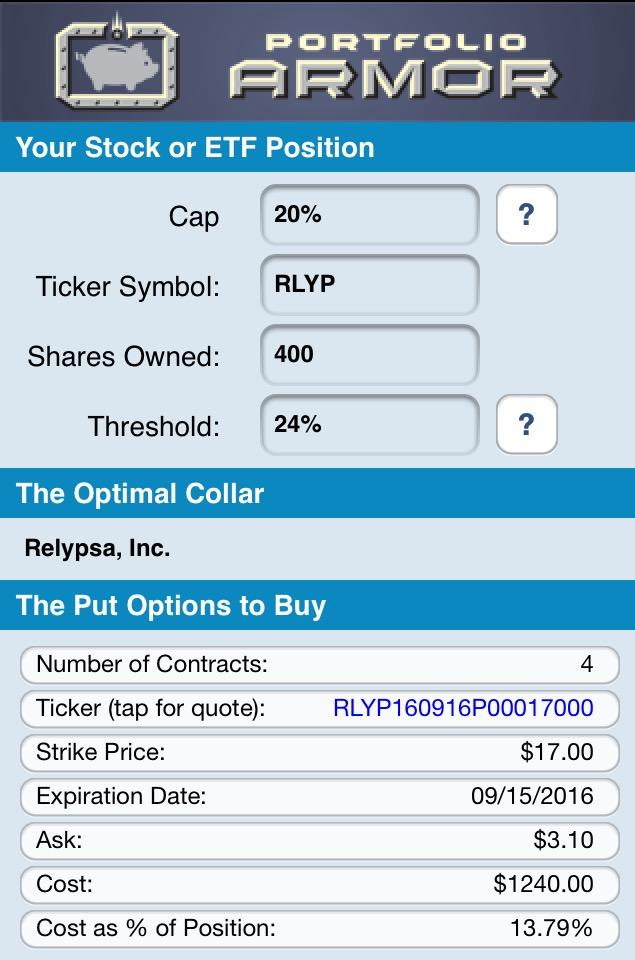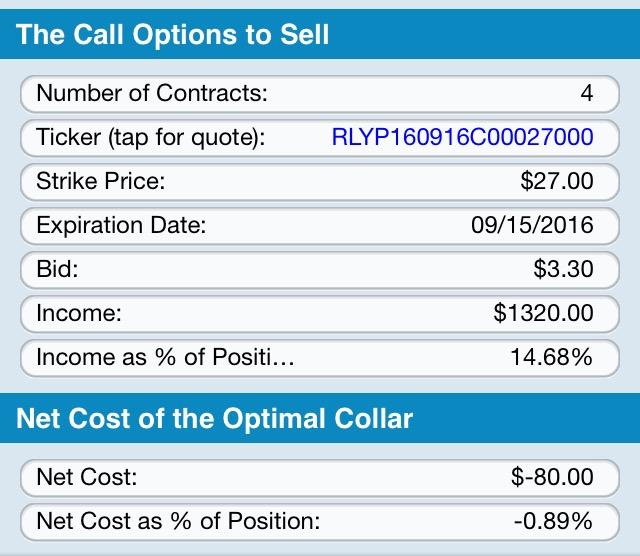 Two points to note here:
The reason we presented a collar in April was because the cost of hedging Relypsa with put options then was extremely high: more than 25% of position value, to hedge against a greater-than-28% decline. On the contrary, the cost of this hedge was negative, meaning an investor would have collected an amount equal to $80, or 0.89% of his position value when opening the hedge. And this hedge would limit the investor's downside to a lower decline (24%) than the puts.
The tradeoff for that negative cost was capping your upside at the $27 strike price, for a gain of about 20%. Our suggested course correction was to eliminate this cap, when it was cheaper to do so, after the stock had pulled back. Hedged investors who eliminated the cap will be able to exit near the buyout price of $32 per share, rather than at $27.
Why We Suggested The Course Correction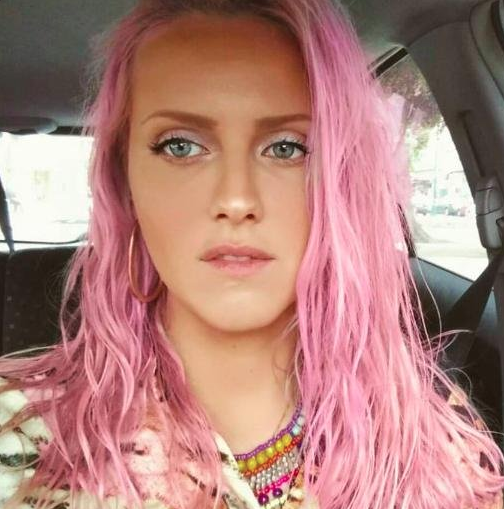 We suggested the course correction after our correspondence with Julia Skripka-Serry (pictured above; photo via her Twitter profile). As we noted at the time, she has a master's degree in computational drug discovery from the University of Edinburgh, and a master's in synthetic biology from Imperial College in London. She works as a biotech analyst for a hedge fund in Israel. Readers of our article on the collapse of Tetraphase Pharma (NASDAQ:TTPH) last year may recall she weighed in there with some insightful comments.
On April 16th, we asked her what she thought the end game for Relypsa was. In her response, screen captured below, she referred to ZS Pharma (NASDAQ:ZSPH), Rockwell Medical (NASDAQ:RMTI), Sucampo Pharmaceuticals (NASDAQ:SCMP), and Ironwood Pharmaceuticals (NASDAQ:IRWD). "PDUFA" refers to the Food & Drug Administration's Prescription Drug User Fee Act. Following up while writing this article, we asked if she were long any of these stocks; she said she's been long RLYP for 7 months.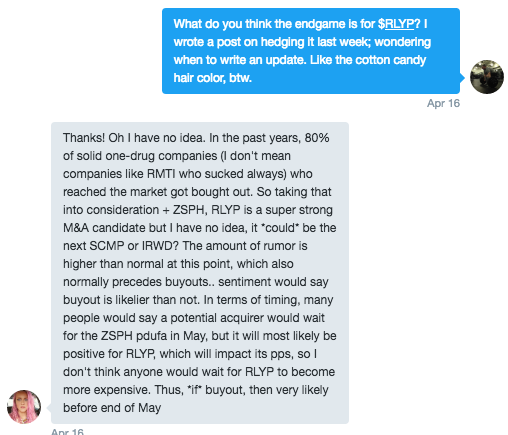 Skripka-Serry's Suggestions On Future Acquisition Targets
Skripka-Serry was, of course, right about the buyout, but wrong about the timing (and underwhelmed by the acquisition price), as she self-deprecatingly pointed out when we congratulated on the buyout news early Friday morning: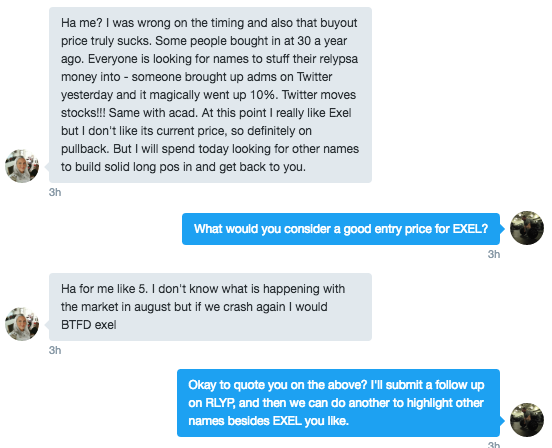 Julia made an interesting point about the impact of Twitter (NYSE:TWTR) on moving the share prices of names such as Adamas Pharmaceuticals (NASDAQ:ADMS) and Acadia (NASDAQ:ACAD) (readers of our recent article, Twitter Jumps The Shark, may recognize this as another example of the disconnect between Twitter's potential and the way that company is being run). After mentioning Exelixis (NASDAQ:EXEL) as a name on her correction shopping list, she offered some insight on what sorts of companies to look for as likely acquisition candidates: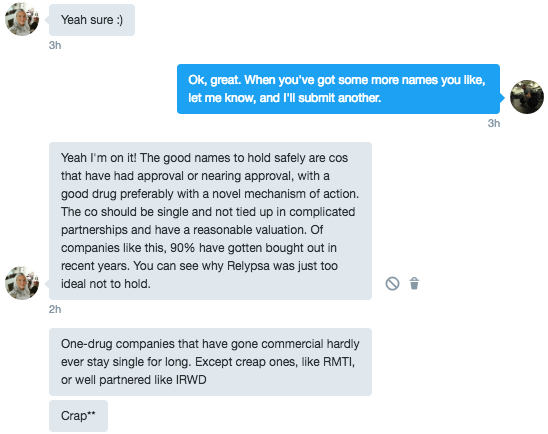 Julia's mention of IRWD reminded her of another potential buyout candidate, Synergy Pharmaceuticals (NASDAQ:SGYP), which she thought might prove attractive to Allergan (NYSE:AGN):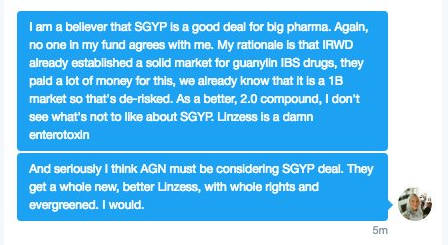 She added that she would consider Synergy a speculative buy at this point. When she has more names to consider, we'll pass them along. In the meantime, congratulations to those of you who made money on Relypsa.
Disclosure: I/we have no positions in any stocks mentioned, and no plans to initiate any positions within the next 72 hours.
I wrote this article myself, and it expresses my own opinions. I am not receiving compensation for it (other than from Seeking Alpha). I have no business relationship with any company whose stock is mentioned in this article.