Kimberly-Clark (NYSE:KMB) sells the types of things we use every day, from diapers to toilet paper. In an economic downturn the products the company sells will still need to be purchased. So, in some ways, it's a good all-weather stock. But only if you don't overpay. And right now, Kimberly-Clark looks expensive. Second quarter earnings aren't likely to change that.
Necessities
One of the big things to like about Kimberly-Clark is what it sells. Basic necessities that you aren't likely to stop buying for any reason. Toilet paper is a great example, but so are diapers, feminine care products, tissues, and even paper towels. And more often than not, customers have a particular brand they are loyal to in these categories, which increases stickiness. From a big picture perspective, Kimberly-Clark is worth a deep dive.
Add in a dividend that's been increased for 44 consecutive years and income investors should start paying really close attention. Dividend increases, meanwhile, have averaged nearly 7% annually over the past decade, easily besting the historical rate of inflation-meaning Kimberly-Clark investors are getting real "pay raises" over time. If you are an income-focused investor, you might be tempted to put Kimberly-Clark on your buy list right now.
But there's one small problem... Price.
Too expensive
There's a lot of value in the business and history at Kimberly-Clark, but if you overpay for it you'll be putting yourself at a disadvantage over time. For example, the yield on the shares today is around 2.75%. The five year average for the stock is 3.2%, 15% higher than the current yield. And while the yield is higher than what you'd get investing in an S&P 500 clone, that doesn't mean it's a good deal compared to the company's own history. In fact, the current yield is hovering at 10-years lows.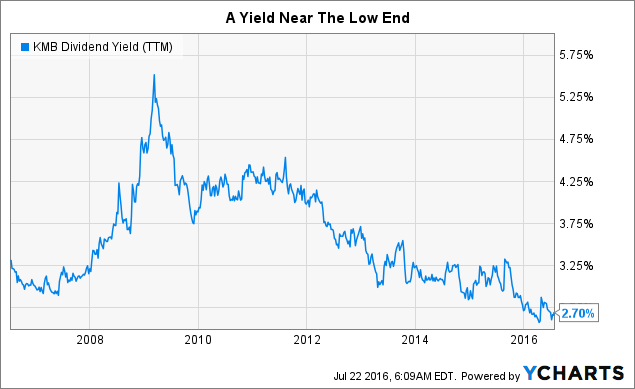 KMB Dividend Yield (TTM) data by YCharts
But that's not the only metric that's toward the high end for Kimberly-Clark. The trailing P/E is roughly 44 compared to the five year average of 24. To be fair, the 44 PE is based on depressed earnings because of one-time items in the second quarter of last year. But price to sales is 50% over the five year average and price to cash flow is 20% above the five year average. In other words, Kimberly-Clark doesn't look cheap on any of these key metrics. Add in the stock price near all time highs and investors looking for a bargain should pass this one by, at best putting it on their wish list.
Second quarter results
Which brings us to the second quarter. The charges last year will drop off the trailing year earnings figure, so the PE will come down. But it's highly unlikely it will come down enough to push Kimberly-Clark into bargain territory. Even the forward PE of 22, when looked at in conjunction with the other valuation metrics and the relatively low yield, isn't enough to suggest new investors would be getting in on the cheap today. And forward PE is based on analyst estimates, which often prove overly rosy.
And there's not likely to be enough good news-which might give at least some fundamental reason to expect higher prices-in the quarter to make the future look any different than it does today. For example, currency values are still volatile, select countries around the world are still experiencing difficulties, and organic sales are growing at a modest pace. That said, I wouldn't expect anything from the second quarter that would be overly troubling, either.
In other words, it's the same old story right now. And Mr. Market isn't likely to get too depressed (offering up a bargain price) or too much more elated (pushing the stock even higher). Current shareholders will likely be happy with second quarter earnings, but new investors should stay on the sidelines waiting for a better price. Eventually mercurial Mr. Market will get unduly bearish and Kimberly-Clark will go on sale.
Disclosure: I/we have no positions in any stocks mentioned, and no plans to initiate any positions within the next 72 hours.
I wrote this article myself, and it expresses my own opinions. I am not receiving compensation for it (other than from Seeking Alpha). I have no business relationship with any company whose stock is mentioned in this article.