Source: Duke Energy
While regulated utilities are usually thought of as boring, low volatility, high-yield dividend stocks, that doesn't mean that these companies can't reward long-term investors with some amazing, market crushing returns.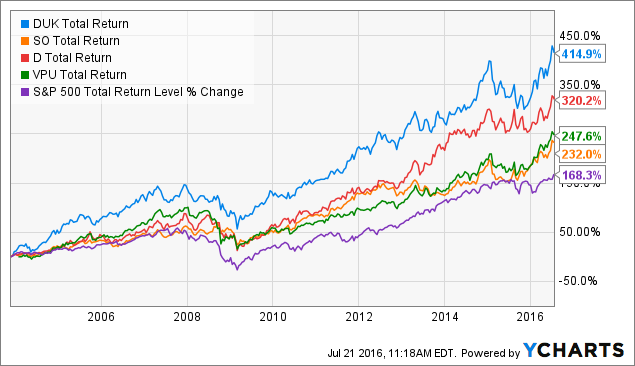 DUK Total Return Price data by YCharts
However, while Southern Company (NYSE:SO) and Dominion Resources (NYSE:D) have both put up very solid total returns over the past 12 years, neither of them can hold a candle to Duke Energy's (NYSE:DUK) 14.6% annual return over that time.
Read on to find out three important things dividend investors need to know about Duke Energy. Factors that could decide whether or not it is likely to keep its impressive long-term track record of industry and market beating returns going strong in the years, and decades to come.
Q1's poor results aren't anything to worry about
| | | | |
| --- | --- | --- | --- |
| Metric | Q1 2016 | Q1 2015 | Year-Over-Year Change |
| Revenue | $5.622 Billion | $6.065 Billion | -7.3% |
| EPS | $1.01 | $1.22 | -17.2% |
| Adjusted EPS | $1.13 | $1.24 | -8.9% |
| Quarterly Dividend | $0.825 | $0.795 | 3.8% |
| Payout Ratio | 81.7% | 65.2% | 25.3% |
While Duke Energy's most recent results seem rather frightening for a slow and steady utility, in fact investors need to realize that Duke has a track record of this kind of earnings volatility due to management's willingness to periodically switch up its business model.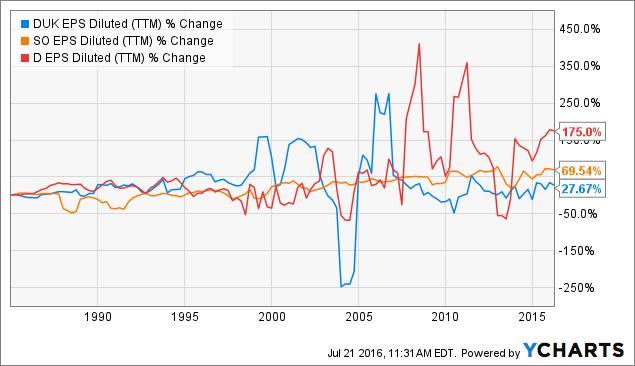 DUK EPS Diluted (TTM) data by YCharts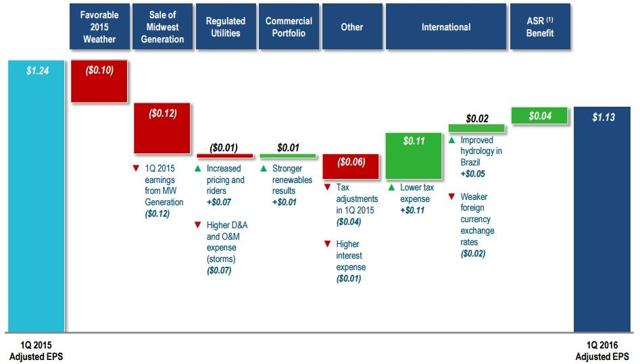 Source: Duke Energy Q1 earnings presentation.
In this case the fall in revenue and earnings was largely attributable to two factors. The largest was last year's sale of the company's midwest generation business to Dynegy (NYSE:DYN) for $2.8 billion. In addition, severe winter storm damages that knocked out power for 1.1 million customers in the Carolinas also contributed to the poor quarterly results.
In fact, about the only thing that should concern Duke investors about the previous quarter is the fact that management spent 54% or $1.5 billion of the money it got from Dynegy to do a $1.5 billion accelerated buyback of 19.8 million shares.
While this 2.8% reduction in total share count did boost EPS by $0.04, I view it as a mistake for three reasons.
First, Duke has a larger than average debt load, which, as I'll explain later in this article, poses certain risks to its growth plans. Thus, management would have been wiser to pay down 6.3% of its debt with the cash from its Midwest generation sale.
Second, Duke Energy isn't a company that consistently reduces its share count.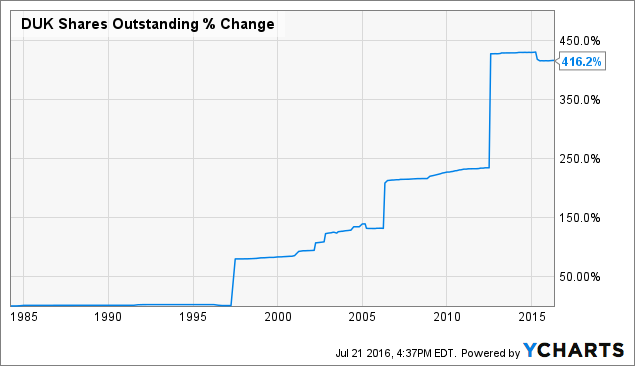 DUK Shares Outstanding data by YCharts
In fact Duke has a track record of using equity to finance acquisitions and various growth endeavors. In other words, if history is any judge Duke will undo this one-time buyback, meaning the accretive EPS benefit will be undone.
In the meantime that money is now gone, spent acquiring shares at a time when Duke is trading at its highest price to tangible book value in the past 10 years.
Duke Energy is once more evolving its business model

Source: Duke Energy investor presentation.
Duke Energy is in the process of transforming its business model once again by selling off its Latin America power generation segment in order to focus on its core US electricity and natural gas businesses.
Personally I'm not sure this is a wise move, given the fact that Duke's international generating business saw its segment income soar 253% this quarter compared to Q1 of 2015. In fact, it was largely due to this boost in Latin American earnings, due to improved hydrology at its Brazilian hydroelectric dams, that Duke's earnings decline wasn't far even worse.
And while Brazil's economy is going through a terrible recession at the moment, as is much of Latin America, this region of the world also provided much needed diversification of revenue and cash flows. Not to mention that much of the world's future economic growth will come from developing markets such as Brazil.
Then again, I do understand where management is coming from. After all, while its Brazilian revenue was much improved this quarter, the strong dollar did result in negative currency effects that partially offset this benefit.
In addition, management believes that this "non-core" business segment's profitability is dragging down Duke's overall margins, which are weaker than competitors such as Southern Company and Dominion Resources.
| | | | | | |
| --- | --- | --- | --- | --- | --- |
| Utility | Operating Margin | Net Margin | Return on Assets | Return on Equity | Return on Invested Capital |
| Duke Energy | 22.8% | 11.5% | 2.2% | 6.5% | 4.95% |
| Southern Company | 24.7% | 13.6% | 3.1% | 11.5% | 5.21% |
| Dominion Resources | 30.5% | 16.9% | 3.3% | 15.2% | 6.39% |
| Industry Average | 25.0% | 12.8% | 3.3% | 11.1% | NA |
Management believes that a 100% core business segment model will result in stronger future long-term earnings growth of 4% to 6%. This potential margin expansion could serve as the catalyst for a strong boost in future dividend growth and thus continued strong share price gains.
Potentially brighter dividend future
| | | | | | |
| --- | --- | --- | --- | --- | --- |
| Utility | Yield | Q1 2016 Dividend Payout Ratio | 10 Year Historical Dividend Growth | 10 Year Projected Dividend Growth | 10 Year Projected Total Return |
| Duke Energy | 4.0% | 81.7% | -0.3% | 3.7% | 7.7% |
| Southern Company | 4.2% | 84.7% | 4.0% | 3.7% | 7.9% |
| Dominion Resources | 3.6% | 83.3% | 7.1% | 5.6% | 9.2% |
| S&P 500 | 2.0% | 37.9% | 5.8% | 5.8% | 9.1% |
As you can see, analysts currently expect Duke's dividend growth over the next decade to remain near its 2015 and 2016 growth rates of 3.8% and 3.6%, respectively. Under the rule of thumb that long-term total returns equal yield + dividend growth that isn't likely to generate returns equal to the S&P 500's historical 9.1% CAGR since 1871. However, investors need to keep three things in mind about these growth forecasts.
First, all long-term analyst projects need to be approached with a sense of skepticism because they represent educated best guesstimates only.
Second, Duke's payout ratio is low enough to ensure both strong dividend security, as well as allow for a few years of dividend growth outpacing earnings growth.
Finally, if management can deliver on its plan of 4% to 6% long-term earnings growth then it's possible that it could actually grow the dividend much faster than the market currently expects. That in turn could result in continued strong total returns, such as Duke has delivered over the past dozen years.
That's especially true given that Duke is expecting to soon close on its $4.9 billion acquisition of Piedmont Natural Gas (NYSE:PNY). That will add 1 million natural gas customers, nearly tripling the size of its current natural gas business. Better yet, the Piedmont acquisition should help Duke in its diversification away from coal powered energy generation on which it is far too reliant.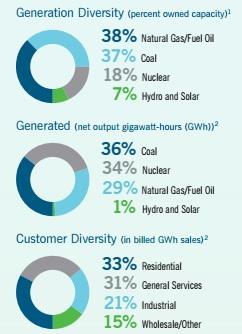 Source: Duke 2015 Annual Report
Not only will increased use of natural gas generating plants mean less political regulation risk going forward, but as you can see, natural gas is currently far cheaper than coal.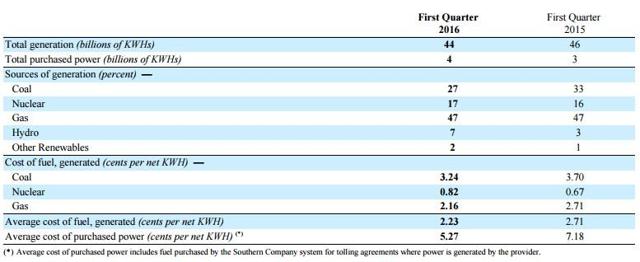 Source: Southern Company Q1 2016 10-Q
This means that a shift to more gas fired capacity should help Duke boost its margins and achieve its earnings and dividend growth potential.
Finally, another key long-term growth driver is Duke's investment into renewable wind and solar power. Currently Duke owns 22 wind farms and 38 solar power projects in 11 states that generate 2.4 GW of its 58 GW of electrical capacity. However, the company has another 500 MW of wind and solar capacity planned, representing 21% growth of its renewable portfolio.
The International Renewable Energy Agency expects solar and wind generating costs to fall by as much as 60% by 2025. Combined with continued strong growth into green energy, this could mean potentially substantial margin improvement for Duke, resulting in the kind of stronger dividend growth that could fuel ongoing market beating returns.
Now investors need to understand that while Duke's solar and wind business is growing like a weed, (286% year-over-year in Q1), it still only represents 3.2% of Duke's total segment income. Thus, it will likely take a few more years of strong investment into solar and wind before the company's commercial segment can provide the kind of cash flow diversification Duke will be losing with the upcoming sale of its international generation business.
Risks to consider
There are three risks that current or potential Duke investors need to keep in mind.
First, Duke's strong performance over the past year has left it highly overvalued, at least relative to its historic norms; far more so than rivals like Southern Company and Dominion Resources. In fact, on a price to tangible book basis, Duke Energy is now more overvalued than 64% of all publicly listed regulated utilities.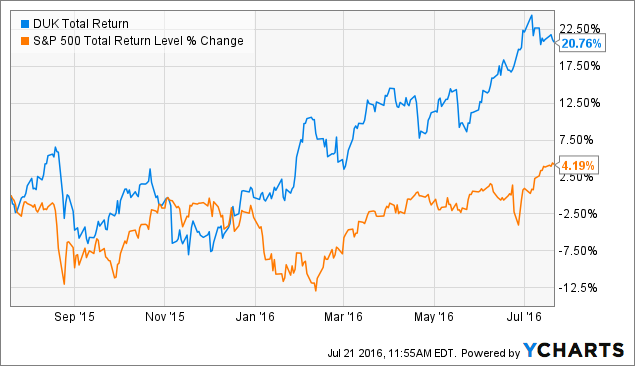 DUK Total Return Price data by YCharts
| | | | | | | | |
| --- | --- | --- | --- | --- | --- | --- | --- |
| Utility | Yield | 5 Year Average Yield | PE | Historical PE | P/TBV | Historical P/TBV | Average Historical Premium |
| Duke Energy | 4.0% | 4.4% | 19.5 | 17.7 | 2.48 | 1.41 | 31.7% |
| Southern Company | 4.2% | 4.5% | 19.7 | 16.8 | 2.37 | 2.12 | 11.9% |
| Dominion Resources | 3.6% | 3.6% | 22.0 | 23.3 | 4.83 | 3.38 | 12.4% |
That means that we could see a strong short-term pullback in Duke's share price, especially should the Federal Reserve raise interest rates in September. While that would be great for long-term investors, retirees who need to sell shares to fund expenses over the next year probably shouldn't be buyers at this time.
And a September rate hike that negatively impacts interest rate stocks such as utilities might not be the only one investors face this year. Atlanta Fed President Dennis Lockhart thinks that current strong economic growth, if it's maintained through the end of the year, might call for as many as two interest rate hikes in 2016.
Speaking of rising interest rates investors need to know that Duke's balance sheet is more leveraged than most of its peers.
| | | | | | | |
| --- | --- | --- | --- | --- | --- | --- |
| Utility | Debt/EBITDA | EBITDA/Interest | Debt/Equity | Current Ratio | Average Debt Cost | S&P Credit Rating |
| Duke Energy | 4.72 | 5.40 | 1.10 | 0.73 | 3.93% | A- |
| Southern Company | 4.32 | 7.89 | 1.23 | 0.70 | 2.94% | A- |
| Dominion Resources | 5.49 | 5.83 | 2.25 | 0.49 | 3.13% | BBB+ |
| Industry Average | 3.01 | NA | 0.81 | 0.80 | NA | NA |
While hardly at dangerous levels, Duke's current $43.8 billion in total debt could result in higher interest costs slowing future earnings and dividend growth if rates rise. That's because the company is currently able to borrow at extremely low levels. For example, it recently sold 30-year bonds at a coupon under 3.9%.

Source: Duke Energy Q1 2016 Earnings presentation.
If rates do rise over the coming years, refinancing its debt is likely to require issuing new debt at higher interest rates.
Finally, be aware that Duke's dividend track record is far weaker than those of some other utilities. For example, in 2007 it slashed its payout 32% in order to invest in future growth opportunities in Latin American power generation, which Duke is now planning to sell off. The dividend was still sustainable, however, at the time management wanted to keep its payout ratio under 75%, which required the sharp payout cut.
The risk is that, with its track record of periodically re-inventing itself, Duke may end up cutting its dividend in the future, even if it's well covered by earnings. Which means that investors in Duke need to trust management to either avoid diversifying into areas outside its circle of competence. Or, if management does decide to reduce the dividend in order to invest redirected dividend funds to new growth opportunities, investors need to have confidence that those endeavors will turn out better than its failed experiment into Latin American power generation.
While Duke's total returns over the past 12 years certainly indicate that such trust may be warranted, none the less, those seeking steady and bank vault safe dividends may want to look elsewhere for their high-yield needs.
Bottom line: Duke Energy remains a solid energy blue chip but investors need to be prepared for a short-term correction and potentially shifting future business models.
Don't get me wrong, if you already own Duke and have a long enough time horizon then even today's share price represents a decent high-yield income investment. However, given the utilities' fantastic performance over the past year it's trading at a steep premium to its historical valuation.
Which is why I recommend watching Duke Energy closely and using any short-term corrections as a chance to buy at an even more attractive yield, thus lowering your cost basis and improving future total returns.
Disclosure: I/we have no positions in any stocks mentioned, and no plans to initiate any positions within the next 72 hours.
I wrote this article myself, and it expresses my own opinions. I am not receiving compensation for it (other than from Seeking Alpha). I have no business relationship with any company whose stock is mentioned in this article.