Stocks discussed on the in-depth session of Jim Cramer's Mad Money Program, Thursday, July 21.
Stocks are losing their charm with investors. As per a recent Bankrate survey of 1,000 adults with the question what would they do with their money if they didn't need it for 10 years, 25% said they would buy real estate, 23% would keep cash and only 16% would invest in stocks and gold. "As someone who has lived and breathed stocks for most of my life, this is a horrendous finding. But it's not surprising," said Cramer.
Waves of mistrust and fear have led investors to flee the stock market. Be it the dot-com crash of 2000, or the Great Recession in 2008 or the Flash Crash in 2010, investors' money has been snatched away many times. Even some banks did not play by the rules, causing the entire market to suffer. Hence, after the Brexit vote, the market saw one of the biggest redemptions ever.
That does not mean real estate or cash are better choices. A lot of people lost money in the housing crash seven years ago. Keeping cash in the bank for 10 years would mean losing money due to inflation. Gold is a good option, but it's not diversified in itself. "If you can find stocks of high-quality companies with good balance sheets that pay strong dividends and have a bit of growth, I think you could crush the returns of those other asset classes over a 10-year period, provided you reinvest the dividends," said Cramer.
Putting the first $10,000 in a low-cost diversified index fund is a better option. After that, every $1 out of $10 should be allocated to individual stocks that are a mixture of high growth, slow growth and income. The dividends should be re-invested to take advantage of compound interest. "The market may not be the only gain in town, but in the end, stocks are a crucial part of your savings, and I am urging you not to abandon them completely," added Cramer.
Over the next 10 years, investors can do much better with stocks, as other alternatives are weak.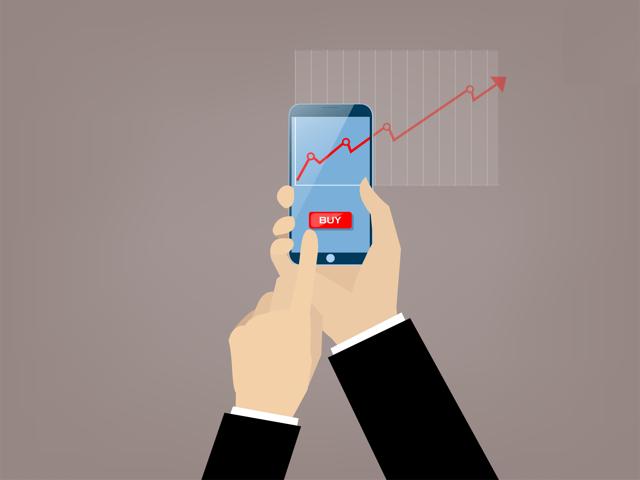 CEO interview - Domino's Pizza (NYSE:DPZ)
Domino's blew out the analyst estimates with better-than-expected revenue and profit growth, along with a 9.7% increase in domestic same-store sales. Investors cheered the quarter, which sent the shares up 5.6% to their all-time high. Cramer interviewed CEO Patrick Doyle to know more about the quarter.
Doyle mentioned that the last quarter was good, and hence, it gave the company an opportunity to buy back 1.8M shares for $224.1M. He believes it's a good way to make cash work for shareholder returns. "Happily, the second quarter came in very, very strong. So, we are really happy with the momentum of our business," he added.
Domino's loyalty program is seeing a meaningful impact on orders and repeat order from customers. Its new "no-click" app, which places a user's favorite order without a click, helped boost sales.
Doyle also believes rising labor costs is a good thing, as it signifies the economy is heating up and demand is growing. Outside the US, Germany and India were very good, with India being the company's biggest market. Cramer remains bullish on Domino's.
CEO interview - Campbell Soup (NYSE:CPB)
Campbell Soup is transforming itself into a natural and organic powerhouse. The stock is up 20% in 2016, and there is a lot of growth ahead. Cramer interviewed CEO Denise Morrison, who believes there is a major revolution happening in the food industry.
Morrison is seeing a change in trend of venture capitalism, as more than 400 start-ups have received $8B in funding since 2010. "It's disruption going on in the whole ecosystem of food. From buy, make, sell, deliver. And it's pretty stunning. The entrepreneurial spirit has moved from the garage in high-tech to the kitchen in food," she said.
Morrison took over as CEO five years ago and has transformed the company from a classic pantry play on soup to one with fresh, natural and organic exposure. Campbell has bought large organic food companies in the last 4 years. "We believe that we need to participate in this, so you can either lead change or be a victim of it. I'd much rather lead it," said Morrison.
The company is growing with innovation, including interest in VC and M&A. "Consumer preferences for food have changed radically. I call them seismic shifts," she said. Campbell intends to make foods that come from plants or animals and are ethically sourced. "Sustainability is important, because we all are responsible to nourish our planet. And real food should be delicious, safe, affordable and accessible to all. All without compromise," she said.
CEO interview - Snap-on (NYSE:SNA)
Snap-on delivered a $0.13 earnings beat with lighter-than-expected revenue. Some investors were disappointed with 2.4% revenue growth, which led the shares to fall 3.4%. Cramer believes the fall in the stock was due to the run-up before the quarter. "I think this could be an instance where the market's harsh verdict may turn out to be wrong, in which case you might want to consider buying the stock into weakness," he said. He interviewed Nick Pinchuk to know more about the quarter.
Pinchuk mentioned that the company had strong growth in its tools division, but was hurt by the military and international aviation areas. "The U.S. aviation was up, power generation was up. So, if you eliminated those two difficult areas the total business would have been up close to 5%," he added.
As far as the finance business is concerned, it's a strategic arm for the company and it has been in the business for over 50 years. The company's lending has increased, but the delinquency rate has remained the same. As it moves into high-ticket items, lending is bound to increase.
Pinchuk mentioned that Snap-On's growth potential is high, as with automated, driverless cars on road, more precision will be required, which will lead to the need for and use of more tools. Cramer thinks the decline in the stock is an opportunity.
Joy Global (NYSE:JOY)
The move seen in the charts of Joy Global baffled Cramer. Apparently, the charts were right, as Komatsu agreed to acquire Joy Global at a 20% premium. This is a 129-year old company that makes and services mining equipment predominantly used for coal. There are only a handful of publicly traded companies related to coal.
"Musk manifesto or not, we know there aren't going to be any new coal plants built in this business, and that the sustainable sources of energy that the man behind Tesla pushes relentlessly are the future," Cramer noted.
With the collapse of coal, Joy Global stock also collapsed. "Komatsu's bid is also a very welcome sign for the industrials to sell into China. The Japanese bidder wouldn't make this offer if it felt China was about to falter again industrially," said Cramer. This shows that the charts were right, and the movement was not errant buying, but accumulation.
Viewer calls taken by Cramer
Southwest Airlines (NYSE:LUV): There are fare wars everywhere, but Cramer does not want to give up on the company. It is a tough space, but Southwest is good.
Whirlpool (NYSE:WHR): This group is not stable, as Sherwin-Williams (NYSE:SHW) got hurt even after a good quarter.
Unilever (NYSE:UL): The company's Dollar Shave Club acquisition was good.
:::::::::::::::::::::::::::::::::::::::::::::::::::::::::::::::::::
Jim Cramer's Action Alerts PLUS: Check out Cramer's multi-million dollar charitable trust portfolio and uncover the stocks he thinks could be HUGE winners. Start your FREE 14-day trial now!
Get Cramer's Picks by email - it's free and takes only a few seconds to sign up.