The telecom sector continues to outperform the overall market as investors embrace what can be termed as risk off assets. The two largest entities in the space Verizon (NYSE:VZ) and AT&T (NYSE:T) are highly prized for their above-average dividend, especially in today's yield starved marketplace. I have decided to sell my stake in T-Mobile (NASDAQ:TMUS) as will be outlined below.
Fierce Rally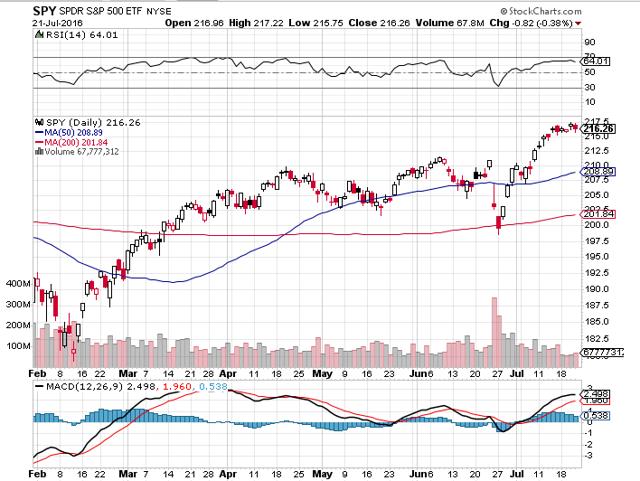 The market continues its strong run after the initial shock of Brexit. The fierce rally has pushed the SPY past prior resistance to a new all-time high. Barring a sudden sell-off, the index should mark a new all-time weekly high extinguishing a significant portion of the bears' thesis.
The bears are not vanquished; they remain firmly in hibernation waiting for their chance to take the market down. With earnings season upon us, I suspect they will be given the opportunity to wreak havoc on individual names. Notice the RSI shown above; the index is closing in on the 70 number indicating the market is overbought here. It is often wise to avoid purchasing equities when the market is overbought; typically, a better opportunity will reveal itself.
Telecom
The telecom sector remains a defensive industry with muted growth prospects. The largest players in the industry, T and VZ, return a significant portion of their free cash flow to investors via a quarterly dividend. The industry requires a consistent outlay of Capex to upgrade and maintain their networks often requiring copious amounts of debt. Take a look at the weekly chart below of the Vanguard Telecom Services ETF (NYSEARCA:VOX-OLD). The chart turned parabolic on the 14th of July, as the ETF is deeply overbought here. A flash alert was sent out to members of the Undervalued Gems Investment Service to take profits in TMUS. A brief review of the investment case for TMUS can be seen below.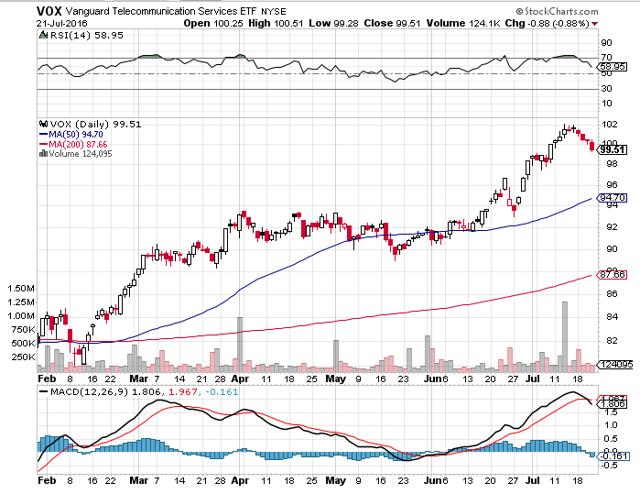 EBITDA Growth
TMUS remains a growth play in the telecom space as they continue to build out their network and gain share. The best metric to value TMUS is EBITDA growth, the table below courtesy of Finbox.io illustrates my fair value on TMUS. To see the full calculations used, click the hyperlink above. TMUS is assigned a WACC of 8.5% with an EBITDA exit value of 6.5 in line with historical values.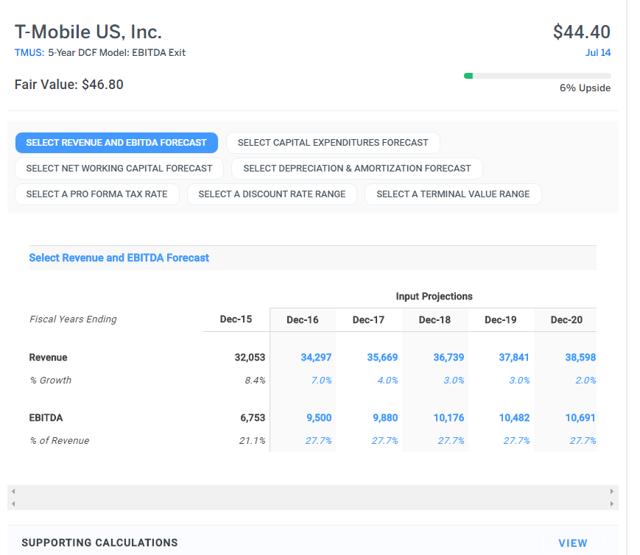 EBITDA growth continues at a brisk pace, I have factored in flat margins through 2020, as interest rates will inevitably rise negatively impacting TMUS's ability to grow margins. Keep in mind, the telecom space requires continues Capex spend with frequent debt underwriting. For example, the ongoing spectrum auction will require a significant outlay of funds not to mention the eventual buildout of a 5G network.
As shown above, my fair value target for TMUS is $46.80, not far off from its current trading price. In my view, the risk-reward set-up here is less than favorable, hence my decision to exit TMUS at $42.55 per share for a 17% gain in a less than six-month holding period. The funds are held in reserve awaiting the next opportunity.
TMUS continues to perform superbly as it remains locked in a power struggle to gain share from the most entrenched players such as T and VZ. TMUS's consistent need to fund further Capex will likely preclude them from paying out a dividend at this time, further diminishing the investment appeal here. I might have been more inclined to hold the shares if a dividend was given to compensate for the time value of money. I do view TMUS as best in class under the colorful leadership of John Legere.
Follow up on VOX
Post my sell call on the industry, the VOX has sold off sharply in spite of a brisk rally in the major indexes. It seems some of the froth has come out of the industry here as money rotates out to chase other opportunities. As of the time of writing, T is slated to open up down roughly 1% post their in-line quarter. T's investment appeal remains its above average dividend, yet for dividend growth investors more appealing choices are available outside the telecom space. The primary challenge for T is to grow meaningfully their dividend, a feat that will remain increasingly difficult as the years progress. The move to purchase DirecTV will bolster cash flow in the short term; yet as additional customers flee the service, growth will dissipate.
I prefer my dividend growth companies to operate in stable industries with a clear path to revenue and earnings growth. The ability to grow earnings will allow for significant hikes in the dividend on an ongoing basis. As detailed in my report, "My top pick for 2017" available to subscribers of the Undervalued Gems Investment Service, a golden opportunity is before us once again in an industry that's difficult to disrupt. The August issue will also detail a high yield play in the healthcare industry. I would like to thank you for reading, and I look forward to your comments.
Investors are always reminded that before making any investment, you should do your own proper due diligence on any name directly or indirectly mentioned in this article. Investors should also consider seeking advice from a broker or financial adviser before making any investment decisions. Any material in this article should be considered general information, and not relied on as a formal investment recommendation.
Disclosure: I/we have no positions in any stocks mentioned, and no plans to initiate any positions within the next 72 hours.
I wrote this article myself, and it expresses my own opinions. I am not receiving compensation for it (other than from Seeking Alpha). I have no business relationship with any company whose stock is mentioned in this article.