Oil prices were reduced by more than 1% on Thursday with WTI (NYSE:WTI) and Brent trading at $44.38 and $45.96 respectively at the time of writing this article. It is interesting to note that in spite of EIA reporting a 2.3 million decline in U.S crude oil inventories last week, oil prices still went down. However, one of the main reasons for this decline is the U.S crude oil inventories itself. Although crude oil inventories fell for the 9th consecutive week, oil inventories are currently standing at 519.5 million barrels which is around 60 million barrels more when compared to last year. However, I believe that there are other factors that are having a bigger impact on oil prices at this moment.
U.S Gasoline Glut and a weak oil product demand
As per the EIA data, U.S gasoline stocks increased to 241 million barrels, which is its highest level since April. With a surprise build- up of around 911,000 barrels of gasoline stocks, it is clear that the issue of U.S. gasoline glut is becoming even bigger. The biggest worry is that this build up comes at a time when demand is supposed to peak because of the summer driving season. In fact, the total U.S crude oil and product stocks increased by 2.64 million barrels to stand at record 2.08 billion barrels. Many market analysts are also getting increasingly vocal about the possibility of a rising oil-product glut. "A glut in oil products threatens to spill back into oil prices, depressing crude. An abundance of fuels threatens to dampen crude demand," said BMI research in a note. It is pretty evident that this oil product glut can subside once refiners start reducing their output for undertaking their maintenance activities. Even their refining margins have gone down and this is another reason why refiners may reduce their output in the coming time. Because of a weak product demand, most of the gasoline that is being produced is getting stored (instead of being consumed). So, if the product demand remains subdued and refiners reduce their production levels, then this will result in the increase of the crude oil stocks. This clearly shows that the U.S Gasoline glut and weak oil product demand are the two biggest factors that are putting downward pressure on oil (NYSEARCA:USO) at this moment.
A similar issue in Asia
When we look at the Asian markets, we can see that the demand for diesel has reduced and its stockpiles have increased. China, which was earlier responsible for flooding its regional market with too much diesel, is now processing record quantities of gasoline. "Gasoline supply growth is outstripping consumption growth in China, while exports are also growing in the likes of South Korea and Japan. There's not only an apparent oversupply of gasoline in China, but also across the whole region as well," said an analyst from BMI research. This shows that even Asia is suffering from a gasoline and diesel glut.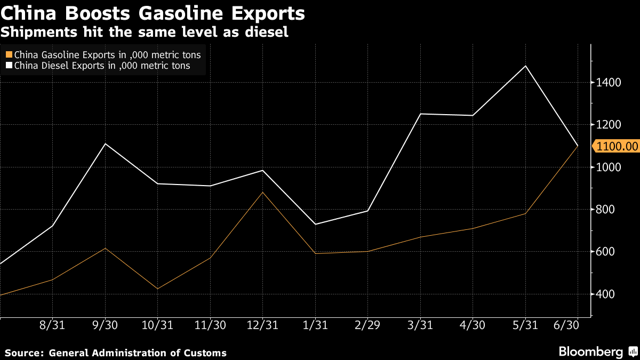 Takeaway
The current situation doesn't look too promising for oil. Although the supply-demand rebalancing of oil is indeed taking place and is being supported by Venezuela's declining oil production along with China and India's economic data, this rebalancing process has slowed down because of factors such as rising gasoline glut, weak oil product demand and high crude oil inventory levels. According to me, the above mentioned factors will continue to put downward pressure on oil prices in the next few weeks and oil prices can reduce even further. This can be a very good buying opportunity for investors interested in ETFs like USO as I believe that prices will increase in long term.
Disclosure: I/we have no positions in any stocks mentioned, and no plans to initiate any positions within the next 72 hours.
I wrote this article myself, and it expresses my own opinions. I am not receiving compensation for it (other than from Seeking Alpha). I have no business relationship with any company whose stock is mentioned in this article.