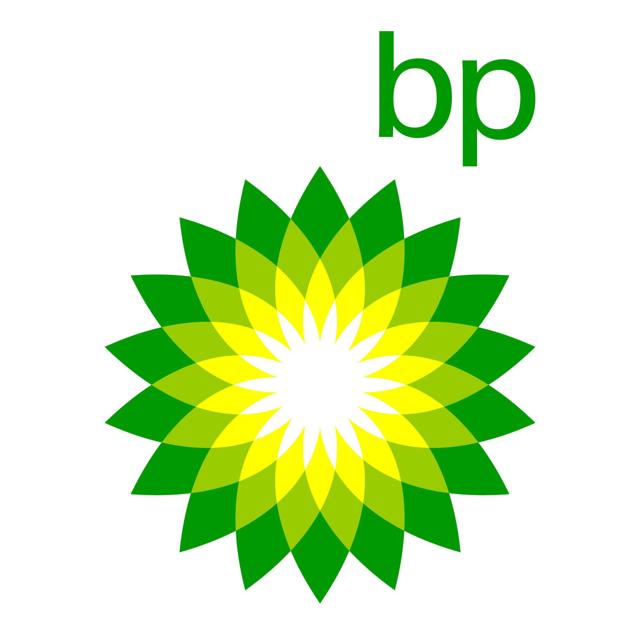 As an integrated major, BP (NYSE:BP) is resilient to volatile commodity prices (USO, UNG). Much like Exxon Mobil (NYSE:XOM), the company derives value from upstream, midstream, and downstream. Unfortunately, the company's reputation and financial performance have been marred by the Deepwater Horizon incident, for which the company has incurred $62 billion worth of charges through Q2 2016. To put things into perspective, this is more than half of the company's current market cap of $111 billion. Despite this unfortunate incident, BP has preserved shareholder value quite well.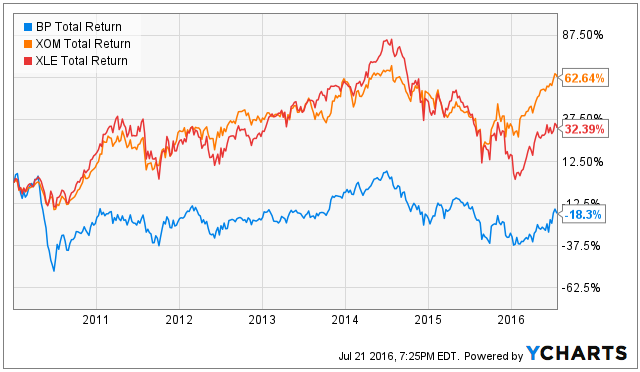 Energy Select Sector SPDR ETF (NYSEARCA:XLE)
On an undiscounted basis, if we add back the $62 billion of charges ($44 billion after tax), BP would have yielded a positive return of 15% from 2010 to today. Keep in mind that this calculation does not take into account the fact that the Deepwater liabilities caused BP to slow capital investments, which most certainly resulted in lower returns; hence, the true normalized return is likely much higher. In any case, now that the worst is over, I believe that BP can now be viewed as a realistic option for investors, not a company whose potential is impeded by a lawsuit.
But enough about the past, let's talk about the future. Second quarter results will be crucial. Since the management believes that future Deepwater Horizon costs will be immaterial, investors will be able to gauge a normalized level of performance using Q2 numbers. For the past five years, operating decisions have been plagued by the uncertainty of the claims, which should have cost the company only $12.5 billion according to an estimate in 2010. Now that uncertainty is gone.
With the Deepwater incident now behind us, we can now envision a brighter future. Going into Q2 earnings, which will be released on July 26th, I will look for two things: leverage (what Brits call "gearing") and growing profits. Why would I look at leverage? The company no longer faces potential "litigation bombs" (i.e. no more huge payouts) from the Deepwater incident; hence, it should start to increase its leverage to improve return on equity.
Of course, this cannot be achieved in a single quarter, but it's important to know if the management is committed. It may seem like an unwise thing to do, given the current commodity outlook (read Oil Can't Go Higher), but BP is in fact very profitable, which is why I think that it can afford to have a higher leverage. In Q1, the management hinted that leverage could be as high as 30% (as opposed to the current level of 23.6%), which will boost return on equity.
This brings me to my next point: profits. In Q1, the company posted a surprise of $532 million of income against a consensus of $140 million of loss. But that was Q1, when Brent averaged just $33.94/bbl. By comparison, Brent averaged $45.57/bbl from April to June, a 34% increase over Q1. As the price of oil increases, the total profit that could be derived from the entire value chain expands.
Currently, refiners are suffering a bit due to lower crack spreads, but crack spreads actually improved in Q2 over Q1, so we shouldn't see much compression in the downstream segment in the second quarter. Meanwhile, upstream profits will surely increase, since the company should be making over $10 more per barrel. At a production rate of 171 Mbbl/day for liquids, we should be looking at a bump of at least $156 million before tax.
Conclusion
BP can now focus on maximizing shareholder value instead of liability management. With the litigation overhang gone, the management will have a lot more room to improve the stock price. I hope that the management will recognize the opportunity that the capital market is offering right now and take advantage of the low rate environment. In addition, I believe that investors can expect a pretty hefty jump in profits thanks to higher oil prices and higher crack spreads.
Click the "Follow" button beside my name on the top of the page to be updated with my latest insights. To learn more about the V20 Portfolio, whose goal is to compound capital at 20% over the long term, I encourage you to read the introduction to my investment process. Premium subscribers get full access to the V20 Portfolio.
Disclosure: I/we have no positions in any stocks mentioned, and no plans to initiate any positions within the next 72 hours.
I wrote this article myself, and it expresses my own opinions. I am not receiving compensation for it (other than from Seeking Alpha). I have no business relationship with any company whose stock is mentioned in this article.