Johnson & Johnson (NYSE:JNJ) reported its Q2 results on July 19th 2016, which topped analysts' estimates, leading the stock higher where it has stabilized since. We listened in on the earnings call and here are three reasons to be modestly bullish on the stock on the back of the Q2 results conference call.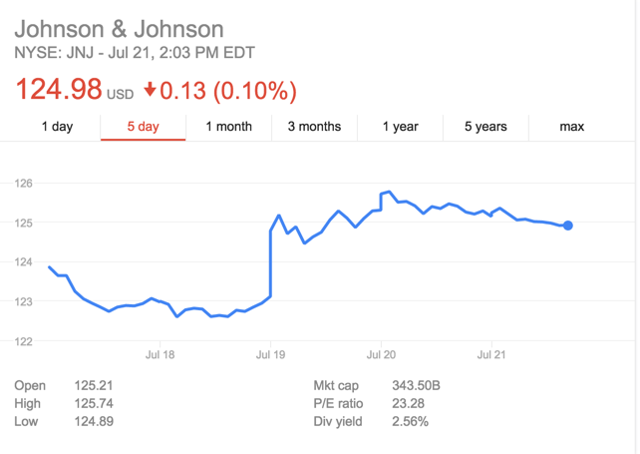 Solid top line Growth
First, JNJ posted solid sales growth of 3.9% YoY underpinned by strong operational growth in the US at 7.4% compared to the rest of the world at 3.1%. Excluding items the company considers as non-recurring items such as acquisitions and divestitures, hepatitis C sales and the devaluation in Venezuela, the growth comes in at in excess of 8%. Coming at a time when global economic growth is expected to be at 3.1%, according to the IMF's revised July estimate, this can be considered impressive.
Should the second half post a similar improvement, revenues will be on track to surpass last year's figures. As a result, management revised their guidance upwards with 2016 sales expected to be between $71.5 and $72.2 billion (an increase of $0.3 billion) while earnings are expected to be between $6.63 and $6.73 per share (Q1 guidance: $6.53-$6.68).
Should you be worried about the Brexit effect on the company, its exposure to the UK is presently 3% of sales, in line with the average exposure of the S&P 500 companies to the UK which stands at 2.9% according to FactSet Market Aggregates and FactSet Geographic Revenue Exposure data (based on the most recently reported fiscal year data for each company in the index). JNJ has adopted the attitude of several companies like Volvo and Electrolux which are stating that the effect of the Brexit on the top and bottom line is uncertain as of the moment and that they can but monitor the situation closely.

Continued Dividend Growth
Secondly, the excellent dividend paying and growth record is expected to continue. JNJ is deemed a solid dividend stock with a current dividend yield of around 2.56%. Last year's DPS was $2.95 with a 5 year (2011-2015) CAGR of 7%. To be sure, the DPS has been on the rise in the past 54 years, making it a very resilient dividend payer in good and bad economic times. It does seem like an attractive option for a dividend seeker. Further, its capital allocation framework significantly emphasizes the payment of dividends. With this in mind, one can expect dividends to keep growing.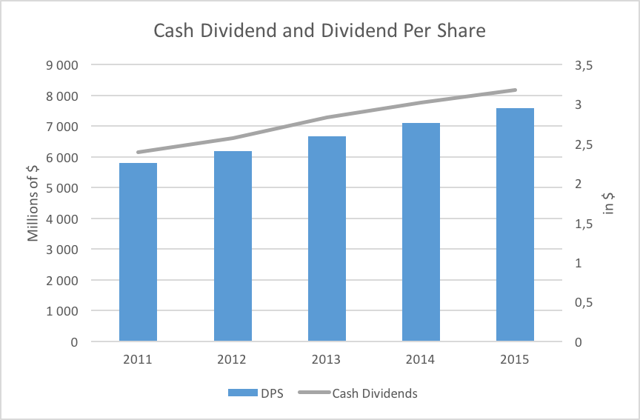 Were the average Dividend Payout Ratio of the past 5 years of 56% were to be maintained and the base earnings estimates from JNJ for 2016 met, the dividends this year would be expected to be a mouth-watering $3.68, giving a 2.94% yield based on the previous day's closing price of $125.21.
Our capital allocation framework starts with paying dividends to our shareholders, which is why we have increased our dividend every year for the last 54 years. Next, we seek value-creating strategic acquisitions and partnership opportunities. And finally, we consider other prudent ways to return value to shareholders such as repurchase programs.

-Alex Gorsky, Chairman & CEO
Value-additive Acquisitions
Finally, the company seems to be eyeing potential acquisitions. Notably, another core pillar of JNJ's capital allocation framework is its value-creating acquisitions evidenced in its long history of mergers and acquisitions. In Q2, JNJ added Vogue International LLC to its Consumer portfolio in an all-cash deal showing that its appetite for value-additive acquisitions is not dimming. In the Q2 call when pressed on its ambitions given the deep cash pockets, the company suggested that it's looking out for strategic, value creating acquisitions at reasonable valuations. However, it emphasized a disciplined approach to acquisitions with due consideration given to valuations and reiterated the fact that some valuations of potential acquisitions seem prohibitive presently. There's good reason to be optimistic heading into Q3 that some acquisitions will be in the offing.
And as we said for some time, whenever we're looking at inorganic growth opportunities, we look at, tuck-ins, we look at mid-size deals. We'll look at large deals...But we're going to be very disciplined. We're going to be very decisive about how we do it, and ultimately try to better serve patients and consumers.

-Alex Gorsky, Chairman & CEO
Risk
Emerging from the call are a number of headwinds a strategic investor must pay attention to. They include including unfavorable currency movements like those in Venezuela that threaten to eat into the revenues and earnings. The Brexit effect is as of yet fully unknown and the exposure to UK is minor, but it is hard to ignore the systemic risk posed to other European countries (constituting 22% of H1 revenues). Some of the potential acquisitions may remain overpriced and not materialize. There's also the ever present risk that the competition from generic products may diminish JNJ's volumes and margins.
Conclusion
In sum, there is good reason to be optimistic on the JNJ front with solid top line growth, a generous dividend payout and some value-additive acquisitions. However, one must not ignore the risks highlighted including currency and generic products.
Disclosure: I/we have no positions in any stocks mentioned, and no plans to initiate any positions within the next 72 hours.
I wrote this article myself, and it expresses my own opinions. I am not receiving compensation for it (other than from Seeking Alpha). I have no business relationship with any company whose stock is mentioned in this article.