Introduction
Chipotle (NYSE: CMG) reported Q2 earnings today after the close which was followed by a conference call. The earnings were slightly below expectations at $0.87 per share versus a consensus estimate of $0.90 per share but revenues of $998 million were roughly five percent below consensus revenue estimates of $1.05 billion.
My earnings model was exactly right on EPS but my revenue estimate of $1.02 billion was two percent higher than what was reported. The consensus revenue estimate of $1.05 billion suggests to me that the sell-side has still not fully understood the challenges faced by CMG in attempting to rebuilding unit revenues.
Changing Management Comments from Q1
What was notable to me about today's call was that management now seems realistic about the challenging path ahead of them as the sales recovery is slower than they had hoped. This is a change from the Q1 conference call where I felt management expressed a strange combination of shock about comps still being down in the mid-20s in April along with a sense of arrogant detachment that seemed to prevent the company from understanding how its customer base had now changed.
One more quarter has provided even more data to the company about how the customer base has changed and the negative news is that visits from their high frequency customers are still down in-line with overall comps. The good news from such data seems to be that CMG has not lost such customers but that their visits are down 20 percent. I found that data interesting as such high frequency customers probably haven't changed how often they visit restaurants in general but that they have apparently found other restaurants to visit which would replace some of their previous visits to Chipotle.
The company does now appear to be doing a very thorough job in understanding the changing dynamics of both their customers and the overall restaurant environment and is designing marketing programs focused on rebuilding traffic. Aside from one-off promotions such as free burritos and buy one, get one free (BOGO) promotions, the company now appears to be designing more comprehensive and varied promotional programs.
The initial "Chiptopia" program was introduced on July and other programs are currently being designed for later in the year such as holiday promotions and discounts on gift card purchases. My overall opinion of CMG's new awareness of how its operating environment has changed is that the company now realizes that promotional programs will be the new normal for the foreseeable future.
Initial Chiptopia Results
The company seems very happy so far about the initial Chiptopia results from the first three weeks of the program. Total customers enrolled so far are 3.6 million and 30 percent of all transactions currently are from Chiptopia enrollees. Such a large response has also resulted in improving July comps to down 19 percent on a sales basis and down 15 percent on a transactions basis versus total June comps that were still down 21 percent and 23.6 percent for the entire quarter. Interestingly enough, however, such increased traffic is apparently not increasing average purchases as the average purchase so far in July is down three percent from June.
Questions on the call were both pretty mild and limited to only five analysts and no one asked about the possible margin effects of Chiptopia. I've already estimated such possible margin effects in an earlier article as my calculations suggested that margin effects could be significant. My earlier calculations were also based on an assumption that less than ten percent of the customers would enroll in the program instead of the much larger number of 30 percent that have enrolled so far.
I still believe that my original calculations of potential margin effects are in-line with what will be experienced but other things the company discussed on the call may offset such additional margin pressure. Food costs appear to be a bit lower than what might have been expected three months ago and it also sounds there may be some efficiencies in labor costs that can be implemented.
Overall Outlook
There were also some other positives from the call which are as follows. Chorizo has had a successful rollout so far and is planned to be in all restaurants by year end. Consumer perceptions have also now turned positive again for the first time since November.
One quirk in that statistic, however, is that they are finding a bit of a mismatch between a changing perception to positive and actual restaurant visits. The company mentioned that a significant number of customers surveyed who now feel positive are actually still delaying a return to Chipotle until a significant amount of time passes, which was not specified, without any additional food safety issues.
Another positive described by management was that most markets across country are further along in recovery than the current corporate averages. What continues to depress current results is that comps in the Northeast and West Coast are still down 26 percent and 21 percent, respectively in transactions (more in revenues). My opinion would be a bit less positive than management about that disclosure as I would believe that the Northeast and West Coast are a greater indicator of overall trends than other areas of the country.
Other than that the company still seems to have a lot of work to do to rebuild its customer base given the large comp declines there weren't many other notable negatives on the call. One was that Labor costs were now up six percent year over year and that overall staff turnover was now higher than previous levels.
What does all this mean for the stock?
In my opinion the perceptions about CMG lag the reality that the company's growth had already slowed significantly prior to the food safety issues. Unit growth will be around 11 percent this year but that won't result in equivalent revenue gains in a more stable environment as new units typically produce revenues at least 20 percent below corporate averages in their first year opened and then slowly ramp from there.
There will be a reasonable recovery in revenues in both 2017 and 2018 from the depressed revenues in 2016 but that will still not drive the huge earnings gains of the past given higher promotional expenses. As you can see in my annual income statement model below: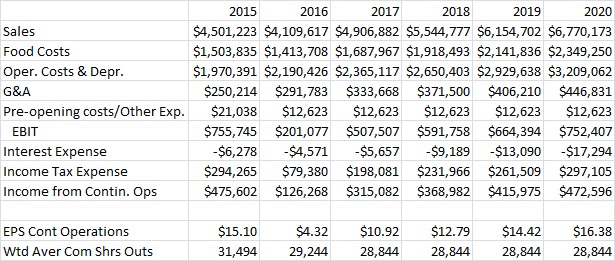 revenue growth does accelerate again in 2017 and 2018 but will always be somewhat restrained by the lower level of unit growth. EPS growth is also steady as the company recovers from the recent events but is still less than 15 percent in 2019 and 2020.
The risk for investors is that consensus earnings estimates are still projecting a much higher rate of earnings growth in the future. My quantitative and financial analysis skills make me conclude that future estimates are unrealistic as the 2018 consensus estimates project a 43 percent EPS gain that year although consensus revenue growth for 2018 is only 16 percent.
I think there is also some short-term risk as well due to EPS estimates for Q3 being too high as my quarterly model below has an estimate of $1.78 for Q3 versus consensus estimates of $2.10 prior to the Q2 earnings release.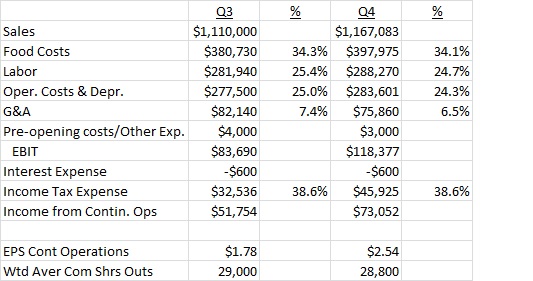 It is possible that sell-side analysts have not included the cost of CMG's biennial conference in their estimates but that still results in a risk of estimate decreases. My EPS estimate for Q4 is actually a bit above the current consensus of $2.33 but it is possible that sell-side analysts have not yet adjusted their share counts for the additional stock being repurchased.
Conclusion
Chipotle management seems to now be more realistic about the changes in their business and appear to be working hard to rebuild traffic. What I believe is underappreciated, however, is how numbers work. When there is a decrease in some quantity, a larger percentage increase from what is now a lower base is required to then return to the previous number.
As such, opinions that Chipotle will return to previous unit revenues probably don't appreciate that even three years of positive mid-single digits comps will still not result in unit revenues returning to previous levels. During all that time as well, operating costs will continue to increase which further dampens potential EPS growth.
I believe a company whose natural growth rate is now around ten percent but which will then slowly decline from there as even more units are opened would have a fair P/E multiple of 25-times earnings. Based on my 2018 EPS estimate of $12.79, that would then result in a target price two years from now of $320. Even using the higher EPS estimate of $16.38 in 2020, that would result in target price four years from now that is roughly the same as the current stock price.
From what I've described there is also now apparently an interesting mismatch between investor sentiments about Chipotle and management's new sense of reality. Management now realizes that they are in a new world of more active promotional activity which will help rebuild traffic but whose costs will depress earnings going forward. Investors, however, still think this is the same old CMG which had huge stock price gains in another environment and are apparently still in a state of hope that such stock price gains can occur again.
Disclosure: I am/we are short CMG.
I wrote this article myself, and it expresses my own opinions. I am not receiving compensation for it (other than from Seeking Alpha). I have no business relationship with any company whose stock is mentioned in this article.