Well that S&P 500 (NYSEARCA:SPY) rally came out of nowhere. The bulls get to celebrate (yet again) while the bear crowd grows stronger with each and every paw-pounding SA post. I even read a article today calling for an 80% correction. Imagine the S&P 500 sitting around the 400 mark? Now that is strong stuff - I'll have what he's drinking!
I pretty much threw technicals out the window in April when it came to markets, and now I may as well just throw the fundamentals, too. For the time being, of course.
This rally really did surprise me, much like many other fellow readers, money managers and run-of-the-mill investors. I was noticing how the trade volume on the positive days have been quite low for months now.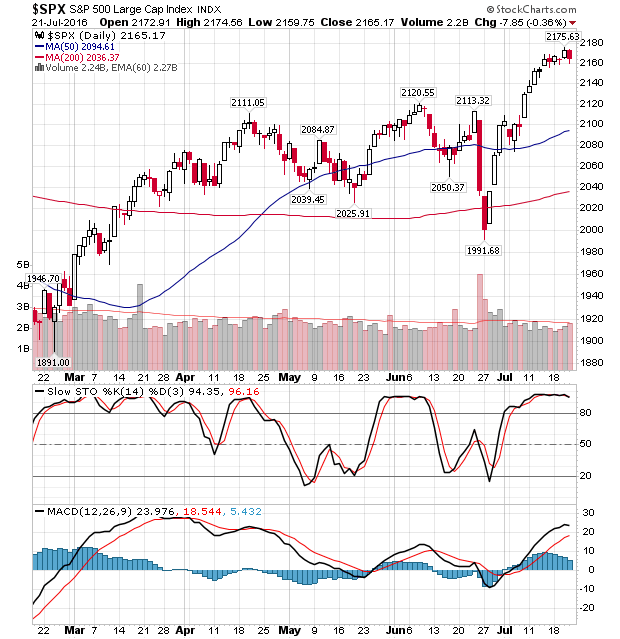 Now if you notice in this chart above, the moving average for daily trade volume has been trending downward. A lot of this could be explained by many hedge funds and money managers sitting on large volumes of cash. I must say this is probably the best idea out there as of today. Sure, many will say you missed out on a nice rally to all time highs, but I am sure most of us would agree that it was a hard argument to make at the time. Hindsight is 20/20, remember that.
It looks as if the market is starting to stall out at this newly established 2175 line on the S&P 500, even though I basically started to discount all technicals, the MACD is rounding out, and we are still in an extremely overbought condition. Now this is where the greed comes in to play. Buying into this all time high push may be a mistake but of course I could be wrong. Its happened before, it could happen again.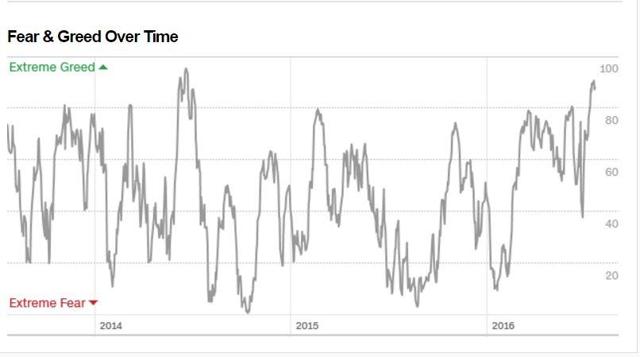 Above is CNN's "Fear and Greed" index. I think this is a somewhat interesting chart, since it takes into account 7 factors in determining what is driving the current market. As we can see above, it looks like we are closing in at an all time high for greed based behavior. This coincides with an overall complacency with the stock market. This is where the TINA argument, or my new favorite, "it wont go down, it can't fail," comes into effect. Just read the comment section in any bearish SA article and you will see someone writing that. That thought alone scares the s--t out of me.
Be fearful when others are greedy, and greedy when others are fearful. -Warren Buffett
I'm going to have to say that I am running with the king himself on this one. Especially as earnings season is not really having that fire that everyone was expecting. Yes, a lot of companies are "beating" EPS estimates, but its kind of easy to do when you are buying back large pools of shares, cutting costs and employees. I would like to see the revenue growth come back to propel me to return to my normal perma-bull mentality.
For now, it looks like we will trade sideways until we wait on the Fed's speech. Also, expect light trading volume until the Fed gives us some insight as to what they are thinking. Employment is running strong according to their standards (which is an entirely different conversation) and inflation has been marching upwards. So with all time highs, low unemployment, inflation ticking up and a general stable market condition, will they raise rates in September? Only time can tell on that one, but if its one thing that Brexit taught us, is to expect the unexpected.
In conclusion, while its fun to be a perma-bull, I just cannot agree on it yet. I do not think shorting markets would be a smart move either based off of the recent market moves. Do not be surprised if the market makes a last push to 2200. Irrational or not, sometimes you just have to follow the herd. For now, I will continue to hand pick select stocks and lightly trade options. Other than that, we will continue to grow our cash horde for the aftermath of whatever comes next. I maintain my year end price target for the S&P 500 at 2100. Our bottom call for the year on the S&P 500 still stands at 1900.
Happy Investing!
All trades and thoughts provided should be taken and used for information purposes only.
Please follow for weekly market updates, options trading, dividend stock analysis and our Covered Call DGI portfolio.
Disclosure: I/we have no positions in any stocks mentioned, but may initiate a short position in SPY over the next 72 hours.
I wrote this article myself, and it expresses my own opinions. I am not receiving compensation for it (other than from Seeking Alpha). I have no business relationship with any company whose stock is mentioned in this article.
Additional disclosure: Currently we have a bear call spread open on SPY for the 225/226 mark expiration September 16th, 2016.