Kuehne & Nagel (OTCPK:KHNGF), as of June 2016, remains one of the largest forwarding, brokerage and contract logistics companies in the world. Deutsche Post (Deutsche Post DHL Group) (OTCPK:DPSGY) does not break out net revenue, but is larger than Kuehne & Nagel by gross revenue, and therefore it is assumed that undisclosed net revenues are also higher.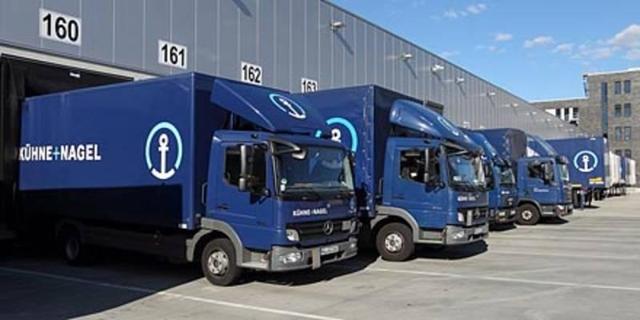 Through the trailing twelve-month (TTM) period as of March 2016, DHL Group generated €29.7 billion in forwarding and contract logistics gross revenue. This compared to ₣16.7 billion for Kuehne & Nagel. Converting Swiss francs to euros has DHL Group with around 65 percent greater gross revenue. With the June quarter results out, Kuehne & Nagel's TTM gross revenue did not change materially.
XPO Logistics (NYSEMKT:XPO) is another major player providing forwarding, brokerage and contract logistics services. The company's purchase of Norbert Dentressangle added substantial exposure to Europe and put it in direct competition with Kuehne & Nagel and DHL Group. Through the TTM period as of March 2016, XPO generated $10.5 and $4.8 billion in gross and net revenues. But based on June quarter estimates, XPO is expected to have generated around $13.1 billion in gross revenue and close to $6 billion in net revenues.
Through the TTM period as of June 2016, Kuehne & Nagel generated ₣6.5 billion in net revenues. Since the currency conversion between the Swiss franc and U.S. dollar is nearly one-one, it is clear that XPO continues to make inroads towards eventually leapfrogging Kuehne & Nagel.
Despite this, Kuehne & Nagel's second-quarter performance has one thing that XPO is in need of, profitability. XPO may get there later this year, but Kuehne & Nagel is proven and through 2016, has performed well. During the second quarter, diluted EPS improved 8 percent year-over-year, YOY and 9 percent year-to-date, YTD.

Source: Company financials and personal database; all numbers are expressed in millions of Swiss francs
Some investors may be a little confused with the dynamics of gross revenue performance versus net revenue performance, especially when the two contradict one another. In the case of sea freight and air freight, at the gross level, carriers continue to experience substantial declines in freight rates. Twenty-foot equivalent container units, TEUs and air freight tonnage have both witnessed substantial imbalances in supply and demand leading to reduced pricing.
Kuehne & Nagel like all freight forwarders and brokers, accounts for the rate charged for goods transported as gross revenue. But since the company does not own revenue equipment such as container shipping lines, air freight cargo planes, or much of the equipment used to carry goods, the company reimburses the cost of the purchased transportation back to freight carriers. The result is the net revenue amount.
Despite declining gross revenue, Kuehne & Nagel has benefited from the company's operating efficiencies and services to garner enough demand through its own pricing to improve upon the revenues left over after purchased transportation is reimbursed. This has further translated to bottom-line growth as a result.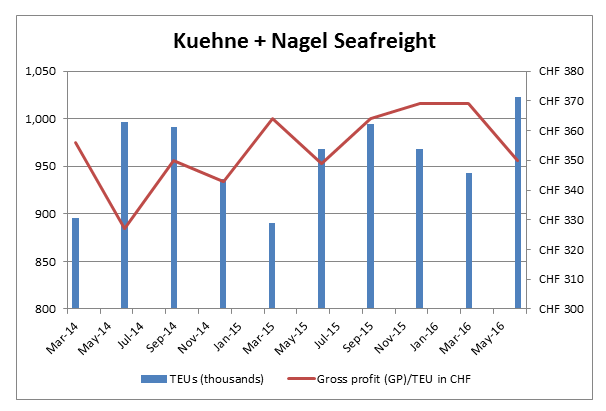 Source: Company financials and personal database
TEU performance remained strong through the first half of the year with nearly 2 million units transported, an improvement of 6 percent. Despite historically low freight rates, which had led to extreme operational challenges for major container shipping line carriers, volumes have remained positive for most asset-based operators and asset-light forwarders like Kuehne & Nagel.
Kuehne & Nagel mentioned 2 percent market growth, Asia exports and intra-Asia strong volume growth as key drivers for performance.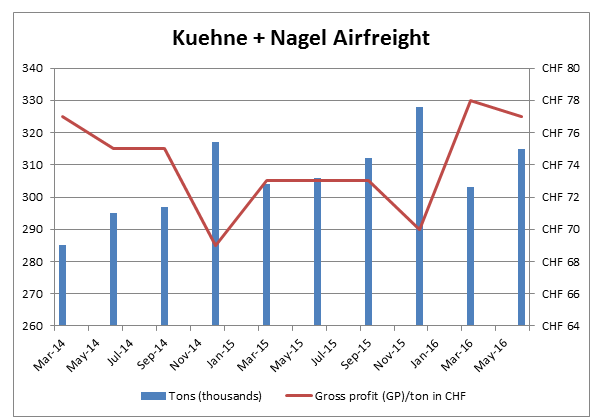 Source: Company financials and personal database
Similar to TEUs, air freight cargo ton performance remained positive through the first half of the year with over 600,000 tons transported, an improvement of 1 percent. While TEU performance was consistent for both quarters, air freight tons improved substantially during the second quarter up 3 percent. Capacity issues for air freight have been just as bad, if not worse for many carriers.
Kuehne & Nagel mentioned a 1 percent market decline and strong export business from Asia and the Middle East as drivers for performance.
Both overland and contract logistics operating segments performed well on all fronts. For the overland segment key drivers included positive developments in Europe and the recent acquisition of ReTrans and its intermodal contributions. Unlike the U.S. where dry van spot market prices have experienced substantial pressure, Europe has fared better. Just recently, Landstar System (NASDAQ:LSTR), an asset-light truck company, reported earnings which declined substantially from last year, with pricing playing a strong role.
Contract logistics has benefited from successful implementation of new businesses as well as expansion in pharmaceuticals and e-commerce fulfillment. These developments are similar focal points for DHL Group and XPO as last mile delivery and supply chains adjust heavily driven by online ordering and e-commerce.
Other companies like Hub Group (NASDAQ:HUBG) may see growth, but at a softer level as both international and domestic container traffic has witnessed weaker growth as the year has progressed. J.B. Hunt Transport's (NASDAQ:JBHT) recent performance could be an indication for Hub Group.
Smaller players in the forwarding, brokerage and contract logistics areas may see varying degrees of performance, especially those who have recently made acquisitions to grow the business. FedEx Corporation (NYSE:FDX) and soon to report United Parcel Service (NYSE:UPS) have also been benefactors of e-commerce and supply chain developments.
Looking to peers who will be reporting soon including DHL Group, XPO, Expeditors International (NASDAQ:EXPD) and C.H. Robinson Worldwide (NASDAQ:CHRW), investors could expect to see similar positive trends. At the moment, I am more inclined to think that DHL Group and XPO may offer better results versus Expeditors and CH Robinson. Like Kuehne & Nagel, DHL Group is focused on improving EBIT to drive shareholder returns. XPO is on the path to profitability this year and Norbert Dentressangle should be able to benefit from existing positive developments in Europe, despite Brexit uncertainties.
Disclosure: I am/we are long DPSGY, XPO, JBHT.
I wrote this article myself, and it expresses my own opinions. I am not receiving compensation for it (other than from Seeking Alpha). I have no business relationship with any company whose stock is mentioned in this article.
Editor's Note: This article discusses one or more securities that do not trade on a major U.S. exchange. Please be aware of the risks associated with these stocks.