In this article, I express my own views on Joe Lowry's recent Financial Post podcast and propose a possible scenario of the lithium carbonate market for 2020. The contribution is divided into five parts. In the first part, I discuss about the relevance of the term battery-grade vs. the term battery-quality lithium carbonate that Lowry advocates. In the second, I look at the demand side of the lithium carbonate incremental market for Li-ion batteries. In the third, I go over the supply side of the same market. In the fourth, I review Tesla's (NASDAQ:TSLA) approach to lithium. And in the last one, I propose a possible scenario for 2020 of one of the most bullish markets in the present time.
1. Battery-grade vs. battery-quality lithium carbonate
Lowry believes that "there really is no standard for battery-grade" lithium carbonate, preferring to use the term "battery-quality" instead. He seems to be more comfortable with that term, because in his view, "there are many different specifications for different types of cathode, for different processes." He then comments that Orocobre (OTCPK:OROCF), the only company supplying new lithium carbonate to the market these days, is not producing battery-quality lithium carbonate.
But what does battery-grade (or battery-quality, in Lowry's terms) lithium carbonate mean? Following FMC and Tianqi, battery-grade implies a lithium carbonate with a purity of at least 99.5%. After having been in contact in recent times with emerging Chinese Li-ion battery producers, I have learned that in many instances, they don't really mind buying technical-grade Li2C03 with purity of at least 99.3%. Why? Well, my presumption here is that these companies are by and large vertically integrated so that they produce in-house most of their battery components. This seems to have given them the capacity to work with technical-grade, which they can easily transform into battery-grade or even higher-purity battery-grade (>99.9%) lithium carbonate depending on their concrete needs. That doesn't appear to be the case with Japanese cathode and electrolyte producers that are, for their own good reasons, clearly stricter in this regard. There is, however, another interesting difference between Chinese battery producers and Japanese cathode and electrolyte manufacturers. Whereas the former tends to use more lithium carbonate, the latter now requires more lithium hydroxide. This has to do with the specific chemistry of their batteries which may also explain why lithium hydroxide is far less expensive than lithium carbonate in China. In this context, major Korean battery producers (e.g. LG (OTC:LGEAF) and Samsung (OTC:SSNLF)) may be at the moment closer to Chinese ones than Japanese ones in their lithium requirements, but this could change dramatically in the next two or three years as the electric car boom becomes more visible. So Lowry may be correct in that Orocobre's battery-grade (or battery-quality, in his terms) lithium carbonate is not yet satisfying large cathode makers, but this company probably couldn't care less because currently it has plenty of demand in China from dozens of battery producers that are almost begging it for small quantities of lithium carbonate, be it battery-grade/quality or technical-grade.
2. Lithium carbonate demand for Li-ion batteries
Lowry predicts that lithium carbonate (equivalent, I assume) for Li-ion batteries will grow 100,000 tons from the end of 2015 to 2020. This projection appears to be plausible under the following assumptions:
According to figures provided by Navigant Research, Li-ion batteries for consumer electronics (including power tools, medical uses, and defense uses) grow from 2015 to 2020 at the same rate as that between 2013 and 2014 (6.1%).
Following my own estimations and forecasts, Li-ion batteries for plug-in electric car sales grow from 555,605 in 2015 to 2,640,379 in 2020, assuming that average battery capacity raises from 24.23 kWh in 2015 to 35.13 kWh in 2020 (These latter numbers were obtained from my own data base).
Also, following my own estimations and forecasts, Li-ion batteries for electric buses (only in China) augment from 28,533 in 2015 to 37,606 in 2020, assuming that average battery capacity increases from 187 kWh in 2015 to 271 kWh in 2020 (These latter numbers were also obtained from my own data base).
In all cases, 1 kg of Lithium carbonate (equivalent) is required for production of 1 kWh of energy capacity in Li-ion batteries. This number is quite conservative in comparison to an average estimate in the latest scientific article on the subject.
Lowry's forecast is indeed - as he claims - one "of the least aggressive ones". In fact, from the chart in page 6 of Orocobre's presentation in May at the eighth Lithium Supply & Markets Conference in Las Vegas, for example, we can deduce that it is expecting an incremental demand for Li-ion batteries for 2020 between 50% and 80% larger than that suggested by Lowry. But these numbers don't seem to be supported by any reasonable evidence. Lastly, neither Lowry nor Orocobre provides us with detailed demand forecasts by segments of the market.
3. Lithium carbonate supply for Li-ion batteries
Here Lowry talks about four key events that could happen to assure the production increase: (i) Chinese converters expand; (ii) Rockwood Lithium gets bigger in Chile; (iii) Orocobre reaches full capacity; and (iv) one or two new projects develop in Argentina. The following comments are in order:
In regard to Chinese converter expansion, he forgets to mention that their growth is dependent on more spodumene production occurring in Australia. There are at present only two projects on the pipeline in that country: Neometal's (OTCPK:RDRUY) Mount Marion (~24,000 tons of LCE per year) and Galaxy (OTCPK:GALXF) and General Mining's Mount Cattlin (~15,000 tons of LCE per year) (Note that the latter figures were estimated from Orocobre's presentation in Las Vegas). Both projects are aimed at beginning production this year. However, only the first one is likely to contribute to increased Chinese converter (Ganfeng) production while the second one just signed a final off-take agreement with Japan's Mitsubishi Corp. (OTCPK:MSBHY) and an unnamed customer. This leaves Orocobre as the only new significant supplier of lithium carbonate for a growing number of emerging Li-ion battery producers in China in the years to come.
When referring to Rockwood's expansion plans in Chile, Lowry doesn't distinguish between the first phase of enlargement (20,000 tons of LCE per annum) from the second one, which aims at an additional production of 26,000 tons a year, including the construction of two new plants: One for production of battery-grade lithium carbonate and another one for production of 5,000 tons a year of lithium hydroxide. Neither does he specifically mention Orocobre's estimation of completion of the first phase of expansion and production of only 12,000 tons per year, corresponding to the second part of Rockwood's business plan, by 2020.
Although he places some doubts as to Orocobre's ability to reach full capacity at Phase 1 (17,500 tons per annum) this year, he doesn't say a word about its possibility of doubling that accomplishment (35,000 tons per annum) by 2019 at Phase 2 of its production plan. True, Orocobre has only managed to produce 4,058 tons in its first year of operation (from April 2015 to March 2016), but it has hit its production target for Q1 2016 and it all indicates that its steady growth will continue throughout 2016 to reach near full capacity by the end of the year. Likewise, we can only be hopeful that the expected evaluation of the Bateman Advanced Technologies will help it apply new methods of extraction and processing to double production in Phase 2 of the project.
The two new projects to be developed in Argentina, according to Lowry, are most likely: SQM (NYSE:SQM) and Lithium Americas' (OTCQX:LACDF) joint venture to produce lithium carbonate at Salar de Cauchari (40,000 tons of LCE per annum); and (ii) Galaxy's Sal de Vida project (25,000 tons of lithium carbonate per annum). Given SQM's experience and Galaxy's improved financial position, they both represent interesting options in their own right, but we will have to wait and see whether appropriate and timely technological choices are made as they prepare to begin operation by 2020.
Note that apart from these two new operations in Argentina, there's almost a perfect match between Lowry's views and Orocobre's presentation on the supply side of the lithium carbonate market. However, neither of them discusses Posco (NYSE:PKX), Eramet (OTCPK:ERMAY) and Enirgi's ongoing developments at Pozuelos Salt Lake, Ratones Salt Lake and Del Rincón Salt Lake, respectively, in the same country. In another take, I have dealt in detail with the first venture. Beyond any reasonable justification, these opinions have been put into question in a recent article by referring to a rather naive statement by an anonymous commentator. The author of that contribution has since been forced to rectify his original erroneous intuition after intervention by someone more knowledgeable of the whole situation. Yet, at this point, without any further information on its progress since April, it would be premature to ascertain whether Posco will definitely fulfill its promise to bring 2,500 tons of LCE into production beginning September 2016 and 40,000 tons per annum by 2017. As for Eramet, in May this year, I learned of its efforts to develop a game-changing technology to extract lithium from Salar Ratones. Based on the timeline included in its presentation at the above mentioned event in Las Vegas, however, it appears highly unlikely that it will add any new lithium production to the market before 2020. Likewise, there isn't much information on Enirgi's activities at Salar del Rincón, although we do know from a recent Industrial Minerals article republished on my EVWorld blog that it too is planning to use direct extraction technology on its brine deposits. But this endeavor may still be at a very embryonic stage of development so as to assume that it can produce anything within the next four years or so. I envisaged this kind of technological advances already in 2010 (a reference available only in Spanish). In it, I suggested that one condition for lithium to become a key factor of a new techno-economic paradigm was low and decreasing costs of production and that this would only be possible with invention and innovation in extraction processes of lithium. I was then talking about inventions and innovations that go beyond utilization of solar energy for evaporation processes; evaporation processes as such; and even obtaining lithium carbonate as such to produce lithium hydroxide directly and allow for cathode synthesizing for Li-ion batteries. Consistent with my original intuition, it does seem like more and more lithium producers are moving now towards using less and less solar evaporation in their production processes to achieve higher yields and efficiency.
4. Tesla's approach to lithium
Lowry's opinion on this issue boils down to assuming that lithium is no more critical than the other energy metals (Co, Ni, Al, etc.) utilized in manufacturing of Li-ion battery cells and that "as long as Tesla (TSLA) is willing to pay a premium, it will get the lithium hydroxide it needs." The fact of the matter is though that there can't be Li-ion batteries without lithium and that there has been in recent times considerable movement in terms of different chemistries involved in producing them, each one of them using distinct combinations of materials. Since there is no definitive chemistry defined for the years to come, it seems a bit awkward to think that lithium is no more significant than those energy metals. But does Tesla actually know what materials will be needed for its batteries? Elon Musk and JB Straubel believe they do. When listening to them at Tesla's 2016 annual shareholder meeting on May 31, 2016, one gets the impression that Panasonic (OTCPK:PCRFY), its battery partner, will continue producing at the gigaplant in 2020 the same 18650 standard Li-ion battery cells with the same chemistry both in the cathode and in the anode, precluding all possible technological improvements in the next four years or so. This seems a very simplistic way to look at a rather crucial problem, to say the least.
Regarding the cost of lithium, Lowry is right. Lithium constitutes only a tiny part of the total cost of Li-ion batteries, but that doesn't necessarily mean that it could not become a major hurdle for Tesla. Why? Well, because a lithium shortage is likely to lead as well to potential constraints and bottlenecks of a steady resource supply, possibly aggravated by a geopolitical supply risk. I am curious as to whether Tesla would be willing to face resource supply interferences such as those the world has experienced with cobalt in the 1970s, palladium in the 1990s and rare earths during the recent years. True, these disruptions have manifested themselves through major prices spikes which have led governments and industries to find alternative solutions, including stockpiling, investing in mines, substituting critical materials by others and increasing recycling rates. But one further needs to wonder whether Tesla would have rather avoided these difficulties by doing some strategic planning beforehand.
5. A possible scenario of the lithium carbonate incremental market for Li-ion batteries in 2020
In the following figure, I synthesize my outlook of the lithium market for 2020. As argued above, I essentially agree with Lowry on his view of the demand side of the lithium carbonate market by that year, although I am much more specific than he is as to the possible sources of demand for Li-ion batteries. In a forthcoming piece, I plan to describe in more detail both the countries and the companies which are expected to contribute to the most important source of demand for lithium carbonate, namely Li-ion batteries for electric cars. With reference to the supply side of the lithium market, my prognosis is also quite similar to that of Lowry's. However, I end up assuming that by 2020, Orocobre can complete its two phases of development; both Galaxy and Neometal are able to hit their planned targets of production; and Albemarle (NYSE:ALB) may accomplish (in its entirety) its initial phase of expansion and only about 46% of its second one. In sum, I only suggest here a possible scenario for 2020 of the incremental world market of lithium carbonate for Li-ion batteries. What do I mean by "possible"? According to Daily Writing Tips, the word possible signifies "having the potential" (to accomplish something) or refers to what can be done, to occur, or to be true. By contrast, "a probable scenario", which is beyond the scope of this article, would imply what is likely to be done, to occur, or to be true. Under this possible scenario, a ground base on which to build further analyses, we would have almost a perfect balance between supply and demand of lithium carbonate four years from now. Though this leaves many things unattended, which I am hopeful will be valuable subjects of future commentaries.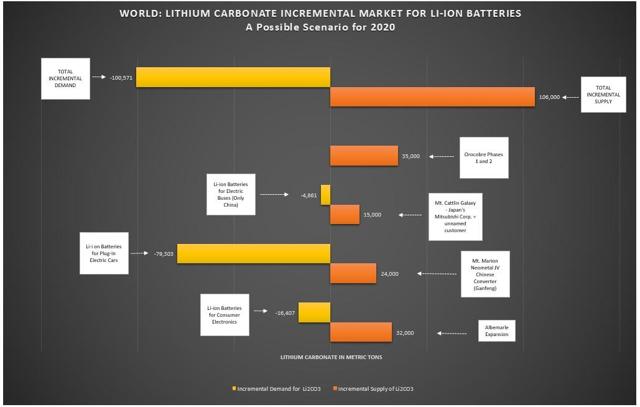 Disclosure: I/we have no positions in any stocks mentioned, and no plans to initiate any positions within the next 72 hours.
I wrote this article myself, and it expresses my own opinions. I am not receiving compensation for it (other than from Seeking Alpha). I have no business relationship with any company whose stock is mentioned in this article.