In my first DIV-GAP Portfolio article, I mentioned that dividends are one of the main ways investors can search for income over time. The focus on dividends has been included in gold mining stocks I have followed. I have looked for well-timed entries into many stocks on the wish list, however have not found great times for years on some of them. I was late to the party on TransCanada (NYSE:TRP) but explained why I added it in this later article showing dividends compounding and slowly creating wealth over time.
Creating wealth over time is likely most investors' goal. However, the thing that has bothered me the most about the time since the "Great Recession" is that central bank policies across the globe, and in the U.S., have left us with little to no alternative than the stock market. I'm guessing readers already know what I mean, but here is a rundown and reasons why I believe physical gold and other precious metals are important to own. For a portfolio of stocks, however, Yamana Gold (NYSE:AUY) is what I would recommend.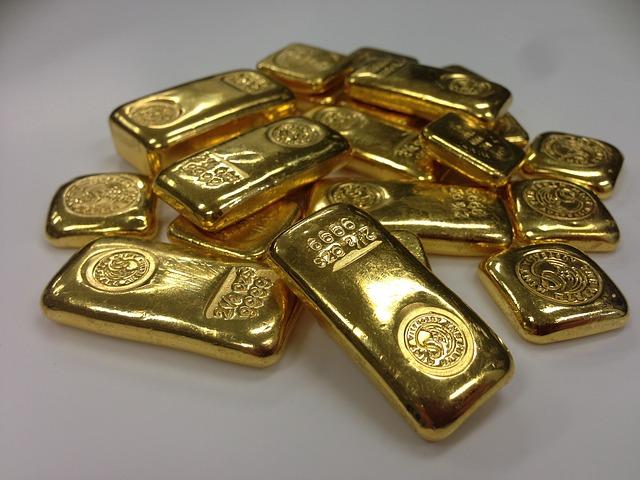 Interest rates near zero give savings accounts no payout
I opened a money market savings account in roughly 2000. At the time I was earning just over 4% to save. Today my money market savings account is paying 0.75% and that seems to be one of the higher rates available.
In my "big bank" savings account the rate is much lower. In fact, they don't even post the numbers anymore. (I have looked and cannot find them.) About a year ago I tested a theory and left a few hundred dollars in the account to see how much interest I would earn. They never paid one cent in interest over a six-month time period! (Mathematically I should have earned at least a few cents?) Of course, that bank no longer holds any of my savings.
In order to make money, people have to invest it in some way
If your savings account is not gaining ground, anyone who is thinking long term will look for a way to grow their money. Naturally people will start looking at stocks. In my stock choices, I have always looked for ways to get growth and value. If I can get a good dividend payout from a company and believe the company has room to grow then I can go for the best of both. Of course timing of buys is key as well for this to work in order to buy when a yield is safe but still higher.
Many people look to government bonds for safety and yield, however as millions rush to purchase these bonds the yield actually goes down in the quirky inverse relationship. (Think of it as supply and demand... too many people purchase, the seller doesn't have to sweeten the deal.)
Low interest rates make taking out loans easy
Low interest rates or the zero rate policies that are now common have a chance to goose the economy into growth. This is great for a home buyer or a company that wants to take out a loan to grow or reinvest. However over time, these same policies create misallocations and can cause people to become overly greedy as they 'get used to' the incredibly low rate.
Many corporations are now taking out company bonds at low rates and using the funds to buy back shares in their company. It inflates a stock price since there are fewer shares available and allows the company to show greater income per share. However the company now has a much larger debt burden they have to pay off eventually.
In my belief, we are seeing the effects of this low interest rate policy over the last few years. If you want proof, look at how the market reacted to the Federal Reserve (commonly called the Fed) stating that it might raise rates.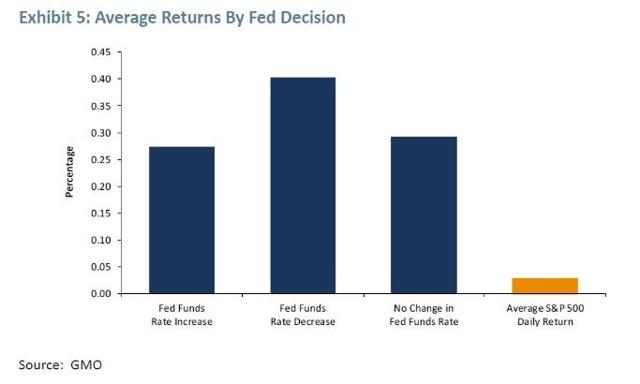 While you are welcome to ignore this specific source, an easy search shows that days that the Fed decided to raise rates the market went down. When the Fed held rates low or lowered them, stock markets went up. Oddly enough, if rates are lowered or the Fed decides they cannot go up it actually shows that the economy is not good, in my opinion (After all, for months the Fed has said that the U.S. economy cannot raise rates even 0.25%. They must have a very dire outlook if they do not think companies and consumers can pay another $0.0025 on each dollar loan or $250 on a $100,000 loan!)
Central banks around the world have kept rates too low, too long
Central banks around the world show that most of the largest economies have instituted zero or near zero interest rates. Below is an image of current rates…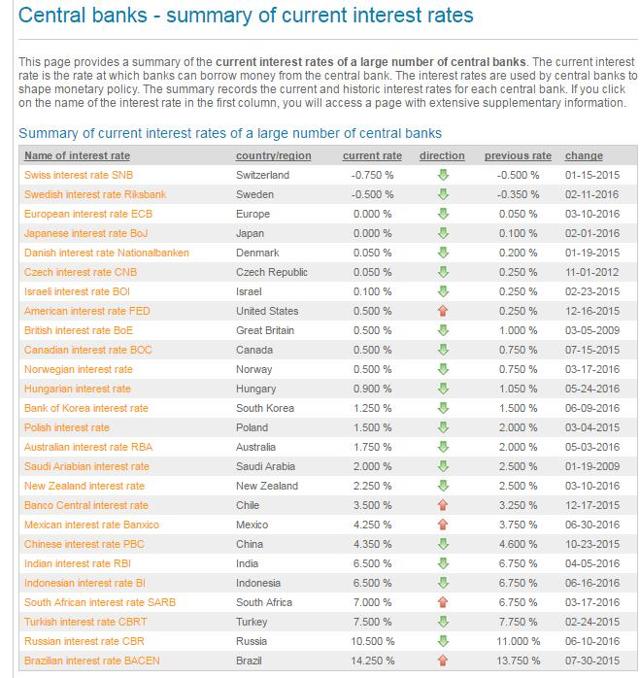 Though stagflation and inflation - if you believe the governments published numbers - have not reared their ugly heads like expected, it appears that they have created a "nowhere else to go" mindset in the markets. People seeking safety and a chance at growth of finances have literally almost nowhere to place their money. That forces people into the stock market or buying tangible assets that hold their value.
Gold and silver look worthwhile
My main goal with finances would be to preserve or hopefully increase wealth. My DIV-GAP portfolio is designed to accomplish that. However, with governments seemingly flush with debt and not many places for funds to go, it appears wise to look for preservation as well. Even Goldman Sachs (NYSE:GS) has given advice that markets and bonds could be headed nowhere in this article…
"… the bank reiterated its "neutral" rating on equities, saying the market is likely to go nowhere during the next 12 months. But don't run to the bond market for safety. Goldman said bonds are likely to do even worse, falling in price and producing a negative value in the next year. Under your mattress is starting look better and better."
Anyone looking to preserve wealth should take a serious look at precious metals. Not only have they been used as currency for thousands of years they can be bought, sold and traded relatively easily. Buyers who are interested in precious metals can also take a stake in miners of the metals. Oddly enough, miners tend to go up and down faster than the actual metal prices and can give an attractive option to a portfolio looking for appreciation.
Companies like Barrick Gold (NYSE:ABX), Yamana Gold and Goldcorp (NYSE:GG) even pay dividends on their stocks. Those stocks are the very places I would look for growth and possible dividends to create longer-term value.
Gold is a current hot commodity
Recently another SA contributor wrote an article that pointed out some great info on the major gold mining companies. The part that caught my eye should give pause to anyone considering purchasing gold or miners of gold. (Supply and demand should boost market pricing in the near future.)
...These 15 majors produced 35.6 million ounces of gold in 2015 which was 35% of the total global production of 101 million ounces. Their 571.2 million ounces of proven & probable (P&P) reserves is enough to supply the world for 4.3 years, given 2015 demand of 131.65 million ounces. (emphasis added)
Yamana deserves a better place in your portfolio
While I consider holding physical metals the best option, I would never recommend gold ETFs like GLD due to the leverage they have. However, if you want a stock that moves with gold prices I can recommend miners who pull the physical metal out of the ground. Yamana is one of those miners who has consistently had some of the lowest All-In Sustaining Costs (AISC) to dig up the metal.
A direct comparison to larger companies like ABX and GG would be rather odd since AUY is roughly 1/3 to 1/4 the size of its larger brothers. I have shown the direct comparison here...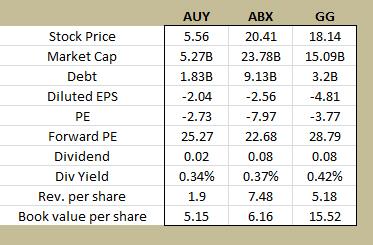 However, by looking at companies and calculating how they would look if their market cap were similar, we can sometimes see things that are harder to notice. I have added a 'hypothetical' calculation of how they would compare if Yamana were three times larger, or you could say if we multiplied 3 shares to be roughly equivalent to the market cap of ABX and GG.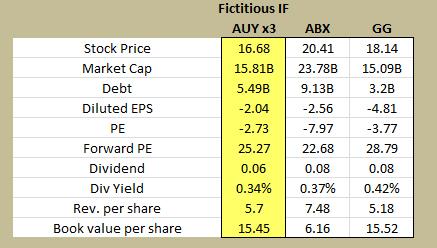 Under this scenario, we can see that Yamana is a little undervalued possibly due to debt (Even though it clearly would have less debt than ABX). Its forward P/E, Revenue per share and book value would be considerably better and the dividend would be nearly identical for all three. Not to mention that since it will be bought at current share price you will in essence get three shares or more per each share of its larger brothers when investing based on dollar amounts.
DIV-GAP updates and portfolio adjustments
The DIV-GAP portfolio was set up for long-term wealth-building. Diversification rules were adjusted off market standards and the mentioned mixture brought up by Jim Cramer's Mad Money to create a balanced blend of stocks. For the purposes of gaining stability and appreciation in what should be a low growth time, I will be adding both AUY and ABX to the online portfolio in equal, full positions. The timing is late for the early stages of precious metals comeback, but I believe there is a lot more room to run as reasoned above.
I will technically be over-weighting the online portfolio - which is closely following my personal one - with the buys of these stocks. It seems prudent to do this in order to keep more portions of the portfolio grounded in "sound money" that are based on a physical, tangible asset that cannot be as easily manipulated. While these stocks should be wise investments, I would urge investors to look long term at owning precious metals physically as well.
Disclosure: I am/we are long AUY.
I wrote this article myself, and it expresses my own opinions. I am not receiving compensation for it (other than from Seeking Alpha). I have no business relationship with any company whose stock is mentioned in this article.
Additional disclosure: I am personally considering investing in both ABX and GG.