BoJ governor, Haruhiko Kuroda, refuted scenarios of "helicopter money" on Thursday, and as a result the yen (NYSEARCA:FXY) began an upturn at a time when its limits are being tested. This creates a favorable risk/reward trading case, with a very narrow window of opportunity, as investors can take advantage of the underlying forces driving the yen. Investors can bet, for the next two weeks, for a yen appreciation by setting a target for USDJPY to break its critical 100 level, with a very tight stop-loss level above this week's highs.
Testing the Major Uptrend
It is the third time this year that the USDJPY tests its major downward trendline, currently standing at 107.5 yen per dollar. In January 2016 the USDJPY peaked at 121.70, while in May 2016 it reached the 111.50 level. In both these instances the yen uptrend was realized, and if a third market test of this trendline succeeds, then new yen highs for the year can be expected. Beyond the technical standpoint, this trading case becomes more compelling when a series of supportive fundamental factors are added to the mix.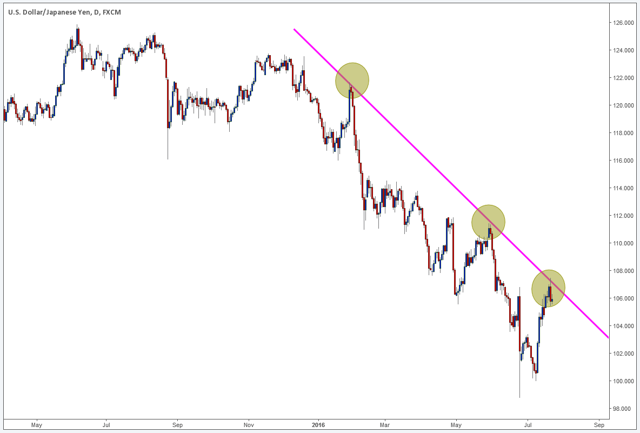 Yen Strength Fundamentals
Positive FX flows, economic policy tactics, speculators' overreaction, and the market's technical positioning, all create the backdrop of a new leg-up in the yen bullish story. Japan has restored its current account balance into a surplus, after a 4-year deficit, assisted by a more competitive yen Trade Weighted Index (TWI). While many believe that some form of "helicopter money" is unavoidable due to policy makers having exhausted all other means, it is rather safe to assume that it won't be happening anytime soon, due to the BoJ's recent denouncement. This leaves room for the yen uptake to occur, especially when taking into account that economic policy actions achieve the largest impact when they can surprise markets. Not to mention that policy makers would rather wait for the underlying FX flows to become beneficial for them before orchestrating an intervention. Under such light it would be much more meaningful to allow a USDJPY drop to reach, or even break, the 100 yen per dollar rate, before intervening to reverse its course. In fact, such an instance can be retraced back to 1995 when Japanese authorities allowed the USDJPY to fall under 80 and investor sentiment to reach extreme bullish yen levels, before intervening in a massive way.
There is yet another reason as to why the yen can be expected to appreciate in the next coming weeks and that is because there was no strong case to substantiate its weakness in the first place. Considering that the recent yen selling was fueled, primarily, by speculators overreacting to the probability of "helicopter money" occurring here and now, no other factor was visible to support a weak yen scenario. The fact still remains, however, that this overreaction caused investors to position themselves aggressively against the yen, leaving them no other choice now but to unwind their excessive bets in order to counteract their misguided reaction to this low probability event. Should investors act in this manner they will provide one more reason to support yen's resurgence.
Risk vs. Reward for Yen Bulls
The basic risk that could cause a reversal in the yen's uptrend is a generalized USD increase. While such an event seems improbable, as long as the USD Index (NYSEARCA:UUP) stays within its major sideways zone, investors should still set a firm stop-loss limit in their long yen trades. Within these margins, investors are presented with an excellent risk/reward opportunity to buy yen with a short-term horizon, and take advantage of this rare alignment between technical and macro fundamentals in full support of yen's bullishness.
Disclosure: I/we have no positions in any stocks mentioned, and no plans to initiate any positions within the next 72 hours.
I wrote this article myself, and it expresses my own opinions. I am not receiving compensation for it (other than from Seeking Alpha). I have no business relationship with any company whose stock is mentioned in this article.
Additional disclosure: The views expressed in this article are solely those of the author, provided solely for informative purposes and in no case constitute investment advice.