Ocular Therapeutix (NASDAQ:OCUL) is a biopharmaceutical company focused on diseases and conditions of the eye, with one product approved (see Figure 1) by the Food and Drug Administration (FDA). Ocular is developing its lead product candidate, DEXTENZA (sustained release dexamethasone) 0.4 mg Intracanalicular Depot using the company's proprietary hydrogel platform technology, for post-surgical ocular pain and inflammation, allergic conjunctivitis, and dry eye disease. The FDA is reviewing a New Drug Application (NDA) for DEXTENZA for the pain indication and has a Prescription Drug User Fee Act (PDUFA) target action date of July 24.
Figure 1. Ocular Therapeutix Pipeline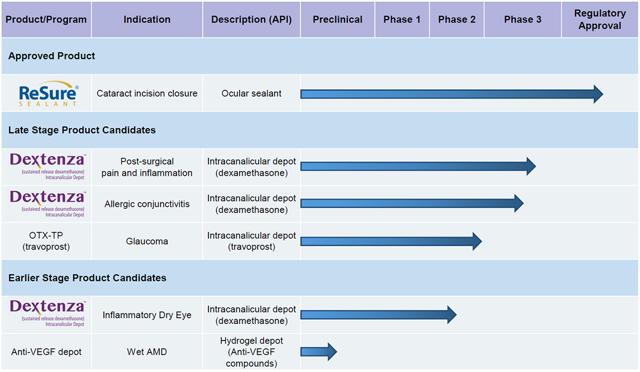 DEXTENZA delivers a 30-day course of anti-inflammatory steroid with a single application of a depot in the tear punctum and underwent two Phase 3 prospective multicenter parallel-arm randomized (double-masked vehicle)-controlled trials (RCTs). In the first RCT which enrolled 247 patients, 76.1% of DEXTENZA patients reported absence of pain (0 on the 10-point Visual Analog Scale) in the study eye on Day 8 following insertion of the drug-containing punctum plug (see Figure below), compared to 36.1% of those receiving the control placebo vehicle (treatment difference = 40%, p< 0.0001). In the second RCT of 240 patients, Day 8 absence of pain was reported by 77.5% of DEXTENZA patients , compared to 58.8% of placebo patients, a 18.7% difference which was again statistically significant (p=0.0025).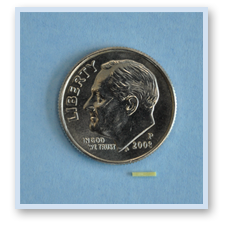 Last October, Ocular initiated a third Phase 3 DEXTENZA trial for the treatment of post-surgical ocular inflammation and pain. Contrary to the first trial, the second failed to show a statistically significant difference in the inflammation endpoint. Thus, the company now excluded patients who were being treated with high dosage levels of oral nonsteroidal anti-inflammatory drugs (NSAIDs), a factor which could've led to the absence of anterior chamber cells at day 14 (the inflammation endpoint) in more placebo patients. If this third Phase 3 trial is successful, Ocular intends to submit a supplement to the NDA to obtain a label expansion for the treatment of post-surgical inflammation, subject of course to receiving approval for the pain indication.
A positive FDA decision is likely based on the recent approval in April of BromSite (bromfenac ophthalmic solution), an NSAID from Sun Pharmaceuticals Industries ( OTCPK:SMPQY). BromSite's therapeutic efficacy in the management of postoperative pain following cataract surgery was also demonstrated in two double-blind, multicenter, Phase 3 RCTs in 440 total patients. Unlike in the DEXTENZA studies, rescue medications (ophthalmic corticosteroids and/or NSAIDs) were only administered after patients discontinued because of an adverse event or a lack of efficacy. There is also a need for a product like DEXTENZA due to its potential advantages over conventional postoperative eye drops.For example, significantly lower drug concentrations are required (regular dexamethasone ophthalmic solution contains 5 mg per drop), which reduce systemic side effects and systemic drug toxicity; drug concentrations in the anterior chamber are consistent and controlled;spillage from improper administration is avoided; and certainlyfewerpossible complications related to noncompliance from patient swho find eye drop schedules as inconvenient.
In conclusion, holding until approval is sound. There will be a period of volatility afterwards, but share prices should stay above current levels. Financially, Ocular has enough cash to last through the third quarter of 2017, making a public offering unlikely unless there is a tremendous and sustained price surge.
Disclosure: I/we have no positions in any stocks mentioned, and no plans to initiate any positions within the next 72 hours.
I wrote this article myself, and it expresses my own opinions. I am not receiving compensation for it (other than from Seeking Alpha). I have no business relationship with any company whose stock is mentioned in this article.