In part 1, we discussed the enormous monetization potential of Nintendo's (OTCPK:NTDOY) Pokemon Go video game. With the stock nearly double the valuation of launch day, it begs the question... did we miss the boat? Or are there other potential opportunities that have been overlooked?
I implore you to read part 1 for the answer to the question of Nintendo's stock price. Today I wanted to focus on the companies that have not been in the spotlight but should participate in the success nevertheless.
For individual companies, my due diligence process starts at the bottom as a typical purchaser of the product or service. Very Warren Buffett like in approach, I look for companies that produce a product that is easy to understand and use and has a high probability of being around 10 years from now.
As such, my Nintendo project started out with downloading the game and going out there to play it. Over the last week I have met close to 100 or more people of all ages, shapes and sizes enjoying the game.
For the last week, my typical routine has been to keep the app on while I'm walking or sitting down at a Starbucks, while exercising at my gym ( a real gym... not a Pokemo Gym), and while going for a three-mile run two to three times a week in the evenings.
In all of those instances, I got to meet other players and take the opportunity to pick their brains about their spending habits and overall impressions of the game.
From those conversations, I managed to put together a more complete picture of just how many things are impacted by this game. Here's what I found and the 11 companies that stand to benefit from the Pokemon Go CRAZE.
The Gate Keepers
1. Apple (NASDAQ:AAPL) and 2. Google (NASDAQ:GOOG)(NASDAQ:GOOGL)
In the two short weeks that Pokemon Go has been out, it has instantly become the top downloaded app on both Apple iTunes and Google Play stores in every country it has launched in.
From the various data providers, we know that the average Pokemon Go player spends more time playing the game than they do on Facebook, Instagram and on other social media sites.
More than that, data providers and analysts believe that the revenue per user from in-app purchases will be 10x for Pokemon Go than for a game such as Candy Crush.
In the two short weeks, I have met a few players that had spent the $99.99 for the 14,500 PokeCoins package a few days after downloading the game.
The remainder of those who admitted to spending money on the game stated that they have spent between $20 and $60.
One young woman told me that she had purchased some coins and can justify buying more:
"... because if you think about it, if you went out and bought a video game, it would cost you about $35 or more anyway, so even if I spend $5 to $10 here, it is still worth it."
Who benefits from these purchases? Well, Nintendo and partners obviously... but it is easy to forget that Apple and Google are the gate keepers to that money and collect a nice revenue share for in-game purchases.
We do not know exactly what the percentage is - however a number of analysts believe it is around the 30% mark.
As per Digi-Capial, mobile game revenue is to grow to $45 billion by 2018. Even if we assume a negotiated 15% cut for in-app purchases, Apple and Google stand to profit handsomely for merely providing a platform and processing payments for game purchases.
While Google still derives its revenue from a myriad of businesses, for Apple mobile gaming revenue is becoming increasingly more important as the company tries to offset the decline in hardware sales and the elongating upgrade cycle.
Device Makers
If you have read my previous articles, you would know that I'm a diehard BlackBerry (NASDAQ:BBRY) user who values the handsets for the productivity and the security that it offers, along with BlackBerry services such as BES 12 Cloud for managing our office devices.
At the same time, I have an Apple iPhone 6S in my pocket next to my BlackBerry Passport for the few apps that are either iOS exclusive or will not run securely on the BlackBerry OS10.
While Pokemon Go ran without issues on both my 6S and on an older iPhone 5, I was not able to install Pokemon Go on an otherwise perfectly working Samsung Note 2 that I had sitting around.
Over the last few days because of my experience of trying to install Pokemon Go on an Android device, it did not come as a shock to me when I ran into two people who shared with me that they had recently purchased new Samsung Galaxy S6 and S7 devices in order to play Pokemon Go.
There will absolutely be new devices sold.
Two days after launch, Pokemon Go was installed on 5.16% of all Android phones. Right now it is estimated to be more than 10%. There are lots of people who have it installed and lots more people who are trying to install it but will have to get a new phone to run the game.
Companies like 3. Samsung and even 4. BlackBerry should be able to sell a few more devices (yes... I may even buy the BlackBerry Priv). Beyond the phone manufacturers, component suppliers should also see an increase in turn.
I do believe this also is where Apple shot themselves in the foot a bit.
While users of two-year-old Android devices will have to go out and upgrade, owners of nearly four-year-old iPhone 5 devices can run the game perfectly fine as long they are updated to the latest iOS version.
This move is great for consumers, but bad for Apple. I do believe it does build up good karma knowing that Apple is not forcing them to upgrade.
Mobile Carriers
Many websites are again warning parents to pay attention to the permissions on their children's' phones, not only for the in-app purchases but also the amount of data that is being used.
The good news for parents and others is that the game does not use a lot of data. I have personally heard that the game uses around 30 megabytes of data per hour, and this article states it is closer to 20.
To put that into perspective, that would be approximately one high resolution image or three or four songs downloaded.
Now, while we as the Seeking Alpha bunch are logical people and understand those numbers, the majority of consumers will assume it is far higher and surely mobile carriers will use this as an opportunity to get people to upgrade to a higher data plan.
In the United States, carriers such as Verizon (NYSE:VZ) and AT&T (NYSE:T) will push their reliability and reach, and no doubt Sprint (NYSE:S) will keep pushing their unlimited plans and the 50% off promos.
One company that has taken advantage of Pokemon Go in particular perhaps to no surprise is my carrier of choice - 5. T-Mobile (NASDAQ:TMUS).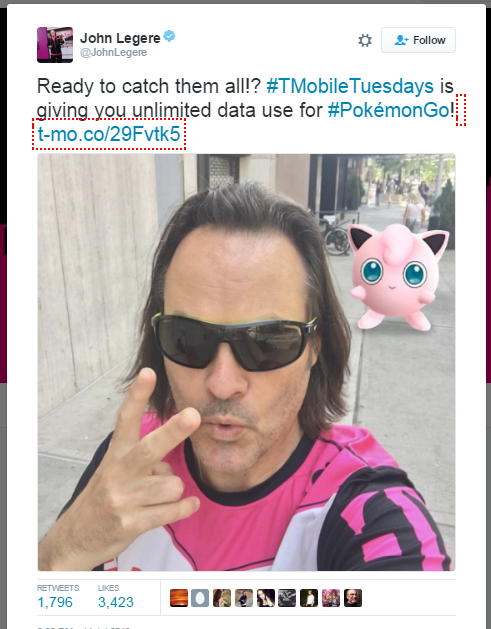 Source: Twitter
Combined with the fact that T-mobile also offers unlimited data while traveling overseas, it becomes the absolute carrier of choice for the serious Pokemon global jet setter.
To see if this theory pans out, look for increased data usage and revenue for Verizon and AT&T, and look for increased subscriber growth for Sprint and T-Mobile.
Gaming Retail
With more gaming revenue shifting towards mobile gaming, it is easy to be bearish on retail companies such as Toys R Us and 6. GameStop (NYSE:GME).
One of the comments/questions from Part 1 was about GameStop in particular and I did not have a strong opinion about it one way or the other... that is until Monday night when I ran into a GameStop employee who came in to Starbucks to play Pokemon Go.
While yes, it is true, Pokemon Go has for the most part cut retailers out of the picture, what Pokemon Go has done is created "insane" demand for the previous games and offerings.
As per this employee, since the game launched, his GameStop had sold out of every used older Nintendo system, along with the older Pokemon games. As we know, GameStop benefits the most from the sale of used consoles and games and their bottom line should show that.
More than that, the game has caused an overall increase in traffic and revenue for the store beyond Pokemon games.
This in it of itself should make GameStop a good trade for the next few quarters.
While GameStop has a solid dividend yield of over 4% and trades at a modest PE of 8, you do have to pay attention to the growing concerns of long-term growth, particularly as more gaming shifts online.
Looking forward, GameStop can look to the launch of two new planned Pokemon console games along with Nintendo's next generation console.
More importantly GameStop will be carrying the Pokemon Go Plus module that will carry fairly high margins and will be a direct win for both GameStop and Nintendo.
As per the employee, the pre-orders for the module were sold out within hours and the store was keeping a list locally for those interested. They do not however expect to have many available at launch due to the oversubscribed demand.
Furthermore, I was informed that GameStop is paying very close attention to which stores are currently designated as "PokeStops" within the game and is pushing Niantic to make all of the GameStop stores official "PokeStops," which would without a doubt ensure increased traffic to the stores for the foreseeable future.
Fitness Wearables
One thing that a Pokemon Go player will tell you is that the built-in GPS distance calculator significantly under estimates your mileage.
Very quickly you will consider using a fitness tracker, be it the built-n Apple Health app with an Apple Watch, a Samsung Gear/Fit watch or a fitness tracker from 7. FitBit (NYSE:FIT).
While I originally used a FitBit and found it helpful, I did give it up after two weeks when I got a sense of my fitness habits.
After starting with Pokemon Go, I quickly took it out to get a truer picture of my fitness activity. Many other players that I have run into also showed interest in getting a fitness tracker.
More importantly as more runners pick up the game, you will have continued interest in both the game and fitness, and the FitBit tracker will help you track your true progress.
While I do not have an opinion on the current valuation of FitBit, it does merit a look to see if it works for you.
What would really get me excited is if FitBit, or someone else, got together with Nintendo and created a combination of the Pokemon Go Plus device and a fitness tracker instead of having to wear both devices on your runs.
Other Companies Capitalizing On Pokemon Go
Two companies in particular that are really taking advantage of Pokemon Go are theme park operators 8. Disney (NYSE:DIS) and 9. Six Flags (NYSE:SIX).
Six Flags in particular is going full steam ahead embracing Pokemon Go. Six Flags has published a players guide so that park visitors are able to take advantage of the numerous PokeSpots and Gyms within the parks. Players are then encouraged to post pictures via hashtag #PokemongoSixFlags. The parks also have put up signs for the three Pokemon Go teams (Instinct, Mystic and Valor) so that you can take your picture there. If you click on the link with the hastag you will see the numerous Twitter posts.
Disney on the other hand has not embraced the game, and in fact Nintendo has a deal with Disney's competitor Universal, yet that has not stopped families from going Pokemon hunting in the friendly environment of Disney theme parks.
Both Disney and Six Flags seem to be priced to perfection, but if you were interested in any of the two stocks before, Pokemon Go just may push you over the edge to invest.
The final two companies that are worth a look are 10. Starbucks (NASDAQ:SBUX) and 11. McDonald's (NYSE:MCD).
These two are a bit more speculative and I would not invest in them simply due to Pokemon Go - however like with Six Flags and Disney, the game can be a good catalyst.
Personally, I have spent more time at Starbucks over the last two weeks, in particular a Starbucks that is located between two PokeSpots.
In every Starbucks I have visited during that time, I have seen at least three or four people playing Pokemon Go while they were eating or drinking their coffee.
Will Pokemon have coffee drinkers try Starbucks? Maybe?
Will Pokemon keep people at Starbucks longer? Yes, I think so.
McDonald's is here for the same reason as Starbucks, however there is an additional speculative play here.
As discussed in Part 1, a few people who have looked at the game code have seen references to McDonald's. It is possible that McDonald's may have special spawn points for Pokemon monsters or may be a future PokeSpot or a Gym. Considering that McDonald's has offered Pokemon toys before - it would seem plausible that this would happen.
EDIT: After completing this article, I have run into this gem. As per the International Business Times... McDonald's will be the first Pokemon Go partner in Japan, and will sponsor Pokemon Gyms.
So there you are - 11 ways to take advantage of the Pokemon craze without buying Nintendo directly.
In Part 3, we will examine the question of whether Pokemon Go has the staying power to keep monetizing the Pokemon franchise as a whole.
Final Note: I hope you found this article helpful. I am a believer in active management that works and I am here to help you find those opportunities. Please follow me here on Seeking Alpha as we look for those opportunities and sort out the good managers from the mediocre.
Simply click the "Follow" button below if it appears for you or click "Follow" next to my name at the top of the article. Alternatively, you can click the orange "Follow" button from my profile page.
Disclosure: I/we have no positions in any stocks mentioned, but may initiate a long position in NTDOY, GME, MCD over the next 72 hours.
I wrote this article myself, and it expresses my own opinions. I am not receiving compensation for it (other than from Seeking Alpha). I have no business relationship with any company whose stock is mentioned in this article.
Additional disclosure: Maks Financial Services is a registered investment advisor and our Form ADV Part 2 is available upon request. We certify that the opinions and predictions in these articles are our professional beliefs at the time of publication and should not be construed as personal investment advice. Please consult your financial professional to see how anything discussed here applies to you. Furthermore this is not a solicitation to buy or sell any securities. This is not Tax Advice. Please consult your tax professional.
Editor's Note: This article discusses one or more securities that do not trade on a major U.S. exchange. Please be aware of the risks associated with these stocks.