As we come to the halfway point of the second year of low energy prices we must begin to take a hard look at the future and see which companies offer the best turn around potential in the energy market. Today we will be looking at EnCana Corp. (NYSE:ECA) who joined the parade of Q2 earnings reports from the Canadian energy sector. Now we get to see if a mild uptick in energy prices combined with EnCana's cost reduction strategies have had any benefit to the company's financials.
Unlike some Canadian producers EnCana has a diverse portfolio of production capabilities in North America. With 95% of its capital investment program focused on the Montney region of Northern Alberta and B.C., the Duvernay play in west-central Alberta, the Eagle Ford region of Texas and Permian territory in West Texas and New Mexico. Given that these resource basins are primarily in shale regions it sets EnCana apart from many of its heavy crude/oilsands counterparts.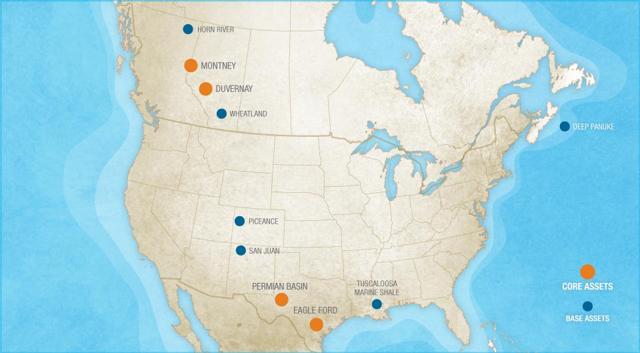 source
Yet despite the distinction EnCana has faced the same troubles as its oilsands counterparts and now we can investigate its Q2 2016 report to see if there is any hope for the future with Encana and its stock.
Get to the fracking results already
To get right down to business EnCana's freshly released second quarter report contains a fair bit of red ink, but it still shows some improvement over Q2 2015. Revenues (net of royalties) in the past quarter came in at $364 million down from $830 million in last year's quarter. The drop in revenues was split fairly evenly across North America, as Canadian operations dropped to $252 million from $387 million and U.S. operations fell to $460 million from $629 million and its Market Optimization division saw its revenues rise to $92 million from $88 million.
Revenues are understandably down as the average price of WTI crude was down to $45.59 per barrel during EnCana's second quarter from $57.94 a year ago. This translated to EnCana's realized liquids price of $38.47 in Q2 2016 down from $43.78 in Q2 2015. It was a similar story for natural gas which held an average price of $1.95 MMBtu during EnCana's quarter down from $3.52 MMBtu during the same period last year. This translated to EnCana's realized natural gas price of $1.86 Mcf down sharply from $3.52 Mcf in 2015.
When we look at EnCana year to date revenues (net of royalties) have fallen to $1.11 billion from $2.07 billion from this time last year. However as we begin to look deeper into EnCana's financials we do see some positive stories. For instance, operating profits in the quarter rose to $89 million a stark improvement over the $167 million loss from Q2 2015. When we drill down to the bottom line we see a net loss of $601 million ($0.71 per share), while it is still a loss it is a vast improvement over the $1.61 billion ($1.91 per share) net loss from last years' quarter.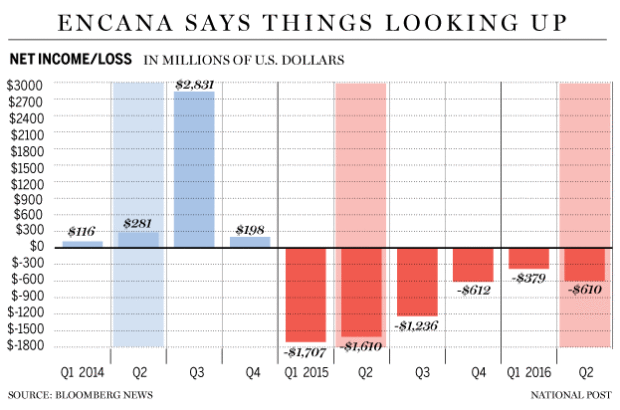 source
Part of this recovered earnings is in the lack of capital expenditures in the first half of 2016, as capital expenditures fell to $215 million from $743 million in Q2 year over year, and year to date capital expenditures has fallen to $574 million from $1.47 billion. EnCana's bottom line was further aided by a 30% decrease ($100 million) in its drilling and completion costs in its four main operational territories.
Tough Choices
In order for the company to deal with its mounting net losses it has been forced to make many difficult choices to avoid collapse. Some of the choices included laying 2,300 people representing half of its work force, a dividend reduction, a lessened dependence on natural gas and divestments of assets and properties. In the quarterly report we see that company assets fell to $1.28 billion from $1.6 billion a year ago.
The two most recent divestments include the sale of its 51,000 net acre large Denver Julesburg Basin assets for $900 million and its sale of its 54,200 net acre large Gordondale assets in northwest Alberta for C$625 million. EnCana has already announced that it will use these sales to increase its capital expenditure program by $200 million to $1.2 billion in 2016. The area which may see the most benefit will be its Permian operations which has been earmarked to receive 75% of the additional capital. The second big winner of additional capital will be EnCana's operations in the Montney region as the company looks to ramp up production of oil & NGL to 50,000 boe/day in 2018 from its current output of 21,000 boe/day. In the shorter term EnCana is looking to boost system wide production by 13,000 boe/day by Q4 2016 to a total production guidance of 340,000 boe/day to 360,000 boe/day.
Where does this leave investors?
With all energy companies at the moment there is still a fair amount of risk, the issue is finding the right balance of risk and reward. While EnCana is still in negative earnings territory its increase in operating profits does set it above many of its competitors. I am also of the belief that the worst should be over for EnCana at the moment as it does have a few positive factors. Thanks to its debt management, EnCana now has no long-term debt set to mature until 2019 which should give the company plenty of breathing room. It still carries a total long term debt of $5.69 billion, which has increased from $5.33 billion from this time last year, yet that amount still falls into the "normal" range compared to its competitors.
One the major sticking points that I still have is EnCana's "locked in" contracted energy prices of $55.91 for crude and $2.63/mcf for natural gas. While natural gas prices have managed to climb back up to $2.69/mcf, it only represents about 25% of EnCana's total operations now, leaving the once King of Canadian natural gas in second place. Since crude is still trading at $44.54 as of Thursday there is still cause for concern that EnCana will continue to feel negative effects in the next couple of quarter.
In terms of stock price:
| | | | | |
| --- | --- | --- | --- | --- |
| | Price | 52 Week High | 52 Week Low | Avg. price target |
| TSX | C$11.04 | C$11.97 | C$4.14 | C$10.50 |
| NYSE | $8.44 | $9.23 | $3.00 | $9.38 |
On the NYSE EnCana is presenting some room for growth with a $9.38 price target with a total range of $5.00 to $15.00, offering some incentive for investors. However the still reduced dividend and continued slump in oil prices translate to a long waiting period for investors to see significant returns. Those looking for a Canadian energy company with minimal oil sands operations could find an option in EnCana, as long as it is remembered that a great deal of patience is required. Personally with the loss of market capitalization and operational capabilities I believe that returning to its stock price of $26.00 in 2014 is still unattainable. However those who are looking to secure their long-term energy portfolio, may be tempted by EnCana's predominantly shale oriented operations.
Author's note: If you enjoyed this article and found it helpful, please "Follow" me on Seeking Alpha to receive notification whenever I publish a new article.
You may also be interested in other recent articles I have written for Seeking Alpha with my Canadian point of view that focus on stocks and stories that I have found compelling. You can also find my previous articles here for further study.
Disclosure: I/we have no positions in any stocks mentioned, and no plans to initiate any positions within the next 72 hours.
I wrote this article myself, and it expresses my own opinions. I am not receiving compensation for it (other than from Seeking Alpha). I have no business relationship with any company whose stock is mentioned in this article.