In just looking at the headlines, a strong quarter from General Motors Company (NYSE:GM) not only bodes well for the iconic American carmaker, but also for the industry as a whole, including peers and rivals such as Ford Motor Company (NYSE:F). The company reported record-breaking revenue, and EBIT jumped from $2.9 billion to $3.9 billion on a year-over-year basis. General Motors also upped its full-year outlook, now looking for a per-share profit of between $5.50 and $6.00 versus a prior estimate of $5.25 to $5.75.
And yet, there's more to the story. A closer look at the bigger, detailed trend suggests a headwind that could be trouble for GM, Ford, and all the rest has already started blowing.
GM Earnings Recap
Last quarter, General Motors ramped up its revenue at a year-over-year pace of 11%, reaching $42.4 billion... a record-breaking mark. Adjusted EBIT of $3.9 billion was also a record. Q2's unit sales essentially matched the 2.4 million units sold in the same quarter a year earlier while the year-to-date unit tally is also matching the year-to-date pace of 2015. Truck sales, which generally command a higher retail price than cars, carried the bulk of the weight.
The numbers may leave some investors wondering if the early-2016 calls for "peak auto" were nothing more than vaporous theories.
They weren't. The brunt of the peak auto impact simply has yet to be realized. A handful of visualizations tell the tale better than the simple numbers do.
Yes, Peak Auto Happened
As the old adage goes, a picture is worth a thousand words.
The chart below is the changing pace of automobile sales in the United States, overlaid with analyst estimates of those figures before they're posted. Yes, Q4's average pace of 17.8 million was jaw-dropping, and Q2's average unit sales pace of 17.2 million was better than the Q2-2015's average of 17.1. The direction of the trend, however, is now undeniably downward.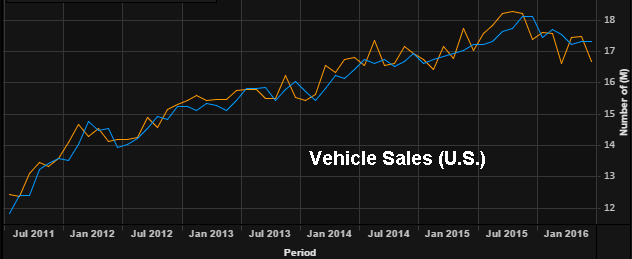 Chart provided by Thomson Reuters
The trend is especially alarming for cars, but still slowing for trucks.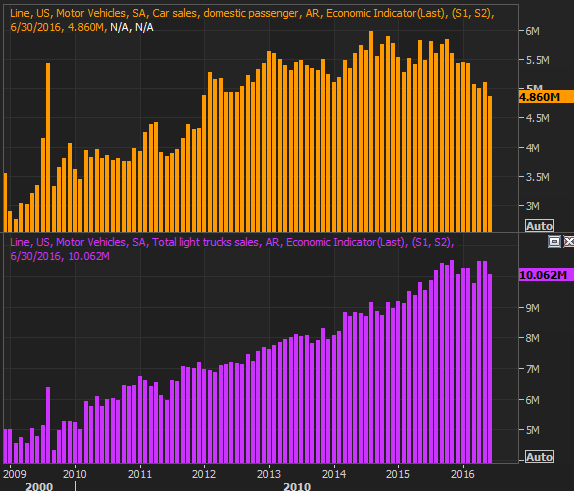 Chart provided by Thomson Reuters
Barring any major changes between now and the end of the third quarter, GM's Q3 earnings report may not be so rosy.
Those who know General Motors well will defend it by pointing out that the company doesn't just serve the American auto market. It also has a presence in Europe, Africa, and China. Indeed, sales of its Baojun branded vehicles in China were up 78% last quarter on a year-over-year basis. Meanwhile, the company's Buick brand saw a 29% increase in year-over-year sales.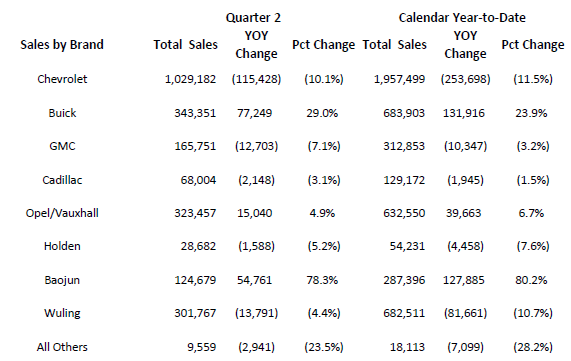 Data provided by General Motors Q2, 2016 report
Problem #1: Chevy and GMC vehicle sales declines were even bigger than unit sales gained by Baojun and Buick.
Problem #2: Peak auto, of a sort, happened in China as well.
The chart immediately below plots China's domestic sales of automobiles, the level of automobile imports of foreign vehicles, and net production of vehicles in China. Imports have clearly dropped off after peaking in 2014, and though domestic sales and production are still technically in uptrends, a couple different uncharacteristic monthly plunges since 2015 serve as red flags for what looks like an overextended trend.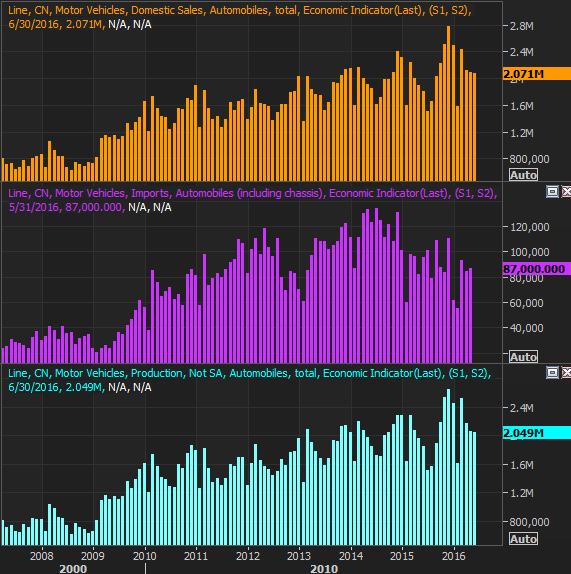 Chart provided by Thomson Reuters
Underscoring this premise is China's continued deterioration in retail spending growth.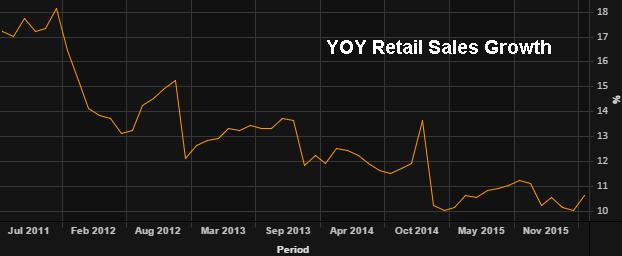 Chart provided by Thomson Reuters
And no, General Motors isn't bucking the bigger trend by garnering an inordinate amount of market share in the United States. June's U.S. market share was 16.9% of the domestic market, down from June's 17.6%. If anything, GM's market share is shrinking, mostly at the hand of Ford.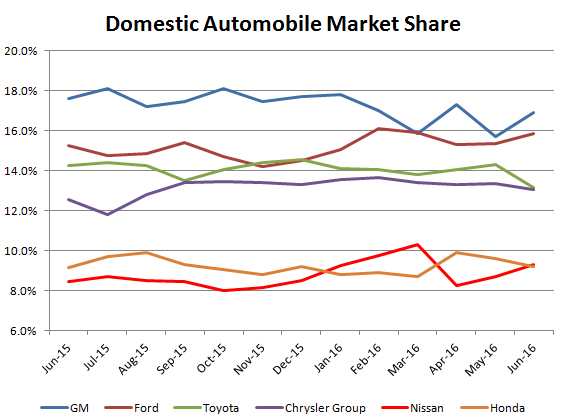 Data provided by Edmunds
Conclusion
With a P/E of 4.8 and a dividend yield of 4.9%, it's admittedly tough to not give General Motors at least a little benefit of the doubt. Even in the unlikely event the worst-case scenario pans out and we run into a debilitating recession, GM's shares are priced as if the disaster has already happened - how much worse can things get?
Yet, GM's shares have been unraveling since late-2013, even as the company's revenue and bottom line were rising. If actual growth can't pump the stock up, then stagnation or even a merely modest lull in the top and bottom lines certainly can't be expected to yield any more bullish results.
The numbers/charts above don't lie.
With all of that as the backdrop of a pessimistic case for General Motors, perhaps it was something Standard & Poor's analyst Nishit Madlani opined earlier this month that makes the point as well as any chart or data set can: "In our view, the growth rate of U.S. auto sales will likely slow for the remainder of this year and into 2017."
S&P cut its 2016 sales outlook from 17.8 million units to 17.5 million, though that action doesn't preclude another lowered estimate later in the year.
Waning used car prices are the subtle red flag, suggesting Madlani may be onto something.
The other red flag: Delinquencies on subprime car loans exceeded 5% as of March - a 20-year high. If that financing dries up, the "umph" driving the heroic rise in automobile sales through the end of 2015 withers away.
The third quarter will likely be a different story than the second quarter, not just for General Motors, but Ford, and most other car brands sold in the United States. We can't see it yet, but it's coming.
Disclosure: I am/we are long F.
I wrote this article myself, and it expresses my own opinions. I am not receiving compensation for it (other than from Seeking Alpha). I have no business relationship with any company whose stock is mentioned in this article.