For a second straight quarter in a row, Pandora's (NYSE:P) shares were propped up (for a brief period) in the hours leading up to its earnings announcement by yet another report of a possible takeover of the company, this time surfacing from the WSJ with regard to Liberty Media (LMCA) potentially scooping up the company for around $15/share. The catch however comes with the report claiming that the offer "floated" by Liberty Media was by no means an official offer, and was likely a "fishing expedition" by Liberty Media CEO Greg Maffei. Revenue came in on the light side at $343 million for Q2 under the consensus estimates of ~$352 million, and was highlighted by lackluster active users and subscription growth. Despite trading at just under ~2x 2016 revenue estimates (assuming the company will deliver on its guidance for $1.395-1.405 billion in revenue), shares remain overvalued as the primary portion of business (streaming music) faces stiff competition from the likes of Spotify (Private:MUSIC), Apple Music (NASDAQ:AAPL), etc. and evitable declines in both subscription and advertising revenue.
Fool Me Once, Shame On You. Fool Me Twice, Shame On Me
Interestingly, when Pandora reported its Q1 earnings back on February 11, takeover speculation also hit the wire just hours before the earnings release, which notably turned out to be bogus claims after CEO Brian McAndrews shot down the question on the earnings call. Granted, there isn't much that can be said regarding a sale in any case whether a company is in talks or not, but this trend deserves a deeper look. Ironically, another takeover report hit the wires Thursday afternoon as well, this time perhaps delivering a more convincing report regarding a potential sale. Whether Pandora will be ultimately bought and merged into a larger media company remains a mystery, but it certainly won't be for a significant premium if the company fails to deliver subscriber and sales growth aside from its Ticketfly business.
With revenue growing ~20% on a y/y basis, it's imperative that investors look at what drove the growth in order to make better sense of the quarter and assess implications for future quarters given the dynamics of the market the company is in. After posting a ~119% jump in Ticketfly revenue from Q4 2015 to Q1 2016 on a sequential basis, sales from the company's ticketing services seem to have plateaued onwards, with the company reporting a mere 2% growth sequentially from Q1 to Q2 of this year. Granted, the revenue figure in Q4 is a bit suppressed because of the acquisition completing in the middle of the fourth quarter, but the company's future prospects are pretty dim if its plans on shifting the core profit/revenue model away from solely streaming music are to unwind likely so. Recall the company paid $450 million for Ticketfly in October 2015. Given the fact that thin margins are a formality in the ticketing business, I can't envision the Ticketfly acquisition paying off for the company any time soon, which only adds to the growing loss on an operating and net basis.
The company ended Q2 with a loss of around $76 million, up three-fold on a y/y basis. Normally, losses would be welcome for a company in a hyper-growth phase, but that simply isn't the case for Pandora. The only business that needs additional and aggressive R&D and marketing is Ticketfly, which evidently hasn't performed so hot. Moreover, it's hard to convince investors and the general public that the losses that are piling up quarter after quarter will one day have an end to them if the company's core business is growing at a dramatically lower rate than operating expenses and other costs of revenue.
Specifically, operating expenses grew ~30% y/y while COR (costs of revenue) grew ~45%, primarily driven by content acquisition costs (CAC). In the same context, the ~35% jump in CAC is extremely alarming given the roughly 2% decline in active users to ~78.1 million. The delusional feed from management remains intact, however, with management touting that "user engagement reached an all-time high of 24 hours per active user per month" during the second quarter, but fails to realize and communicate that not all of Pandora's users utilize a paid subscription. In fact, the company also touted a similar fact on its corporate presentation from June, highlighting that Pandora maintains a ~56% share over U.S. music streaming hours over major competitors like Spotify and iHeartRadio.
Figure 1: U.S. Music Streaming Hours Market Share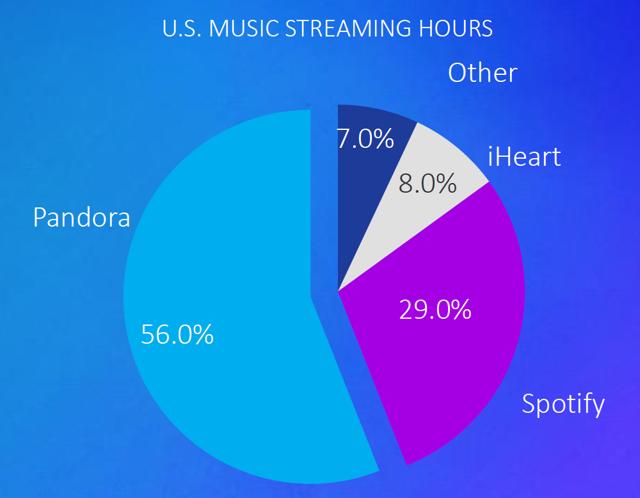 (Source: Company Investor Presentation, June 2016)
Contradictory to what the presentation states, paid users to a streaming music service are more material drivers to a company's or product's growth story. A report compiled by statistics and reports portal Statista in early July showed that Spotify remains the big dog in terms of paid users. Notably, Pandora trails Spotify with a mere 3.9 million paid users, making the company look like a small fish amongst the rest of the players, including Apple Music, which actually arrived fairly late to the streaming music market. Granted, the report by Statista includes worldwide users vs. only U.S. share presented by Pandora, but the theme remains the same across all geographies.
Figure 2: Worldwide Paid Subscribers of Music Streaming Services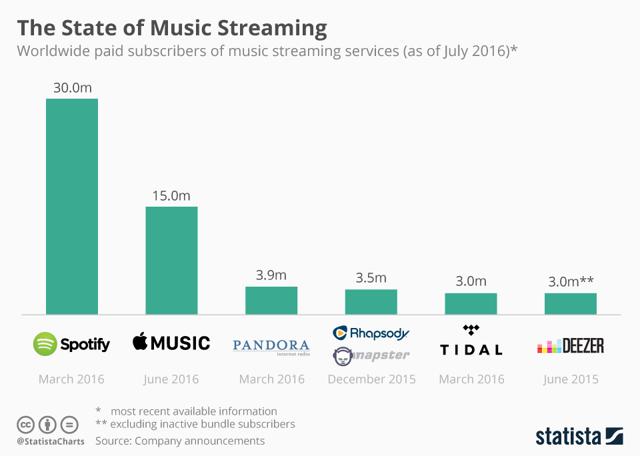 (Source: "The State of Music Streaming", Statista, July 2016)
Figure 3: Pandora Active Users (millions)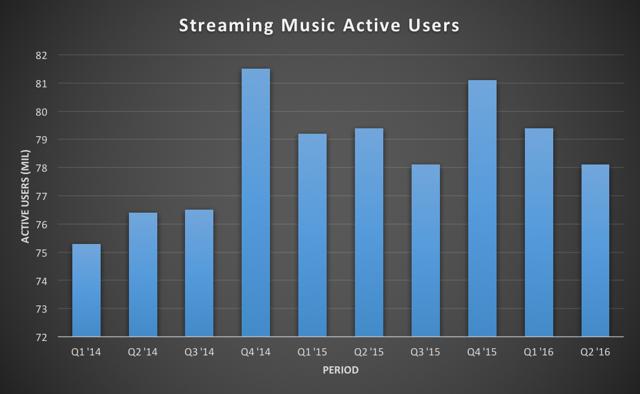 (Source: Company filings)
Spotify and Apple Music Continue to Turn Heads
Reports earlier in the week floated the idea that Spotify was prepping for a "potential" IPO in the second half of 2017 at a supposed valuation of ~$8 billion based on the company's latest round of funding in March of this year. The report compared Pandora to the now beloved service, stating that weak margins also could be the Achilles' heel for Spotify in terms of Wall Street credibility and ratings, the same issue that was raised and that is in full force for Pandora. Irrespective of whether margins will pop up to haunt the company, Spotify still raked in over $2 billion in sales in 2015, primarily off its $10/month for premium appeal. Additionally, as a student myself, I can vouch for the student deal of only $5/month for premium as it also remains a convincing factor for the company's target age group.
An Apple-Pandora marriage is 100% out of the cards in my view as reports surfaced earlier in the month regarding a possible AAPL purchase of Jay-Z's own service Tidal. Tidal caught attention after Kanye West initially released his latest album solely on his friend Jay-Z's service, hoping to drive traffic to the newly launched offering. With that in mind, all of Pandora's competitors in the streaming music market maintain a competitive advantage or appeal for consumers, with Apple Music being able to tag along with Taylor Swift after her breakup with Spotify a while back and Spotify simply being the social streaming network for all of Generation Z. The unfortunate reality staring Pandora straight in the face is that being the "first-mover" in the market actually victimized the company in the future as competitors were able to build off the initial model of free Internet radio. User drop-off and appeal curved when Pandora first introduced the subscription model and advertising (initially 30 second ads) in 2009-2010. Users then went off to Slacker Radio for a brief time before "hopping" from various different services, which simply illustrates the "commodity-like" nature of the market Pandora now finds itself in.
Final Thoughts
With no notable growth in active users or subscription revenue, I stand bearish on Pandora and believe that it is set to suffer a further decline, contradictory to some views that the worse may in fact be over for the company. I maintain my view that listener hours are simply a metric that is overrated and given too much attention in an environment where profit/revenue will ultimately be demanded. With the amount of competition the service faces, I don't expect to see notable growth in paid users and actually expect a decline in paid users, which would in turn translate to negative subscription revenue growth, causing a chain reaction where the company would be forced to cut costs to maintain margins.
Note: Data as of after-hours trading close, Thursday, July 21st.
Disclosure: I/we have no positions in any stocks mentioned, and no plans to initiate any positions within the next 72 hours.
I wrote this article myself, and it expresses my own opinions. I am not receiving compensation for it (other than from Seeking Alpha). I have no business relationship with any company whose stock is mentioned in this article.