Though Healthcare Realty Trust (NYSE:HR) has got one of the best asset classes in the industry and warrants 15% to 20% premium on its peer group AFFO multiple, the current valuation looks expensive. The current value of the stock provides a shorting opportunity for investors with downside of 6% to 7%.
In-service asset class provides healthy organic growth for HR
I believe over time there will be healthy organic growth in its in-service portfolio as a result of HR's exposure to high-quality medical office buildings (MOBs). The in-service portfolio has the advantage of being on campus or adjoining to the campus, and in addition, the major chunk of the portfolio is made up of large and multi-tenanted assets. As a result, the management is successful in escalating the rental rates over the several previous quarters, and also the step of revamping the incentive compensation plan for property-level employees will have a positive effect. The average renewal cash lease spread has increased from 2.0% in 2014 to 4.0% recently, and likewise, there is a modest improvement in tenant retention ratio from 85% to 86%.
Investment pace will continue, but focus remains on quality assets
The management is continuing the focused acquisition strategy of acquiring individual to small portfolios but of high-quality properties. Though the standpoint limits the investment pace, the in-service portfolio will have only quality assets. HR is expecting to complete the acquisitions worth $125-175mn at the cap rates of 5.5% and 6.25% in the year FY16. Till date, two investments worth $60.0mn have been completed at an average 5.6% cap rate. The company is expected to complete acquisition at a modest pace by investing $143mn in FY16 and $100mn in FY17.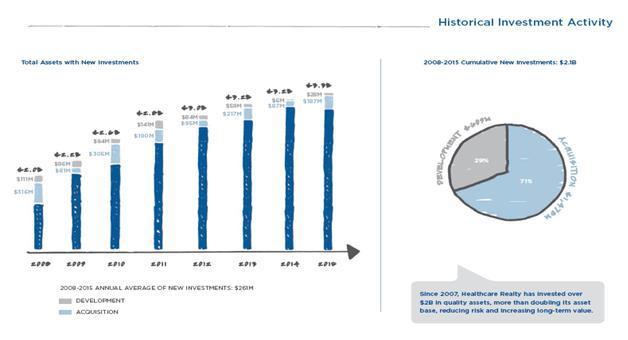 Source: Company financials
Increasing development activity
The company is expected to continue with the modest pace in development activity by developing 2-3 new projects per year worth $80-120mn of total investments. Currently, there are four projects in the pipeline with a total expected investment of $99mn, and they are highly pre-leased at 79%. Furthermore, management proposes to break ground on two large scoped Seattle-based projects. The first project will likely break ground in 4Q16, and the second in the middle of FY17.
Financial position appears healthy
In the previous year, the net debt to EBITDA has decreased marginally from 6.1x to 6.2x. HR is likely to maintain this level in the near future by funding investments from sale of assets and equity issue through ATM. Considering the investment outlook, I perceive the company might sell assets worth ~$50mn annually and issue equity through FY17. With this hypothesis, there will be flat leverage, dropping to 5.8x by FY16 and moving forward to 5.9x by FY17.
Valuation
As per my view, the 12-month price target of HR is $33. I think HR warrants 15% to 20% premium on its peer average FY16 AFFO multiple of 17.0x. The stability of the MOB asset class and the company's ability to add value through its development platform justify the premium set. My AFFO/share estimate for FY16 and FY17 is $1.65 and $1.75, respectively.
| | | | |
| --- | --- | --- | --- |
| Peer analysis | Ticker | FY16 AFFO multiple | FY17 AFFO multiple |
| Welltower, Inc. | (NYSE:HCN) | 16.4x | 15.8x |
| Alexandria Real Estate Equities | (NYSE:ARE) | 18.0x | 16.6x |
| Physicians Realty Trust | (NYSE:DOC) | 20.6x | 17.3x |
| Ventas, Inc. | (NYSE:VTR) | 17.4x | 17.0x |
| HCP, Inc. | (NYSE:HCP) | 12.6x | 12.7x |
| Healthcare Realty Trust Inc | HR | 22.0x | 21.2x |
| Premium on peer average | | 29.4% | 33.5% |
Source: Fundamental Investment estimates
Disclosure: I/we have no positions in any stocks mentioned, and no plans to initiate any positions within the next 72 hours.
I wrote this article myself, and it expresses my own opinions. I am not receiving compensation for it (other than from Seeking Alpha). I have no business relationship with any company whose stock is mentioned in this article.