CPI Inflation Surprises to The Upside
India's headline CPI print remained steady at 5.8% YoY in June (vs 5.8% consensus) while core inflation (excluding food and fuel prices) decelerated to 5% YoY from 5.2% YoY last month. Headline inflation remains at a 22 month high, driven primarily by elevated food prices.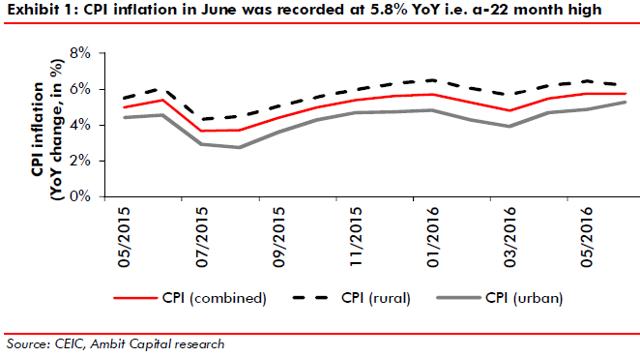 Food inflation (making up 45.9% of the CPI basket) was key, rising from 7.5% to 7.8%. This stemmed from vegetable prices (increasing from 10.8% to 14.7%) and of sugar (rising from 14.1% to 16.8%). Fuel inflation remained steady at 2.9% while services inflation was unchanged at 4.1%. Core inflation slipped from 4.8% to 4.6%.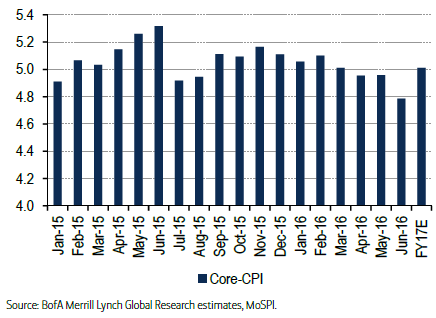 The inflationary pressures from food items can be attributed to the ongoing demand-supply dynamic which generally creates some degree of seasonality in India's food inflation numbers. Administrative measures have traditionally been used but represent only a temporary fix. A more permanent solution would address supply dynamics by raising productivity, which will require a lot of time and will to implement structural reform.
The upward pressure in CPI inflation in April- June has surprised many, raising doubts whether RBI will be able to attain its 5% CPI forecast by early 2017. I think inflationary fears have been overblown as 1) food inflation traditionally eases post July regardless of the monsoon, 2) there is lowered pricing power and sufficient excess capacity in the system to negate any inflationary pressures from the 7 th Pay Commission Awards and 3) the election of a hawkish RBI Governor should ensure inflation targeting remains a key factor driving monetary policy
Food Inflation Seasonality
The financial markets, (the Indian bond market for instance) seems to be ignoring the inflation risks, as the recent numbers have been led primarily by higher food prices. The underlying expectation in India is that just as food prices have risen sharply, they will correct sharply in the coming months as well. Hence, the inflation trajectory should return back to normalcy sooner rather than later.
History seems to support this notion as well. The June-August period has traditionally been characterized by a firming of food prices, irrespective of a good or bad monsoon.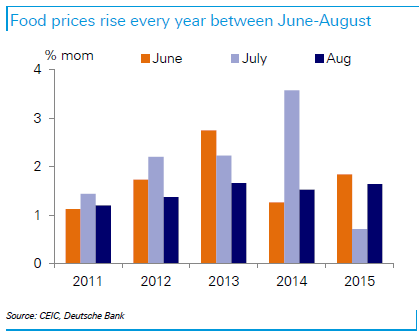 Based on seasonal patterns, the pace of food price increase should ease in the coming months given that food prices have already increased substantially in April-June. The key remains the quantum of the shift rather than the deceleration itself. Seasonality may play spoilsport and result in a smaller correction than currently anticipated which could result in a deviation from the expected inflation trajectory.
Thus far, India looks set for a good monsoon. The forecast for the 2016 monsoon season (June to September) released by the IMD predicts rainfall for the country as a whole is likely to be above normal, which should reinforce the notion of easing inflationary pressures ahead. Having said that, factors such as 1) buffer stocks, 2) international food prices, and, 3) costs of key farming inputs will play a key role in helping to keep food prices in check.
On the 3 rd point (cost of key farming inputs), farmers have seen a significant decline in key input costs. This should provide some indication of easing "ag-flationary" pressures as in general, the cost of seeds, manure, fertilizers, fuel (diesel), irrigation charges, machine labour, etc., account for 34% of total costs.
7th Pay Commission Awards
Submitting its report on November 2015, the Government has agreed to implement the 7th Pay Commission awards. This will constitute a 23.6% hike in pay and allowances which will in turn boost the pay & pension-GDP ratio (excluding arrears and railways) by 0.46% of GDP. Additionally, CPI housing inflation tends to rise sharply one year post implementation and remain high into the second year as well. In 2010, one year post the implementation of 6th Pay Commission, CPI housing inflation for industrial workers rose sharply to 21%, (from 4.6% in 2009). This trend remained in place with inflation remaining high in FY11 as well at 21.9%. Inflation began to moderate two years post the implementation of the 6 th Pay Commission to 11% in 2012.
The second indirect effect from the increase in salaries for government employees stimulating consumption demand should not materialize as a result of the excess capacity already prevalent in the system. The excess capacity should limit significant aggregate demand pressures pushing inflation expectations higher. The private sector is also facing downward pressure on margins from lower pricing power (as a result of poor growth) and is unlikely to resort to acceleration in wage growth.
The Governor Risk Premium
The key for markets in this regard, will be if or how much of a shift the new RBI Governor makes from the Rajan's hawkish regime. Of the four candidates, Urjit Patel looks to be the frontrunner along with Arvind Panagariya, Rakesh Mohan, and Subir Gokarn. Of the four, Arvind Panagariya looks to be relatively dovish, Rakesh Mohan to be largely balanced and Urjit Patel and Subir Gokarn slightly on the hawkish side.
Near term, a dovish RBI Governor will be favoured by the markets. Equity markets should welcome a more growth-friendly policy. For the medium-term though, the strong inverse relationship between inflation and the rupee should come front and centre. A rise in the inflation risk premium under a dovish RBI should be negative for the rupee.
The debt markets will be a worry in the face of inflationary pressures. Since inflation in India has troughed, debt flow appetite has been weak.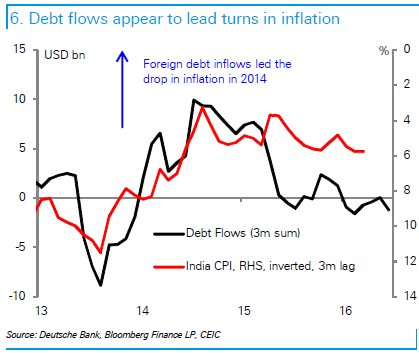 An expected rise in inflation could prompt a reversal i.e. massive debt outflows from global investors in India. The successful battle against inflation has been a key part of India drawing inflows into the country post 2013. Any re-rating of the inflation outlook could create uncertainty and negatively weigh on the currency.
Will the RBI Cut?
The RBI is likely to remain status quo in the near term with upward inflationary pressures remaining prevalent. In fact, the IIP and CPI numbers suggest a stagflation scenario. The key to forecasting India's inflation trajectory and policy easing roadmap will be the trend in actual rainfall and its impact on food prices. Rainfall activity has been picking up pace of late and cumulative rainfall stands at a surplus. When the RBI meets next on August 9, considering that 43% of the monsoon season would have been yet to be completed, the probability of a rate cut being taken up should remain low. Instead, I see a higher chance of the RBI opting to reduce rates at the October meeting once further clarity is obtained on this year's monsoon.
Disclosure: I/we have no positions in any stocks mentioned, and no plans to initiate any positions within the next 72 hours.
I wrote this article myself, and it expresses my own opinions. I am not receiving compensation for it (other than from Seeking Alpha). I have no business relationship with any company whose stock is mentioned in this article.