On Tuesday, after the market closed, Microsoft (NASDAQ:MSFT) reported its fourth quarter and full year results, beating estimates widely. I'll take a look at the results and the adjustments Microsoft made to get to the numbers they have shown us.
Microsoft reported GAAP revenues of $20.6 billion and GAAP earnings per share of $0.39. The adjusted (non-GAAP) numbers were $22.6 billion for the company's revenues and $0.69 for Microsoft's earnings per share: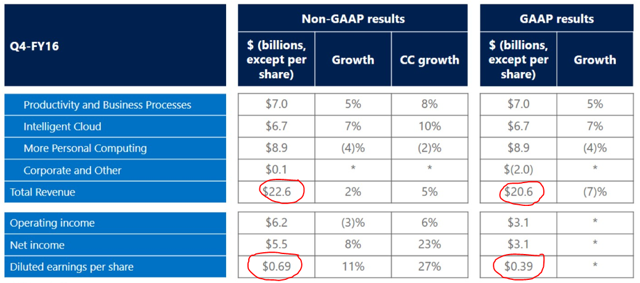 That's a huge discrepancy between reported and adjusted numbers, but I believe these adjustments are justified, at least partially. The difference between reported and adjusted revenues ($2.0 billion) is made up from Windows 10 revenue deferrals entirely ($2.028 billion on a net impact basis). I feel making this adjustment (of including those Windows 10 revenues in the adjusted number) is justified, as the revenues may not be earned yet in the accounting sense of the word, but the fact that Microsoft will render the respective services (and thus earn those revenues) in the future is almost guaranteed. It thus makes sense for Microsoft to include those revenues in their adjusted revenue numbers.
These deferred Windows 10 revenues are also responsible for $1.5 billion in the difference between Microsoft's reported net income ($3.1 billion) and its adjusted net income ($5.5 billion). Microsoft has, however, also included $895 million in impairment, integration and restructuring expenses in its adjusted net income, here the picture is a little different: Since Microsoft's restructuring expenses are not one time items, but rather costs that occur very often, excluding them in every earnings report can draw a wrong picture of the company's profitability. The asset impairment charges (as well as goodwill impairment charges) are less of a problem, since those are non-cash costs, but the restructuring expenses are cash costs and thus have a meaningful impact on not only the company's (GAAP) income, but also on Microsoft's cash flows.
Restructuring expenses (which does not include asset impairment charges) totaled $480 million in the most recent quarter, which is still a substantial number, but only about half as much as last year's Q4 restructuring expenses of $940 million -- this is a positive, Microsoft's huge restructuring expenses are coming down.
Microsoft will start using a new revenue standard in two years (July 1, 2018), which will allow Microsoft to recognize all revenues at the time of billing, which means the deferred revenues for Windows 10 will be a thing of the past. In combination with (hopefully further) falling restructuring expenses and asset as well as goodwill impairment charges this should lead to GAAP results being more in line with the non-GAAP numbers in the future.

Looking at Q4 results we see that (adjusted, currency-neutral) revenues were up 5% yoy, which shows that Microsoft is moving in the right direction. Intelligent Cloud has been the growth driver here (up 10% yoy in constant currency), whereas More Personal Computing saw a 2% revenue decline (mainly due to the phone business cratering 70% yoy). Currency adjusted income grew 6%, currency adjusted net income grew 23% -- a strong growth rate, but impacted by a lower tax rate, thus this huge growth rate was more of a one time thing. Due to a lower share count Microsoft's (currency neutral, adjusted) earnings per share grew by an astonishing 27%.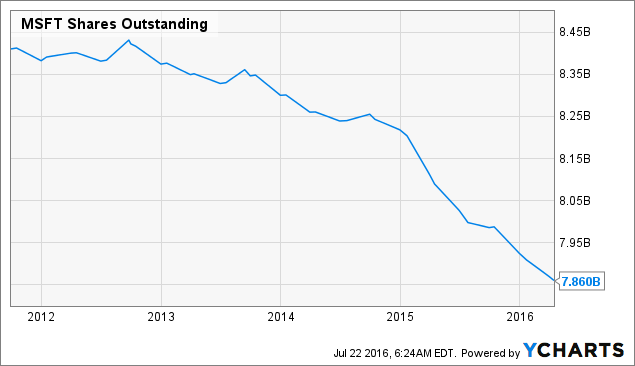 The 4% difference between Microsoft's net income and EPS growth rate is due to a the rather strong buyback pace Microsoft has shown over the last quarters, the number of outstanding shares is dropping faster over the last few quarters than over previous years. Due to Microsoft's huge cash flows and fortress balance sheet investors can count on continuing substantial share repurchases, which will allow for a huge boost to earnings per share growth over the next years.
Microsoft has returned a total of $6.4 billion to its owners in the most recent quarter, comprised of $2.8 billion in dividends and $3.6 billion in share repurchases. This means a dividend yield of 2.6% and a buyback pace of 3.3% -- enough to move the needle significantly, and adding 3%-4% to annual EPS growth (in comparison to net income growth). With its huge cash position and $5.8 billion in quarterly free cash flows Microsoft can easily finance the current shareholder returns for a very long time, even if free cash flows would not grow from the current level (which is very likely, they grew 15% yoy in the most recent quarter).
Takeaway
Microsoft's reported and adjusted earnings show huge discrepancies, which can mostly be explained by the accounting methods used to recognize Windows 10 revenues. The asset impairments and restructuring expenses have an impact as well, but are thankfully coming down in comparison to the prior year.
Microsoft's core business, revenues, income and cash flows are all moving into the right direction and the company's shareholder returns are attractive.
When Microsoft adopts its net revenue standard in two years the huge discrepancy between reported and non-GAAP results will likely be a thing of the past.
Author's note: Dear readers, if you enjoyed this article and would like to read more from me, you can hit the follow button at the top of the page, right next to my name and icon, to get informed about new articles.
Disclosure: I/we have no positions in any stocks mentioned, but may initiate a long position in MSFT over the next 72 hours.
I wrote this article myself, and it expresses my own opinions. I am not receiving compensation for it (other than from Seeking Alpha). I have no business relationship with any company whose stock is mentioned in this article.