Although we were cautiously bullish on Chipotle's (NYSE:CMG) Q2, much worse than expected results have reignited our long-term bearishness. By and large, we think the quarter confirmed that strongly negative comps will persist throughout this year. We also think the quarter confirmed that CMG is too richly valued considering its inherent risks. With the pathway to a sales recovery shrouded by pedestrian comp improvement, we think CMG is a stock investors need to stay away from.
There were some positives to glean from the ER and CC. July comps are trending up, albeit only to -21%, and that is likely a result of the Chiptopia promotion launched July 1. Chiptopia has gained some traction, having 3.6 million Chiptopia members who collectively account for 30% of all transactions. Chiptopia is driving visit frequency higher, so brand loyalty among the faithful is increasing. A YouGov survey showed that consumer perception at CMG turned positive in June for the first time since November. Unit growth remains on track, and provides a long-term growth picture supported by several hundred new restaurants per year. The company's Love Story film has experienced tremendous success.
There were also some things that were to be expected. Higher promotional activity and unfavorable sales leverage drove RLMs down to 15.5% from 28% one year ago. There really isn't any surprise here. The story has always been that CMG is going to give away free stuff to get traffic back. New food safety procedures are driving the food cost rate higher. Rising labor costs continue to pressure margins.
Then there were also some alarming things about the report. The Q2 comp of -24% shows only modest improvement through May and June. Comps were trending at -26% in April, so that means May and June comps were somewhere around -22% to -23%. Now, in July, comps are trending at -21%. In a long-term view, that is only 5% comp improvement over 3 months. Considering the magnitude of the declines, that really isn't much positive sales momentum.
Moreover, July comp improvement is being driven almost entirely by Chiptopia. While this certainly shows success for Chiptopia, it also should concern investors about long-term customer retention ability. In other words, it is important to ask if CMG will able to retain these customers without a Chiptopia-like promotion. Management already expressed a desire to extend Chiptopia, so we think investors should reset long-term margin expectations.
Taking a step back and looking at the bigger picture from the ER and CC, we see a company with a long road ahead to regain peak-2015 unit sales. We think there are many things at play here. First, when you build your reputation on the slogan "Food with Integrity", it's quite hard to bounce-back from serious health-related issues. Much of what attracted consumers to CMG may no longer be an appealing factor. Second, competition in the health-oriented QSR space is quickly intensifying, and CMG's health issues have provided an opportunity for other health-oriented QSR chains to capture consumers. Third, CMG food just may not be that much better to warrant customers going back. A Harris Poll seems to suggest consumers are seamlessly migrating to other fast-casual Mexican food chains.
The bottom-line is that CMG's sales recovery will take much longer than expected. The valuation simply does not reflect this. The QSR space at-large trades around 17-23x forward earnings. Panera (NASDAQ:PNRA) gets a slight premium because of innovation and growth, but even that stock only trades at 27.5x forward earnings. Meanwhile, the most troubled stock of the group trades at 38x what is an aggressive forward estimate. CMG certainly has more attractive post-2016 growth prospects than its peers, but not so much to warrant a 90% premium in forward P/E multiple.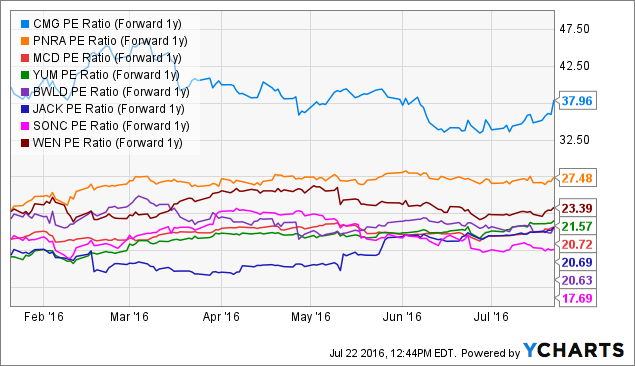 CMG PE Ratio (Forward 1y) data by YCharts
We would like to see that multiple come down quite a bit to reflect the company's current troubled situation. Until then, we think the stock is one to avoid.
Disclosure: I/we have no positions in any stocks mentioned, and no plans to initiate any positions within the next 72 hours.
I wrote this article myself, and it expresses my own opinions. I am not receiving compensation for it (other than from Seeking Alpha). I have no business relationship with any company whose stock is mentioned in this article.