It was a disappointing year for a number of Under Armour's (NYSE:UA) sponsored athletes. Cam Newton, Stephen Curry, Jordan Spieth all narrowly failed to win coveted championships in their respective fields. Tom Brady is due to face a four-game suspension due to Deflategate. And Curry Two Low 'Chefs' sneakers have been ridiculed on social media for their 'middle-aged' look. With second-quarter results coming up, will investors be disappointed or will UA triumph like Andy Murray at the latest Wimbledon tournament?
Sustained High Growth
UA had a strong first quarter in 2016 as net revenues increased 30 percent to $1.05bn. This marked the 24th consecutive quarter of at least 20 percent net revenue growth. Net Income rose a whopping 63 percent and diluted EPS was $0.04 versus $0.03 in the prior year's period. Apparel revenues rose 20 percent driven by growth in training and golf, while footwear sales increased 64 percent.
Piggybacking on the strong first-quarter results, UA management increased its annual 2016 net revenue estimates by 26 percent to $5.0 billion while operating income has been projected to increase between 23 and 24 percent. Though apparel and Curry's shoe lines in North America are dominant revenue drivers, UA's investment in international expansion, college athletics as well as growing the women's segments look to be promising future growth boosters.
International Expansion
In Q1, international revenues, representing about 14 percent of total sales, increased 56 percent year-on-year to $149 million. The Chinese market especially represents an extremely lucrative opportunity. Gym and health-club revenue in China has nearly doubled during the past five years and is expected to exceed $5 billion by 2016. The value of retail sports apparel has grown 10 percent annually from 2010 to 2014 and China's fitness industry is expected to account for 0.7 percent of the country's GDP.
While Nike Inc. (NYSE:NKE) and adidas (OTCMKTS: OTCQX:ADDYY) currently dominate with market shares of 14.4 percent and 13.8 percent, respectively, UA has begun to gradually build a presence in the market. The company plans to open 120 owned and partner brand health stores in 2016 and I would expect much more investment in the future. Curry's visit to China in the summer of 2015 helped boost footwear sales to nearly one-third of revenues in China and UA will undoubtedly be sending Curry as well as Spieth to China and Southeast Asia in the near future.
Europe is another key market for UA. The company has added 250 shop-in-shops throughout Europe and has launched a new partnership with German football club FC St. Pauli as well as English club Southampton F.C. While retail growth has slowed in the UK due to Brexit worries as well as unseasonal weather, growth in activewear appears to be resilient. According to a report from Key Note, sportswear sales hit £5.91bn in 2014 and are poised to reach £8.65bn by 2019, based on current growth rates. Developing these international markets, however, will take time and effort.
Push Into College Athletics
College athletics are another potential lucrative opportunity. From July 2017, UA will exclusively design and supply footwear, apparel and equipment for University of California, Berkeley, as well provide apparel for the university's 34 sports clubs. The deal is reportedly valued at $86 million over 10 years and at first glance looks to be quite expensive.
There are, however, a few key points to note. As part of the partnership, UA will be offering discounts to faculty, staff and students on its connected fitness system as well as running nutrition and fitness challenges. This effort will provide the company with a wealth of data on the fitness and eating habits of a very lucrative customer base and could be invaluable for improving and expanding UA's connected fitness line as well as its partnerships with IBM.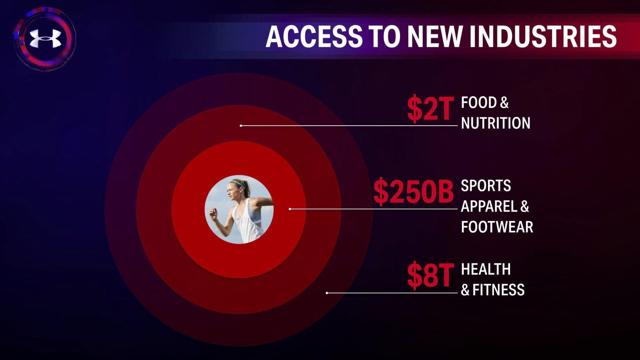 Source: Company Presentation
Secondly, given that the Berkeley campus is strategically situated less than a 30-minute drive from the home arena of Curry's Golden State Warriors, it is likely a strong market for Curry's footwear line. And thirdly, Cal runs a very successful collegiate athletic program. The Golden Bears have won 89 team national titles and students, coaches and staff have claimed 185 Olympic medals. UA thus can get an early start on building relationships with future superstars to add to their current roster of impressive sponsorships. UA has also signed partnerships with a number of other universities including UCLA (for a record $250 million over 15 years), Yale and University of Wisconsin.
Women's Apparel Market
Global sales of fitness apparel have soared in recent years due to an increased focus on health as well as popularity of athleisure. By 2020, athletic apparel is projected to be valued at over $60 billion. Though the men's segment currently dominates the world sports apparel market, women's apparel sales have been growing faster and UA expects women's apparel sales to surpass $1 billion in 2016 and hopefully be a major growth driver in the future.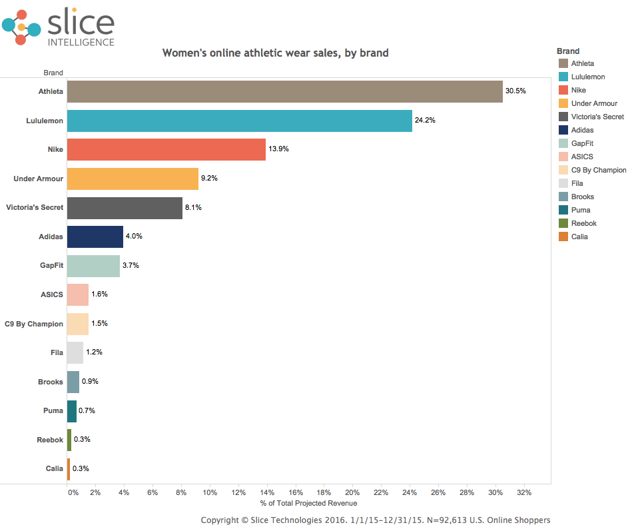 While Athleta and Lululemon Athletica (NASDAQ:LULU) dominate the women's market, UA has been making strides to capture market share. UA is outfitting USA gymnastics for the first time and has designed seven different leotards for the women's team. US women's gymnastics have historically been one of the highlights of the Olympics and therefore this should increase UA's brand awareness. Leading up to the Olympics, UA has also released a 90-second long "Rule Yourself" spot featuring the USA women's gymnastics team and hopes to repeat the success of Misty Copeland's "I Will What I Want" campaign that led to 5 billion media impressions worldwide and 28 percent increase in women's sales.
Despite the recent weakness in UA women's apparel sales and the increasingly crowded marketplace with Athleta, NKE, LULU, ADDYY as well as fashion retailers like H&M all battling for market share, UA does have the potential for immense success in this market. UA founder and CEO Kevin Plank has affirmed the company's dedication to the market and investors should watch out for developments in this market. Given the saturation in this market, investors will need to be patient however.
Investor Watch
While UA shows immense growth potential, there are a few areas that investors should pay close attention to. Inventory and accounts receivable have grown faster than revenues at a rate of 44 percent and 43 percent, respectively. Though UA management has noted that the rise in inventory is due to the company's strategy to enhance fulfillment and build sales, these high levels of inventory and accounts receivable growth need to be closely monitored. While inventory growth may continue to be high in Q2 in preparation for summer months, the gap between inventory and revenue growth should decrease by the end of the year.
In addition, gross margins have decreased due to higher liquidations and foreign currency rates. While UA has forecast that future gross margins should be flat and then show improvement, given the weak retail climate as well as the push in international markets where margins could be thinner, this is another important area for investors to watch.
Finally, increased capital expenditures, new partnerships and acquisitions for Connected Fitness have led to debt increasing by 38 percent. As we are in a current low interest rate environment, this is not cause for alarm but again investors should pay attention to this figure to ensure high growth does not come at the cost of a healthy balance sheet.
Last Words
Despite the above concerns, however, I consider UA to be a long-term buy. The company boasts an enviable track record of high growth, a roster of very successful sponsorships and is poised to take advantage of very lucrative opportunities in international markets, college athletics and women's activewear. The return of Dave Dombrow is also another boost to the company's fortunes. Dombrow, the designer of some of UA's most successful footwear brands, had left UA and was expected to join Nike in 2017, however, he has since returned to UA and will be joining as chief design officer in August. While UA's path to success may not be smooth, there is certainly long-term potential and I would accumulate on any dips.
Disclosure: I am/we are long UA.
I wrote this article myself, and it expresses my own opinions. I am not receiving compensation for it (other than from Seeking Alpha). I have no business relationship with any company whose stock is mentioned in this article.