Investors now have the second full week of data from the MannKind (NASDAQ:MNKD) relaunch of Afrezza, and the numbers are not very impressive to say the least. I am already seeing the excuses begin to pile up, and yet some still hold onto their hope that by some miracle scripts will get to the 3,000 level by the end of the year.
This past week's Afrezza sales came in at a very modest 235 scripts. This is a recovery from the week prior, which came in at 216 scripts and included a holiday. That being said, the recovery was not to the level of 266, which represented sales in the week prior to the holiday. This would indicate that sales are still trending down and stabilization has not yet been reached.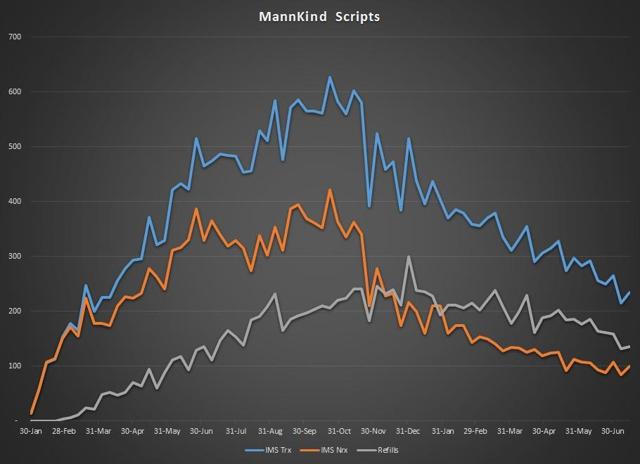 Chart Source - Spencer Osborne
I have long been saying that it is important for MannKind investors to model their expectations as well as what they feel is realistic. By building models, you can quickly see if your thoughts are logical and make sense. Over the past couple of months, I have had many investors reach out to me privately to thank me for suggesting the modeling exercise.
Publicly, I have had many investors scorn me for my projections stating that my models have sales levels that are way too low. I have the utmost confidence in what I do, so I am perfectly willing to allow the data to show that I am being realistic.
Before going into quarter over quarter, year over year, and financial projections, I will review some models with you. My own model carried three potential paths. One is bearish, one is middle ground, and the last is bullish. For clarity, even my most bullish model has a sales level that is far lower than what is actually needed to drive equity appreciation. In fact, if the company were to sell to my bullish model, the equity itself would likely trend down because the business is simply not working.
Below you will find three charts. The first chart is my sales models that I believe to be realistic projections of what will happen to sales. The second model is the same chart with the Sanofi (NYSE:SNY) launch from over a year ago overlaid. The third chart is based on the opinion of reader Mlholden, who portrays himself as a person that works in the industry and has done drug launches. Mlholden believes that sales will achieve 3,000 scripts per week by the end of the year.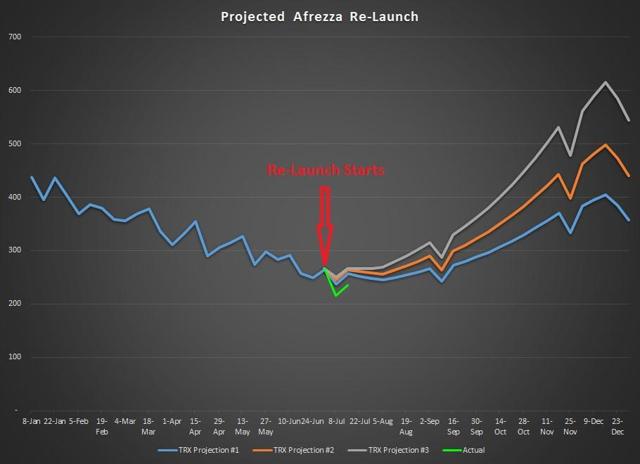 Spencer Osborne Model (above)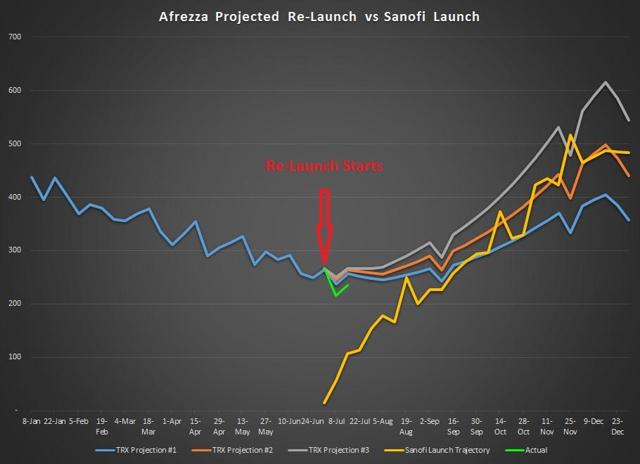 Relaunch with Comparison to Sanofi (above)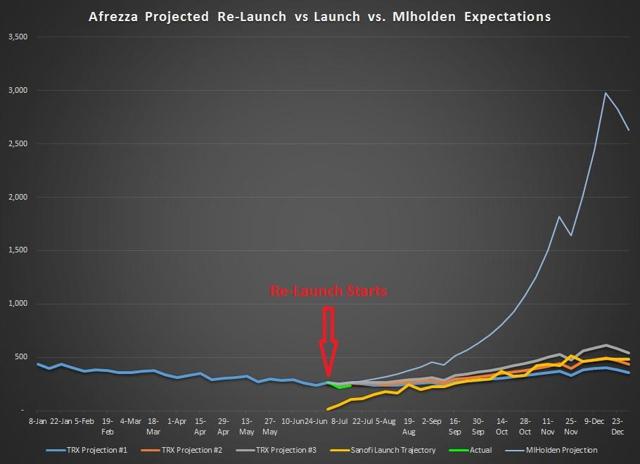 Mlholden Projection (above)
It is my opinion that anyone expecting 3,000 scripts by the end of the year is setting themselves up for a major disappointment. Thus far, the relaunch has already had supply channel issues, a lack of sample packs, and a lack of titration doses that will be ready. By all indications, the company will not have all of its tools in line until sometime in August. As investors, we cannot allow ourselves to develop excuses. Simply stated, there is a level of performance that is needed in order for the company to be viable as a drug-selling entity. That level of performance is needed despite the hurdles involved.
On a quarter-over-quarter basis, MannKind sales are down 34.35%. The trend line of sales remains negative, and as stated earlier, stabilization of the sales has not yet transpired. What investors need to grasp is that the financials will likely look worse than many anticipate. The reason for this is that MannKind is now in sole control. The company does get 100% of revenue from Afrezza, but also bears 100% of the cost. The drug is losing money, and lower sales levels are not the cure to that situation.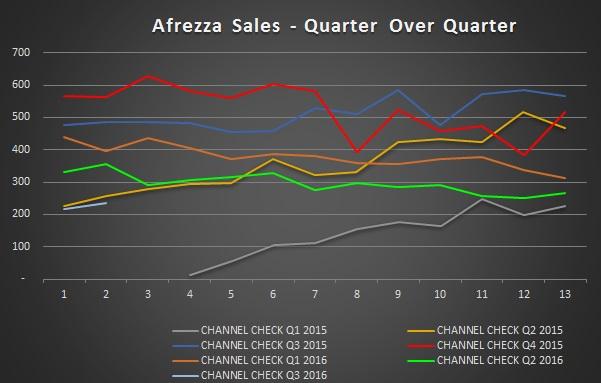 Chart Source - Spencer Osborne
On a year-over-year basis, the numbers are even worse. MannKind sales in Q3 of 2016 are pacing 53.12% behind what we were seeing a year ago. With financials relying on year-over-year comparisons, the story will not be a pleasant one. As yet, it appears that we have not seen the bottom in sales. The news sales force is still barely into the launch, but with the cash situation at MannKind, the luxury of time is simply something that cannot be afforded.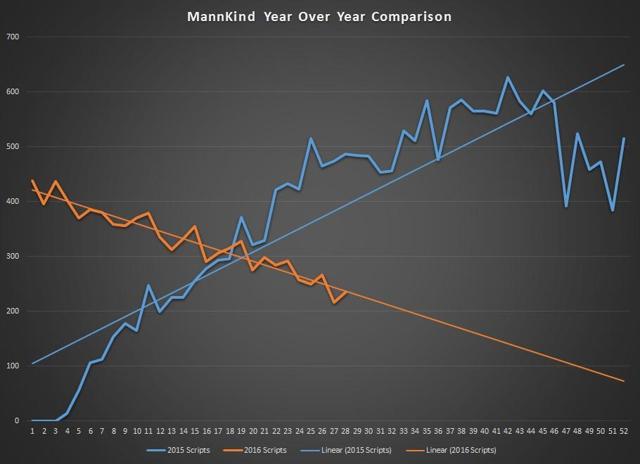 Chart Source - Spencer Osborne
At this stage, it is my estimation that MannKind has under $40 million in cash. The company has guided to a spend level of $10 million per month. Though MannKind professes to have cash that will get it into Q1 of 2017, I show that the company will run out of cash in Q4. Unless sales ramp up, or they get an infusion of some size as a milestone, investors should be looking at a dilutive event in the not too distant future. This is a company desperate for cash and without leverage. From an investor's standpoint, the equity remains highly speculative.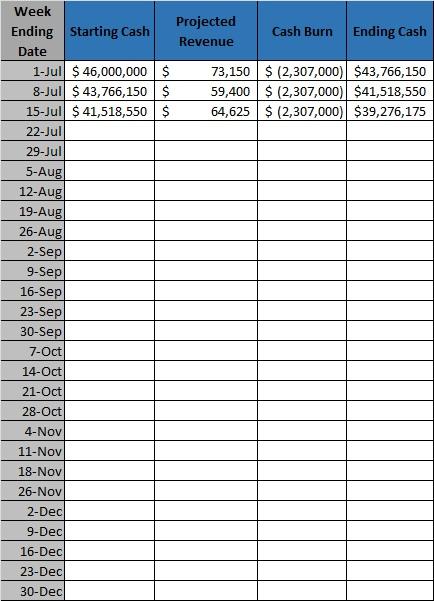 Chart Source - Spencer Osborne
Lastly, MannKind finds itself trading at the $1 level again. If the equity dips below $1, it will be outside compliance with Nasdaq. If that condition remains for 30 consecutive days, the company will get a de-listing notice from Nasdaq. This would be yet another distraction that management of this company does not need. MannKind has been able to bounce off of the $1 mark in its previous dips to these levels, but the ability to continue to do that with poor sales levels will be more difficult.
Until such time that MannKind can demonstrate that it has bottomed out on the downtrend in sales and begun to rise, the equity will be under strain. In my opinion, given the fact that the sales team does not yet have all of its tools, and the supply chain seems to have an interruption, it could be well into August before we see that bottom happen. For clarity, MannKind is nowhere near a delisting situation as yet, but understanding the rules is important for investors. Stay Tuned!
Disclosure: I/we have no positions in any stocks mentioned, and no plans to initiate any positions within the next 72 hours.
I wrote this article myself, and it expresses my own opinions. I am not receiving compensation for it (other than from Seeking Alpha). I have no business relationship with any company whose stock is mentioned in this article.
Editor's Note: This article covers one or more stocks trading at less than $1 per share and/or with less than a $100 million market cap. Please be aware of the risks associated with these stocks.