Usually, when a Facebook (NASDAQ: FB) bear thesis emerges, you can expect an argument centered around one or more of the following: valuation concerns, questionable moves by Zuckerberg or decline in popularity among teens. I feel these concerns are overblown. Worse, the underlying bear thesis often misses the most important element of the story - digital marketers, or Facebook's actual customers.
My fellow Seeking Alpha contributor Alex Pitti argued that Facebook is slowing again as its most trendy product, Instagram, is losing the popularity battle to Snapchat (Private: CHAT) among teens. He raises valid points, but I have to respectfully disagree with his conclusion that Facebook is indeed "slowing."
User Engagement and Network Effect
First, to address concerns that changes to Facebook are alienating users. With over 1.6 billion monthly active users (MAU) on Facebook.com, 500 million monthly active users on Instagram, 1 billion users on Facebook Messenger and 1 billion users on WhatsApp, it is hard to say what user growth percentage is acceptable here for Facebook's growth story.
What isn't hard to say is that the connectedness of its properties combined with their enormous user base forms a powerful network effect. And that network effect should keep users within the broader Facebook ecosystem.
The image below illustrates this effect as first described over 100 years ago by Theodore Vail of Bell Telephone. Each additional telephone increases the value of every individual telephone because more calls can be made.

By definition, a by-product of a network effect is switching costs from one product to a similar less popular one. This network effect insulates Facebook from the whims of teenagers. And this actually may draw teenagers in one day as they look to expand their social networks with older generations.
None of this is what I really want to touch upon today though.
Look at Digital Marketing Industry
While user numbers are of paramount importance to social media companies, they do not tell the whole story. That is why Twitter (NYSE:TWTR) is worth less than 5% of Facebook despite 320 million monthly active users.
I won't argue that Facebook's properties will grow or shrink by an arbitrary number in the hundreds of millions because of some social trend I've seen in my crystal ball.
Truth be told, if I could accurately predict how billions of people's will behave on social media in the coming years, Mark Zuckerberg would probably be speed dialing me right now with an executive job offer.
What I will do is lay out how the mobile digital marketing industry, responsible for over 82% of Facebook's total revenue last quarter, functions. And I will explain why Facebook will continue to successfully monetize its enormous platforms.
To do so, I spoke with a friend who works in the space to provide more color on how the industry works. He explained how there are ad marketplaces for all the different major platforms and mediums of digital advertising.
Let's say a major corporation wants to develop an ad campaign to achieve certain goals within a budget. This corporation then decides that it wants to go with digital ads as its medium.
The next step for it would be to contract a digital marketing firm to develop and execute a strategy to decide which digital medium, desktop or mobile, to use. Decide which platforms to use within that medium. Place bids in the marketplace for the desired ad space. And ensure all this is not only coming in under budget but also hitting the benchmarks set forth by the corporation.
As investors, it's our job to figure out how this digital marketing firm will decide where to spend the money.
The Importance of ROI and Dynamic Ads
According to eMarketer, mobile digital ad spending is the fastest growing (and eventually largest) segment of all mediums in ad spending. The future of social media stocks will be decided by which company will earn that spending.
The number marketers are concerned with isn't total monthly active users. The most important number to them is return on investment (ROI). The graph below is from a Simply Measured research report survey released last month.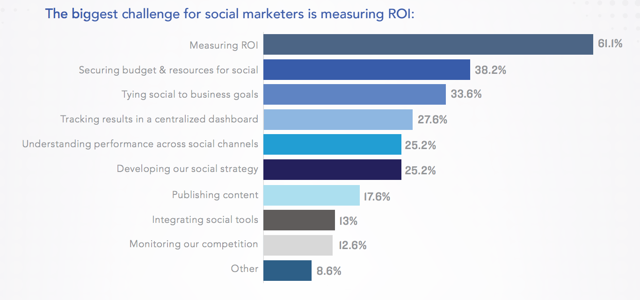 Measuring ROI came in first by a wide margin. Similar challenges such as tying social to business goals and understanding performance across social channels show up big as well. My take away from this is simple. Demonstrating good ROI is the best way to win over marketers, increase demand for your platform's ad space and grow revenue.
In this regard, Facebook has distinguished itself over its peers. The results shown below from another recent Simply Measured survey speaks volumes.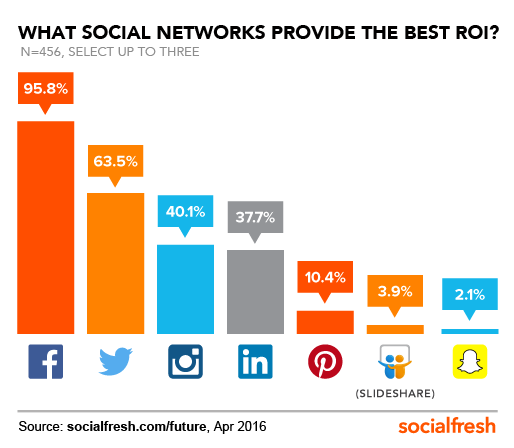 95.8% of social marketers responded that Facebook.com provided the best ROI, and another 40.1% responded that Instagram did. Only a measly 2.1% of respondents answered Snapchat.
When taking into account the actual products Facebook offers, this makes a lot of sense. Facebook offers great metrics such as Clicks to Website, Mobile App Installs, Website Conversions and Page Post Engagement to help measure ROI for customers.
Last year, Facebook.com also rolled out Dynamic Product ads. Dynamic Product ads allow a marketer to target specific audiences that may be more likely to buy a product due to their online activity, likes and interests.
This leverages Facebook's biggest competitive advantage over other platforms. It's a treasure trove of data on its users. Dynamic Product ads put into practice the idea that users don't hate ads, they hate bad ads.
A major opportunity for Facebook to improve those Instagram numbers shown above will be the rollout of Dynamic Ads on Instagram in the coming months. There will be a couple of changes to the Instagram version. There will be a unit dedicated to the Travel sector and a feature to be even more specific in which audiences a company can target.
This is a tremendous opportunity for Facebook to fully monetize its Instagram platform and continue reaping the benefits of being the leader in a rapidly expanding digital advertising market.
Snapchat Partners
A big threat to Facebook might be Snapchat's rollout of Snapchat Partners. It's a comprehensive advertising platform that will allow companies to work with third parties, such as marketing firms, to buy and develop enormous video advertising campaigns. It could be a game changer as Snapchat video ads cover the entire screen and play sound, two features Facebook has yet to figure out.
Snapchat generated $59 million in revenue last year with its Sponsored Story, Geofilter and Sponsored lenses ads. We can expect this number to balloon as companies work with marketers to utilize Snapchat's newest product, Snap Ads Between Stories, to create groundbreaking ad campaigns.
For those unfamiliar with Snapchat, stories are video posts that users upload and display to all their friends for a 24-hour window. A lot of the fun in Snapchat is watching your friend's stories to see what they are up too. And this is usually followed by sending a snap to them if it looks interesting, or you want to speak with them.
This shouldn't be too threatening to Facebook though. Facebook.com and Instagram ads are fundamentally different from Snapchat. With mobile digital ad spending growing at the rate it is expected to grow, it will not be a zero-sum game.
Snapchat also still faces many hurdles, the least of which is demonstrating to marketers that these Snap Ads have good ROI. The nature of Snapchat makes it difficult to measure actionable activity such as website visits, app installs or purchases. In fact, clicking the ad will actually skip over it entirely.
Snapchat also still hasn't overcome what many said was Facebook's biggest threat in introducing ads. Snapchat needs to be able to create meaningful ads for marketers that users don't find intrusive or raise privacy concerns. Facebook has already shown, with its native ads on Facebook.com and Instagram, that it can successfully navigate these issues. Snapchat will need to prove the same.
Conclusion
Many people focus too much on how new features will move the needle on user numbers for social media companies. It is just as important to understand how the companies are actually generating revenue (i.e. what's important to their customers). Also I'm not telling you that Snapchat isn't a threat to Facebook; after all, Mark Zuckerberg had a good reason to want to buy it. I'm just saying that taking out Facebook won't be as simple as winning a popularity contest among teens.
Mobile digital ad spending is projected to catch up to TV ad spending in the United States at 33% of total ad spending by 2020 for a total of $77 billion, from $31 billion or 17.3% right now.
If Facebook keeps developing new features that engage users and satisfy marketers, it will be in a prime position to capture increased mobile ad spending and generate great stock returns for years to come.
Disclosure: I/we have no positions in any stocks mentioned, and no plans to initiate any positions within the next 72 hours.
I wrote this article myself, and it expresses my own opinions. I am not receiving compensation for it (other than from Seeking Alpha). I have no business relationship with any company whose stock is mentioned in this article.