In the span of about two weeks, Apple (NASDAQ:AAPL) supplier Skyworks' (NASDAQ:SWKS) shares appreciated by about 25% from an intraday low of 57.19 on July 6, 2016, to an intraday high of 71.33 on July 21, 2016. Then, on July 22, 2016, following Skyworks' earnings announcement, shares dropped by over 12.5% in a single day, to an intraday low of 62.40.
Interestingly, such 62.40 stock price level is just slightly lower from 62.60, the price level at which shares were trading on July 1, 2016, the reference point for our article published following July 4th weekend titled: "Down 44.5%, Is Apple Supplier Skyworks Still A Sell?". In such article, we determined that yes, Skyworks stock was still a sell. Yet shares whipsawed first higher and finally back down. What changed that caused such whipsaw and was it justified? Do we still believe Skyworks stock is a sell despite the shares moving initially higher before retreating again?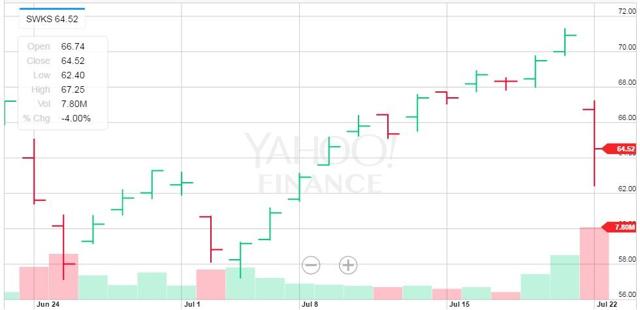 Skyworks stock 6/22/16 to 7/22/16 - Source: Yahoo Finance
Skyworks earnings hype
After the market closed on 7/21/2016, Skyworks released its earnings results for Q2 2016. In such release, Skyworks announced that it generated $1.24 per share in net earnings, and $751.7 million in revenues. Skyworks beat earnings consensus estimates of $1.21 per share by 3 cents , while it missed revenue consensus estimates of $756 million by about $4.3 million.
However, going into the release, Skyworks shares had appreciated substantially during the past two weeks as provided earlier. Such appreciation was fueled by optimism by certain analysts. On July 19, it was reported that Oppenheimer's Rick Schafer reiterated an Outperform rating and $100 price target for Skyworks. Mr. Schafer's upbeat outlook was highlighted by his statement:
Apple is SWKS' top customer, accounting for ~40% of sales annually. We see double-digit Q/Q top-line growth in F4Q as SWKS' iP7 content jumps more than 20% Y/Y. We chalk much of SWKS' net content growth this generation to the addition of a second diversity receive module.

We estimate SWKS secured more than $5 of content in Samsung's flagship GS7 (up 20%-plus vs. the GS6). Sell-through for the GS7 appears modestly better than the previous three flagship roll-outs, with estimates of 45-50M units shipping in CY16. Still, we expect the Samsung business (15% of revenue) to ebb seasonally in C2H, a modest counter to Apple strength.

We see SWKS' RF content at China OEMs growing 30%-plus this year on average as China OEMs seek to improve smartphone performance. Multitude technologies/factors are boosting SWKS' share/content gains in China, including MIMO, CA and the move from 3-mode to 5-mode. Overall, we believe the 4G LTE upgrade cycle still has legs in China and EM.
One day earlier, on July 18, Skyworks benefited from Softbank Group Corp's (OTCPK:SFTBY) announcement that it planned to acquire chip designer ARM Holdings Plc (NASDAQ:ARMH) for $32 billion. Hype related to such transaction resulted in headlines such as: "Internet of things deal may lift Skyworks ". Such headline was overblown as ARM is primarily a chip design company which relies on royalties and shies away from manufacturing, as opposed to Skyworks which is heavily involved in chip production. Although both companies are within the same sector and would certainly benefit from a potential growth in the Internet of Things, risk factors could diverge depending on scope of manufacturing operations.
Finally, let's not forget The Street's July 12th Skyworks hype under the headline, "Jim Cramer's 'Off the Charts': Semiconductors Are Ready to Run - Jim Cramer enlisted the help of chartist Bob Lang to take a look at semiconductor stocks that could rally in the coming weeks". Most importantly, Cramer's bullish post stated:
"Plus, today the stock jumped over its main ceiling of resistance by rallying above $65. Meanwhile, the Chaikin Money Flow oscillator has started to turn positive," Cramer said. "Lang thinks it's smooth sailing for Skyworks to the high $60s, and if it can climb past $68, a little more than two bucks above where it's currently trading, he says things are likely to get very bullish, and the stock could potentially work its way back to its April highs of $78, which would represent an 18% gain from these levels."
Finally, Skyworks bulls were also encouraged by Qualcomm's (NASDAQ:QCOM) earnings release, whereby Qualcomm announced Q2 2016 net earnings of $1.16 per share vs. consensus estimates of $0.97 per share, and revenues of $6.03 billion vs. consensus estimates of $5.58 billion. However, Qualcomm's positive performance was triggered both by cost cutting, as well as China's migration to LTE, as Qualcomm's CEO Steve Mollenkopf stated:
The key piece is the underlying technology migration to LTE, which has been the engine that is really driving the importance of getting China in a good spot for us as a business. ... China will continue to be an important component of the growth story for Qualcomm moving forward...
Although Skyworks did initially benefit from all such hype, Skyworks' earnings were far from spectacular, and even had a miss on the revenue side. Although net earnings did beat by 3 cents (2.5%), that's quite benign when compared to Qualcomm's 19 cents beat (20%). Positive factors relating to Qualcomm's outperformance for Q2 2016 were not as applicable to Skyworks. At the end of the day, Skyworks remains highly dependent on smartphone sales, and is highly linked to Apple's dominance of the smartphone market, as underlined in our article of July 5, 2016. Hence, most of the pre-earnings announcement hype was simply hype, and once earnings were released, Skyworks shares dropped and reflected reality, although we still believe they continue to be overpriced at current levels given associated risks.
Valuation
Skyworks' current valuation metrics are a little more expensive than where they stood for our July 5, 2016 article. With a current stock trading price of 64.75 at 01:37 PM 7/22/2016, Skyworks has a market capitalization of about $12.29 billion. With analysts' earnings estimates of $5.11 and $5.76 per share for the this year and for next year, Skyworks boasts forward P/E ratios of 12.67 and 11.24 respectively. Given multiple risks we underscored in our prior article, we continue to believe that Skyworks stock does not fully reflect such risks and could trade substantially lower from these levels during the next several months.
Many seem to believe that the expected growth in the Internet of Things sector justifies current valuations. Many believe that such optimism will overcome macro factors. However, we continue to believe that growth expectations for such sector are too optimistic in the near term.
Honeywell (NYSE:HON) has also been promoted by multiple analysts as a primary beneficiary of the Internet of Things, as per Motley Fool's article: "3 Reasons Honeywell International Inc. Is a Great Internet-of-Things Play". However, Honeywell also announced today that its business is overcome by macro factors, as it lowered its 2016 revenue forecast by $300 million, with shares dropping at one point by about 5%, to an intraday low of about 112.75 (it had closed on the previous day at 118.66). Ultimately, the Internet of Things may indeed provide a good boost to the likes of Skyworks and Honeywell, but we believe such forecasts are too optimistic and speculative for the time being, while visible measurable macro factors will challenge both companies.
Conclusion
We come back to the initial question we asked: what changed for Apple Supplier Skyworks? The answer in short is: unjustified hype, followed by down-to-earth reality. Since our initial article of July 5, 2016, nothing fundamentally positive has changed, while negative risks have persisted. The initial move higher during the past 2 weeks was primarily unjustified hype. Meanwhile, challenges will persist in the coming few months. As we stated in our previous article:
Skyworks will face multiple challenges, in the smartphone industry in general (including high-end units from Apple, as well as mid-range to low-end units from other manufacturers), as well as potential slower growth than expected in the IoT sector, as well as macro related headwinds.

Given our negative outlook for the next several months from a macro perspective, as well as for Apple (which drives 44% of Skyworks business), as well as elevated competitive risks, we favor selling Skyworks shares at current levels...
Disclosure: I/we have no positions in any stocks mentioned, and no plans to initiate any positions within the next 72 hours.
I wrote this article myself, and it expresses my own opinions. I am not receiving compensation for it (other than from Seeking Alpha). I have no business relationship with any company whose stock is mentioned in this article.
Editor's Note: This article discusses one or more securities that do not trade on a major U.S. exchange. Please be aware of the risks associated with these stocks.