Early on Tuesday morning, I released a report on Nintendo (OTCPK:NTDOY) and Pokémon fever to subscribers of my free Pipeline Data Newsletter. A similar report was submitted and subsequently released by Seeking Alpha.
In my initial assessment, I discussed why the magnitude of Nintendo's meteoric increase in stock price (and even larger increase in enterprise value) was not justified, even by the amazing initial success of Pokémon Go.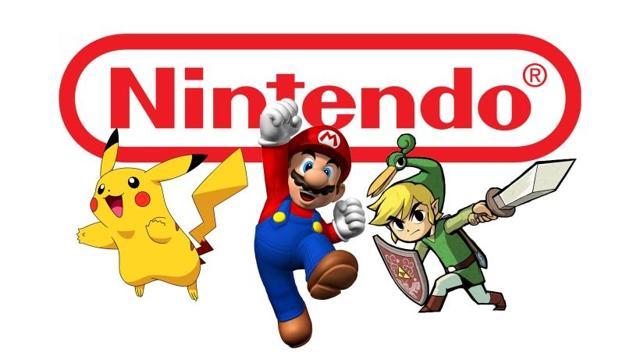 I concluded by professing my great affinity for the Pokémon and Nintendo franchises (both are iconic and have great prospects for the months ahead).
However, stock values must be commensurate with the value of the underlying assets. In this case, I suggested that long-term minded investors could wait for a technically standard pullback of 50%, which would bring Nintendo's ADR shares down to $27.50.
Since that time, the stock has pulled back from $37.99 per share to today's low of $27.75.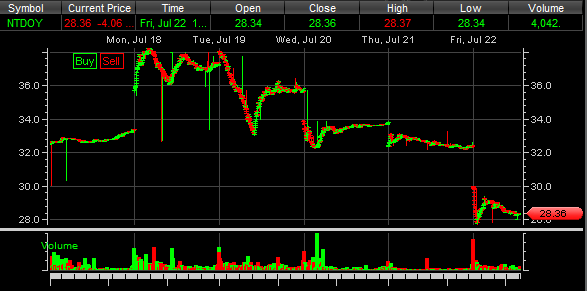 That's A 27% return in three days. More importantly, it's close enough to $27.50 to adequately shift my perception of risk versus reward. Accordingly, I am lifting my short call, but stopping short of making a long recommendation.
In other words, I am currently neutral. If you feel compelled to take a stand, here are some of the current pros and cons to consider.
On the bullish side, the success and expected revenues for Pokémon Go are rapidly evolving. The latest figures suggest that it will dwarf Candy Crush by raking in $4 billion in year one. Considering what I've witnessed on the streets of Miami Beach (numerous people obviously playing… and not watching where they're going), it should surprise no one if those expectations are met.
Further, Nintendo appears poised to benefit from add-on products and the free publicity this game is providing to them. In addition, a product refresh cycle is due. Though its legacy business is not long for this world, its traditional customer base can still serve as a cash cow for years to come.
On the flip side, there are many uncertainties involved.
Among them, Pokémon Go is experiencing heavy outages and bugs. In fact, between crashes and server overloads, over 50% of my attempted sessions have resulted in failure (the other 50% have been quite enjoyable). This could interrupt the game's addictive draw. Considering the fickle nature of its primary audience (Millennials - something I addressed in some of my other work), investors should remain vigilant of this factor.
Safety issues may also serve as a governor to the game's momentum. Innumerable accidents - and even deaths - have already been reported, as game players' eyes fixate on their smartphones instead of the world around them. As much as I like the game, this is not something I would want to put in my children's hands.
Investors should also remain vigilant for encroaching competition. There is no doubt that competitors will jump in with similar models as soon as humanly possible. What is less clear is whether or not any of them will be successful in getting into Pokémon's market share. However, several entrenched franchises are prime for the same sort of experience that Pokémon has delivered.
Examples include Hasbro's (NASDAQ:HAS) G.I. Joe and Transformers franchisees. Investors would do well to investigate the prospects of companies like HAS and whether their franchises can be applied to this gaming paradigm. Indeed, a stock like HAS may provide similar upside with less volatility. My company is currently investigating this further.
Along the same lines, investors are saying that Nintendo itself will create more mobile games, but the success of those games will hinge on prying people away from playing Pokémon. Finally, virtually any first-person game could be enhanced by mimicking Pokémon's utilization of enhanced augmented reality. Games like Doom and World of Warcraft come to mind.
In summary, there are numerous pros and cons to consider in the situation. Overall, there's no doubt that Pokémon will prove to be a runaway success. However, success must be calculated (with numbers) to ascertain the proper valuation for the stock(s) involved.
Investors who vehemently argue one side versus the other risks are coming to confirmation bias. Indeed, this is a situation where devil's advocates can be especially valuable to test the strength of your thesis. Having an open mind can make all the difference in making the right decision.
For now, my decision is to step away and wait for a much higher (or lower) price to once again skew the risk/reward ratio of Nintendo's shares. Having used my 20+ years of experience to analyze the situation, I honestly believe that no one can do much more than guess which way it will move from here.
Either way, let's just hope they don't create an augmented reality version of Grand Theft Auto...
Disclosure: I am/we are long NTDOY AND SHORT 7974, THE SYMBOL UNDER WHICH NINTENDO TRADES ON THE TOKYO EXCHANGE.
I wrote this article myself, and it expresses my own opinions. I am not receiving compensation for it. I have no business relationship with any company whose stock is mentioned in this article.
Additional disclosure: The information in this article is for informational and illustrative purposes only and should not be regarded as investment advice or as a recommendation regarding any particular security or course of action. The opinions expressed in Pipeline Data, LLC publications are the opinions of Mr. Gomes as of the date of publication, and are subject to change without notice and may not be updated. All investments carry the risk of loss and the investment strategies discussed by Mr. Gomes entail a high level of risk. Any person considering an investment should perform their own research and consult with an investment professional. Additional important disclosures can be found in the Important Disclosures section at PipelineDataLLC.com.
Editor's Note: This article discusses one or more securities that do not trade on a major U.S. exchange. Please be aware of the risks associated with these stocks.