EIA reported a +34 Bcf injection figure yesterday which was in line with our expectation of +35 Bcf. Be sure to read our summary of the storage figures here.
We anticipate a very low injection figure for next week's report. Currently, we are anticipating a +24 Bcf injection figure, and looking at the various estimates, they range from +21 Bcf - +30 Bcf. The range is considerably lower than this week as production volatility last week contributed to the wide range.
If storage injection comes in at +24 Bcf, it would be considerably lower than the +49 Bcf last year and the +49 Bcf five-year average.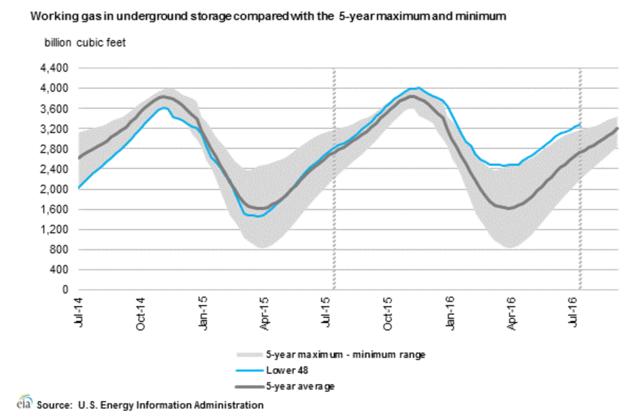 That blue line you see above should start to really flatten out over the next three weeks. The average injection figure for the next three weeks averages out to just below 20 Bcf.
Looking at power burn figures this week, it averaged over 36 Bcf/d, which is what's needed to score a low injection figure. In addition, Mexico gas exports are starting to pick up with an increase of 0.2 Bcf/d over the last two days. Overall US demand has averaged over 70 Bcf/d this week, and this is what will result in the low injection figure.
As we highlighted yesterday, Canadian gas imports have really started spiking over the last few days. Any increases in demand will likely be eaten away by the increase. Canadian gas imports are now sitting at 8 Bcf/d and could potentially rise to 9 Bcf/d in the next few weeks. This would result in a higher revision to the injection forecasts, which could dampen near-term prices.
REX pipeline maintenance should be done next week resulting in an increase in US production. Production will likely rebound by 1 Bcf/d next week.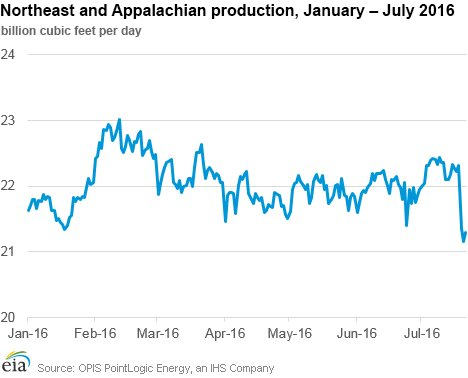 Despite natural gas (NYSEARCA:UNG) prices recovering however, rig counts remain subdued. Baker Hughes reported the gas rig count decreased by 1 over the previous week. This certainly bodes well for natural gas producers as the longer activity remains subdued, the better for prices over the winter months. US production should see downward pressure going into the end of the shoulder months, and lower production will greatly help deplete storage over the winter months.
Overall, we expect low injection figures for the next few weeks, and our attention turns to August forecasts going forward.
8-14-Day Outlook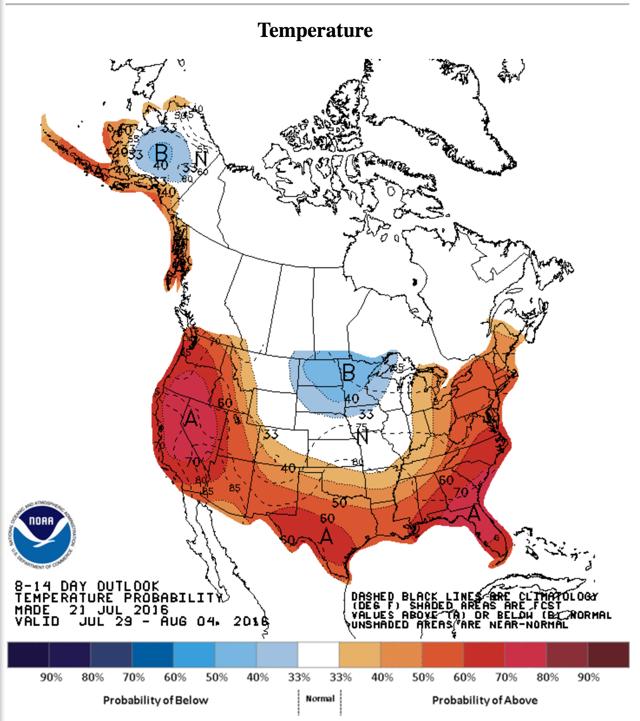 Natural Gas Prices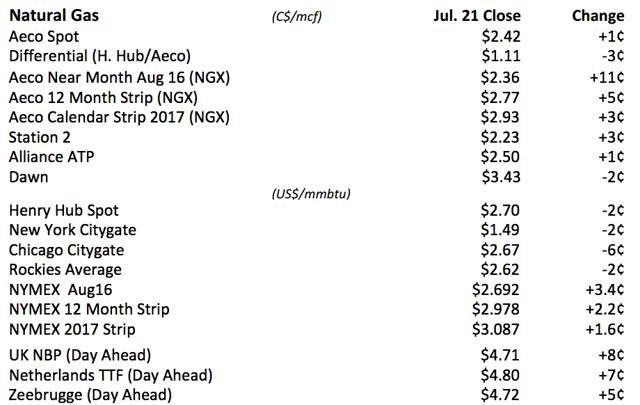 Thank you for reading our Natural Gas Daily article. If you want to read more of our articles, please be sure to hit the "Follow" button above. We also write a weekly HFI portfolio update for premium subscribers. You can read a sample weekly update here and view our delayed one-month portfolio update here. We hope you can join the HFI community.
Disclosure: I/we have no positions in any stocks mentioned, and no plans to initiate any positions within the next 72 hours.
I wrote this article myself, and it expresses my own opinions. I am not receiving compensation for it (other than from Seeking Alpha). I have no business relationship with any company whose stock is mentioned in this article.