Introduction:
For those of you new to Seaspan Corporation, (NYSE:SSW), they are in the business of owning and leasing container ships under long-term, fixed rate charters, and actively seek additional acquisitions of vessels. SSW has a total fleet value of $5.2 billion including 101 vessels consisting of over 740,000 "Twenty-foot Equivalent Units" (TEUs). Currently the global shipping industry is suffering due to a combination of oversupply and lack of demand. SSW is better equipped than most to handle the cyclical nature of the industry and has the potential for great returns, especially when factoring in a dividend of over 10%.
SSW's Performance:
Currently the global trade market is in a slump, which has been negatively affecting the demand for shipping containers as well as container ships. This has caused issues for the global shipping industry and companies such as Textainer Group Holding Limited, (NYSE:TGH), who has been experiencing lower lease-renewal rates and declining cash flows. While TGH had a 20% decrease, SSW experienced an uptick over 7% in its cashflows in the same quarter. While this certainly is a tough time to be in the global shipping business, it seems the market has dragged SSW down with other players due to the sector's outlook. This negative outlook has certainly overshadowed any successes SSW has had as it is currently lagging behind the market badly YTD.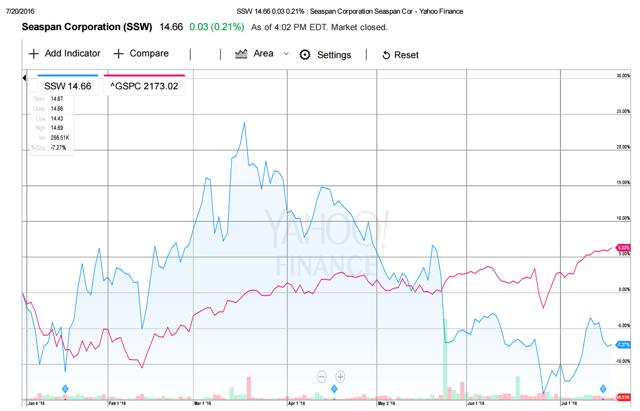 SSW has had a number of positives from the prior quarter as noted from the slide from the Q1 report below. It took delivery of a 10,000 TEU containership that immediately started on an eight-year fixed rate charter, reported $5.7 billion in future revenue that is secured by contracts, and had a utilization rate of 97.2% (98.3% including scheduled off-hire time).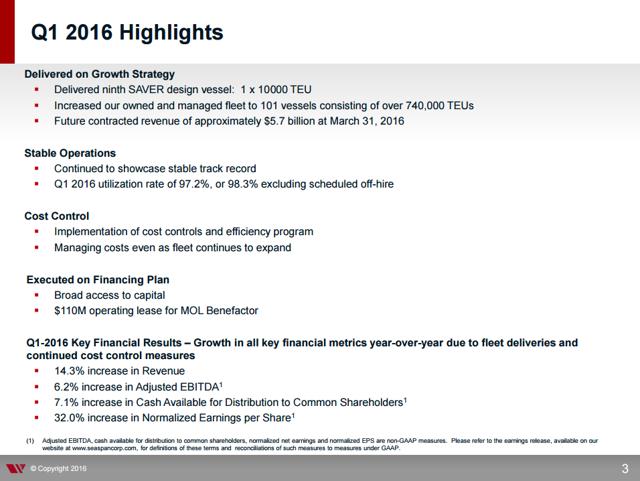 The shipping industry is known for being cyclical, but SSW does have a strategy that helps insulate them from the choppy waters via long-term contracts. Unlike TGH, who focuses on shorter-term contracts for their container leases, SSW often times has contracts for its vessels for a decade or more in length. 1 of the company's newbuilds has a contract of 17 years.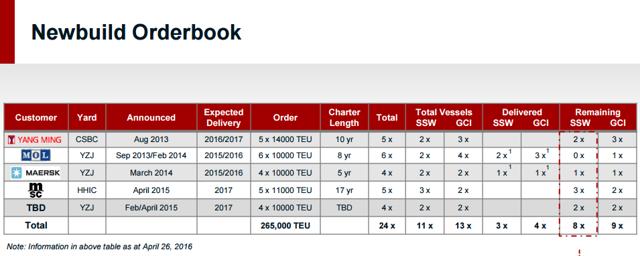 SSW currently has an average remaining charter length of approximately 5 years on a TEU-weighted average. As addressed earlier, this fleet is currently also over 97% booked.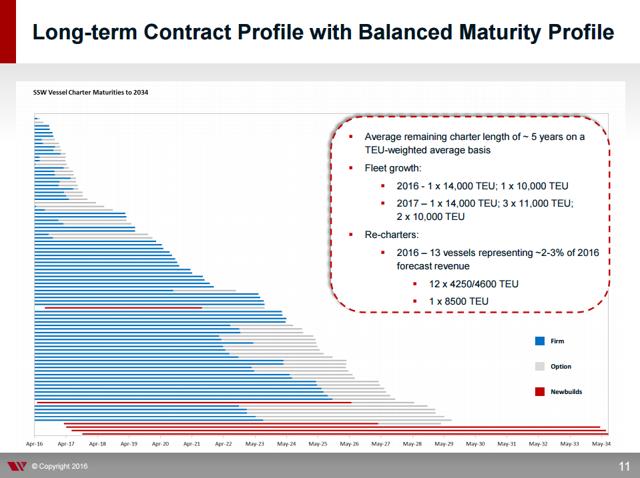 10% Dividend in Trouble?
When most investors eye a 10% dividend they are typically (and rightfully) concerned. However, with SSW, the double-digit yield looks to be safe. In the most recent quarter's report the company generated $100.5 million is cash that could have been used for dividends, but only paid out $48.7 million. That certainly leaves a comfy cushion for the company to keep the dividend relatively stable, even in the most volatile markets.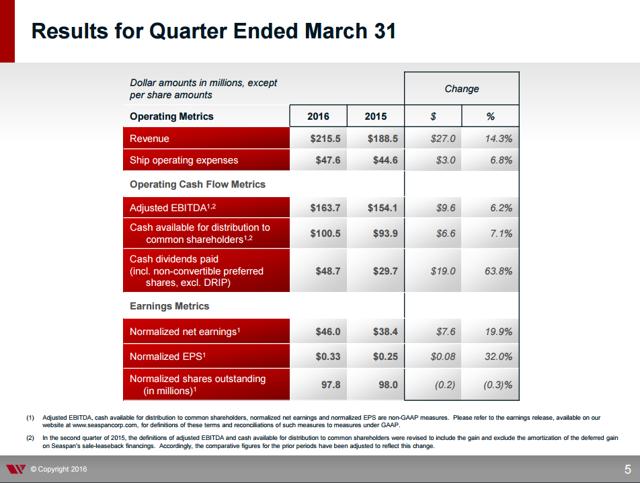 What's Keeping the Share Price Depressed:
Good ol' supply & demand seem to be to blame since weak global trade has been occurring during an oversupply of capacity in the global shipping markets. Consolidation in the industry has led to mergers and acquisitions due to shippers struggling to turn a profit, with some even trying to renegotiate contracts in hopes that it will keep them from going under. Hanjin recently asked SSW for a 30% cut in their charter rates -- to which SSW even refused to consider a lower rate for Hanjin, citing that the company has not, nor will ever accept a rate cut. SSW did offer to order newbuilds which would be more fuel efficient and lease them to Hanjin, and presented that as an alternative.
While SSW may be able to keep rates at their current levels, if other companies such as Danaos Corporation, (NYSE:DAC), accept any cuts that may be proposed to them in the future by shipping companies, it may eventually force SSW to the negotiations table accepting lower returns to keep the customer base from eroding.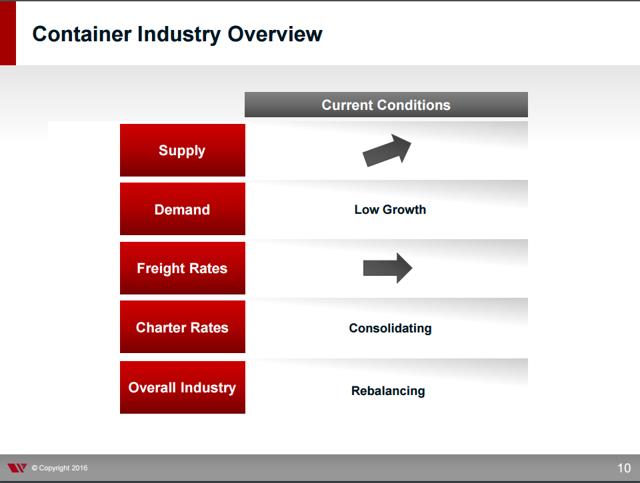 There are also concerns about charters that are nearing their end, such as the 12 panamax vessels and one 8,500 TEU ship whose charters end this year. SSW CEO Gerry Wang even admitted that the possibility of getting favorable rates the charters of the panamax vessels could be a challenge: "On the past 12 months we have seen a weakness in charter rates for panamax vessels".
Putting it all Together:
SSW operates under the business model of securing long-term charters for its vessels to help it ride out the cyclical nature of the shipping industry. While it currently is in a very challenging period to say the least, the company still has a TEU-weighted average 5 years remaining on its charters, which buys it some time to ride out the downturn at utilization rate of over 97%. While there are ships coming off their charters this year, it only equates to somewhere between 2% to 3% of the company's leases. There are also newbuilds who are just starting long-term charters that will help offset the revenues temporarily lost by charters that are not renewed.
It will be important for investors to monitor the situation with unchartered vessels as it will play a part in determining the company's long term success and the effect the predictability of the long-term cash flows secured by the traditionally longer contracts. For investors who have a higher risk tolerance and are looking for yields, SSW can be a great "get paid to wait" reward while the global shipping industry is currently in a downturn.
Disclosure: I/we have no positions in any stocks mentioned, but may initiate a long position in SSW over the next 72 hours.
I wrote this article myself, and it expresses my own opinions. I am not receiving compensation for it (other than from Seeking Alpha). I have no business relationship with any company whose stock is mentioned in this article.