Today's article reviews last-mile ISP Cogent Communications (NASDAQ:CCOI).

Intends to Leverage The "On-net" Infrastructure By Adding More Customers
Last February company management reiterated its effort to develop sales by investing in sales and marketing efforts.
"Increasing our number of sales representatives, implementing strategies to optimize sales productivity and expanding our on-net addressable market by adding service locations to our network."
-2015 10-K
The company's selling efforts appear to be working. During 2015, Cogent gained 14.3% on-net customer connections. But the average revenue per customer was down by 19.1% due to the introduction of new discounts. The price that Cogent can charge customers for internet connectivity has declined and remaining a low-cost operator will help them continue providing services.
Consumer ISP's Intense Competition is Weighing on Profits: Revenue per mega-bit of data access sold down 19.1% YoY.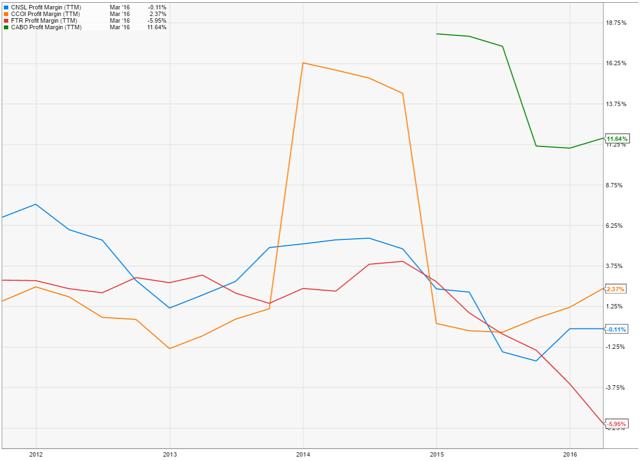 Source: Author, ycharts
This graphic displays the eroding profit margins of Consolidated Comms Holdings (NASDAQ:CNSL), Cogent Communications, Frontier Communications (NASDAQ:FTR), and Cable One (NYSE:CABO). The most recent five-year period is charted. The line indicating CCOI's reported profit margins is displayed in the color orange.
Competition in the consumer connectivity space is going to continue pressuring the price Cogent and other ISPs get for their services. Cable One's management, also conducting business as an ISP, mentioned facing up to the price challenges in their most recent Annual Report.
Throughout its business materials CCOI reiterates their focus on delivering services at a low cost. The graphic displayed above reveals that efforts in cost control have helped their profit margin hold up among similarly situated peers.
Does CCOI Belong On Your Stocks to Buy List?
It strikes me as rather bold when I think about it.
The business is going through a period of declining prices in their marketplace and yet chooses to continue to expand their customer base by adding small and medium business subscribers. If the company successfully controls cost while growing their subscriber base, they are more likely to be in an advantageous position with a large customer base by the time their competitors have left the market.
As reported in 2015's Annual Report, revenues earned per mega-bit CCOI sold declined by 19% year over year.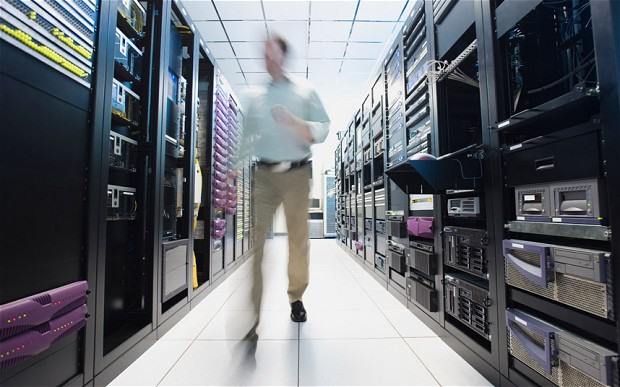 The company also runs datacenters in North America and Europe, most of which are located in France. An abundance of information about the datacenters has not turned up in my research. However, management appears keen to focus on keeping costs down while expanding their customer base in North America and I'm certain they will carry a similar attitude to the datacenter business.
The Internet connectivity business of the company takes place in North America where Cogent serves 180 metropolitan areas and over 1,500 multi-tenant buildings. Meanwhile, the dozens of datacenters in Europe that the company acquired in times past appear to be at work, regularly producing net earnings as they fulfill long-term service contracts with data hungry companies.
Valuation
Here's what the Discounted Cash Flows Model says from a dollar-and-cents perspective on CCOI's earnings power per share: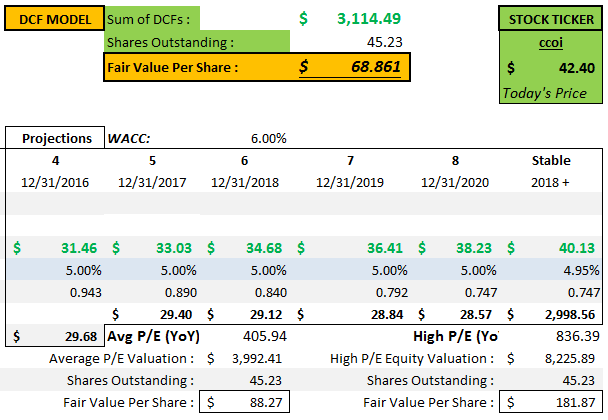 Is CCOI's Fair Value $68.86 Per Share?
When interpreting this model's resulting fair value at $68.86, a user must take into account that the formula is designed to operate under the assumption that the company's tax rate remains the same over time. The model doesn't take out any money for taxes.
CCOI has hundreds of millions of dollars in foreign and domestic tax assets. So, in this case our DCF model's zero-tax assumption operates in accord with reality.
However, the company will still pay some token amounts of income taxes going forward. Therefore, because of some taxes the model doesn't take into account, the fair value per share figure is inflated slightly and is somewhat too large at the printed figure of $68.861.
The DCF model is valuable because it allows me to wrap my head around how many dollars of future earnings I'm buying today.
Here's Why I Project A CCOI With Only 5% Growth in Free Cash Flow
I believe CCOI will see a period of slow growth in free cash flow for three main reasons. First, they are investing heavily in sales and marketing. Second, as existing customers renew their contracts, they will end up renewing at lower prices. And third, payments on long-term debt also will require significant cash going forward. These three factors are going to drag on the actual cash CCOI earns for reinvestment and distribution.
Takeaway
As an investor, I am looking for the highest, safest returns on my capital, and after an analysis of CCOI the following are my conclusions.
The company is generating large amounts of cash through operations. Its focus on controlling costs while aggressively expanding sales and marketing efforts all during a price war is a bold strategy to face the future with. It's notable that certain members of management at Cogent Communications have been in place since the year 2000 and they are certainly familiar with the ISP space. These executives may or may not have a special insight into the company's future.
Personally, the expansion strategy strikes me as bold. I like the approach of earning market share when executives at Cable One have indicated that their strategy is to turn away and focus their attention on other businesses in the company.
CCOI Advances and Conquers
If CCOI's competitors are turning away as the company expands, they may acquire a dominant market share after successfully squeezing competitors out of the market. A challenging job like that can only be accomplished when management leads boldly where others fold up.
Final Verdict
I like a lot about Cogent Communications. But when it comes down to it, this isn't the best stock available for multiplying your investment capital right now. Here's why I choose not to own CCOI stock at this time:
• Significant swathes of the company's network rely on infrastructure leased for 15-20 year terms initiated during the year 2000. If leases aren't simply renewed, or the network function doesn't remain intact after leases expire, CCOI's ISP network will loses integrity and capacity. The other party's willingness or unwillingness to play ball with Cogent on the matter of infrastructure sometime in the future creates the risk that Cogent may relatively suddenly be unable to serve substantial numbers of customers.
The cycle of 15-20 year lease expiration is in uncharted territory for the company. I want more visibility on this matter before committing capital.
• I must be confident that I'm buying a company for a substantial discount to its likely future cash earnings. The DCF model projects today's fair cash value per-share to be $68.86. But like I said, I want a substantial discount to future cash and the stock recently closed the day trading at $42.40.
From $42 to the DCF model-generated fair value of $68 is not a big enough margin of safety for me to buy based on value. After all, I still have to pay tax on any profits selling from $42 to $68.
Summary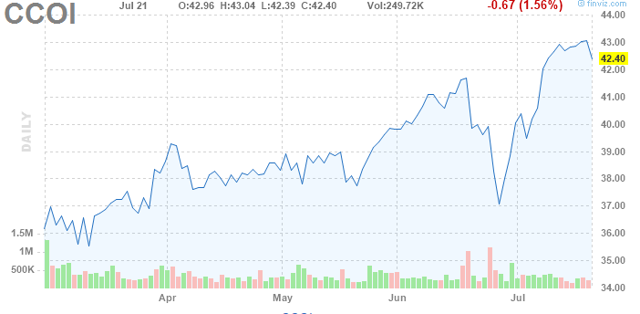 FinViz.com
Cogent's focus on controlling costs assures their customers will get a great price. However, the current price war that has ignited during a long bullish period in the industry is going to weigh on profits. The continuing declines in prices reduce the clarity with which we can forecast earnings.
They're one of the strongest small cap ISPs trading, but today its stock is risky because profit margins may temporarily disappear as a result of the ISP price war, spooking away investors. Most importantly, I'm interested in returning to Cogent when I have a better idea of how the network infrastructure leases have play out.

Follow me for further updates and analysis of a wide variety of stocks.
Disclaimer: This article is intended to provide information to interested parties. As I have no knowledge of individual investor circumstances, goals, and/or portfolio concentration or diversification, readers are expected to complete their own due diligence before purchasing any stocks mentioned or recommended.
Disclosure: I/we have no positions in any stocks mentioned, and no plans to initiate any positions within the next 72 hours.
I wrote this article myself, and it expresses my own opinions. I am not receiving compensation for it (other than from Seeking Alpha). I have no business relationship with any company whose stock is mentioned in this article.