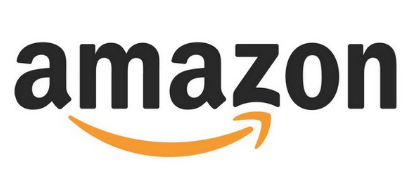 With Amazon (AMZN) at new all time highs it is impossible to be holding longs at a loss. Some long term holders will hold through the corrections, but some traders - like myself - need to scale out of longs at logical points to protect profits.
Buying the dip
I went long AMZN at the lows of the Brexit sell off as i thought AMZN - and the markets in general - were due more upside. I'm no market wizard, but I have enough experience to know when I can buy panic.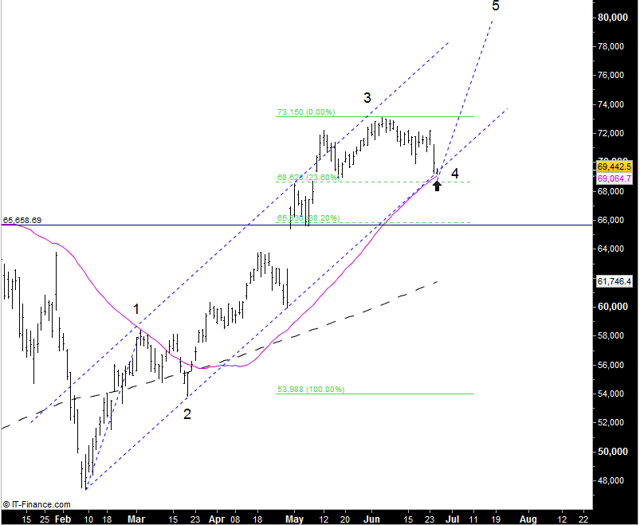 I tweeted the above chart on the day of my entry at $690. There was a lot of confluence as the trend channel, the 23.6% Fibonacci retracement and the 50 day moving average all in the same area. The target is $800 where wave 5 will be equal to wave 1. Alternatively, I will close early if the channel shown is broken on a closing basis.
$800 target
There are other reasons why my target is $800. The rally from the February lows is very similar in size, structure and duration to the rally in 2015 shown below.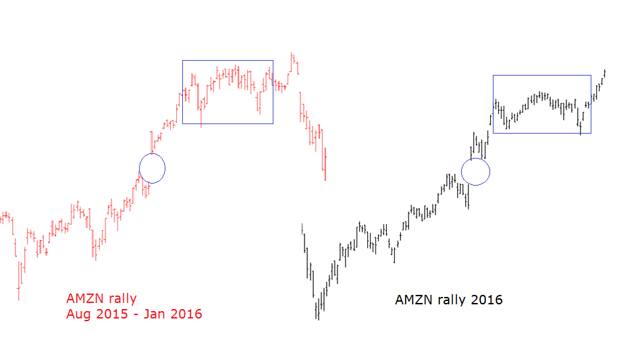 The chart is actually over a week old, but the recent price action is still in line with the 'map'. If the similarity were to continue, we should expect one more move up before a reversal.
$800 is also projected by the continuation gap (circled). This very often occurs at the 50% mark of the rally as positions build and unwind around this important point. The gap is at $639, so if this is at the halfway point from the origin of the rally at $473, we should expect the rally to be $166 from here. $639 + $166 = $805.
The fourth reason for the $800 target is due to the long term logarithmic channel shown below.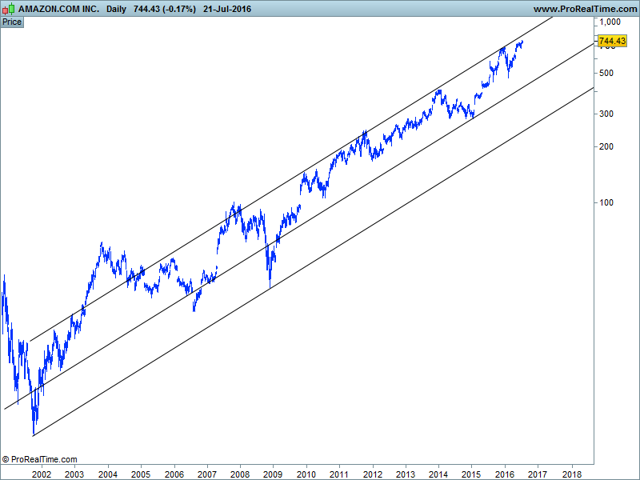 This channel on its own would not be enough to make me close my trade. As you can see, price has touched the top many times, and after a pullback it has always continued. But in confluence with the other three factors, I think there is enough evidence to suggest $800 is a good place to take profits.
As I said at the beginning, I bought recently at $690. Many readers will have entry points way below and I am sure will choose to hold through any minor corrections. The question is, will the next decline be minor or major?
$800, then what?
Much depends on earnings on the 28th July. Any major surprises can knock technicals off course. However, over the medium-long term I do expect a long period of consolidation and corrective price action. It appears the trend that started in 2008 is coming to an end, both for the broader market and AMZN.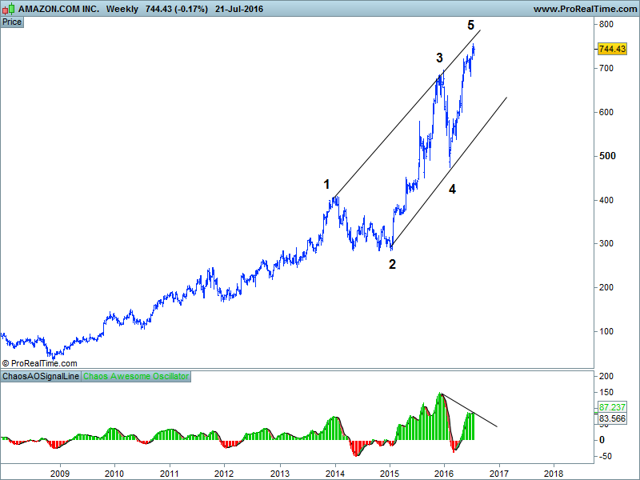 The above chart shows a classic 5 wave trend sequence starting at the 2008 low. The channel represents equality between waves 2 and 4, and there is clear momentum divergence between waves 3 and 5. The Elliott Wave theory behind this is explained in more detail in my article here, which also shows the outlook for the SPDR S&P500 Trust ETF (SPY). I actually expect the SPY to continue its rally to at least $235 which either means AMZN tops well before SPY, or I am wrong with the $800 target and AMZN continues to rally.
Trading is based on probabilities, not absolutes. This article is based on my interpretation of the technicals and what I see as probable.
Based on a usual retracement (38.2%) for a cycle of the size seen in the above chart, a correction could go as low as $500 over the next 1-2 years. This isn't based on fundamentals. it's just what each and every stock does. Every rally has to come to an end, either due to a fundamental change, or simply because of buyer exhaustion and profit taking.
Conclusions
I bought AMZN on 27th June due to technical reasons and I will close at $800 (if seen) due to technical reasons.
The rally in AMZN and the broader market looks mature, and there is a risk of quite a major correction in 2017. Will $800 be the top? I for one won't be sticking around to find out. Good luck if you do.
Disclosure: I am/we are long AMZN.
I wrote this article myself, and it expresses my own opinions. I am not receiving compensation for it (other than from Seeking Alpha). I have no business relationship with any company whose stock is mentioned in this article.