Sirius XM Holdings (NASDAQ:SIRI) first reached a post-merger high of $4.18 in October of 2013. It subsequently retreated below $3 and it took more than two years before it could exceed that $4.18 price,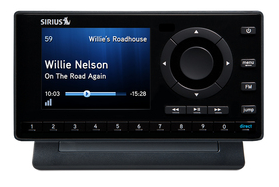 reaching $4.20 late last year. This week it finally rose above $4.20, reaching $4.22 and with the company announcing its second quarter earnings next week it appears as though it may finally be able to move higher. Will those results be the trigger that pushes Sirius significantly above the 2013 price of $4.18?
Perhaps. Since the beginning of 2013 the company has reduced the shares outstanding by spending $7 billion on repurchase programs, while at the same time it has continued to increase subscribers, revenue, earnings and free cash flow. While the growth in cash flow and earnings per share come with an increase in risk - the company now has record debt and record interest expense - it should justify increases in share prices. I doubt the company's growing cash flow per share will trigger a quick move higher, mostly because the uncertainty surrounding the plans of Liberty Media (LMCA), the owner of close to two-thirds of the company.
Regardless, when Sirius reports next week, attention should be paid to several areas:
Growth in total subscribers
Growth in self-pay subscribers
Self-pay monthly churn
ARPU, or Average Revenue Per User
Advertising revenue
Connected Vehicle Services Revenue
During the first quarter Sirius added 348,000 self-pay subscribers and 117,000 paid promotional subscribers. The 465,000 total subscriber net adds prompted the company to revise its 2016 total subscriber net add guidance. It had previously guided to 1.4 million net adds, the same number for both self-pay and total subscribers. While it added 0.2 million to 1.6 million total net adds, it left self-pay net adds at 1.4 million.
Net adds have had the tailwinds of longer paid trials, rising penetration rates and increasing new vehicle sales to propel the net adds higher. These factors helped the paid promotional trials increase 21.5% from 4.46 million at the end of 2013 to 5.42 million at the end of Q1. In contrast, during that same period self-pay subscribers rose 16.7% from 21.11 million to 24.64 million.
While Sirius has little direct control over the paid promotional subscriber category, it has the capability to greatly influence the self-pay subscriber category. It can do this by offering significant retention or acquisition discounts. The retention discounts can influence the self-pay monthly churn statistic, which came in at 1.8% in 2015, the low end of its historic range. Churn moved up to 1.9% in Q1.
Obviously these discount programs also will impact the ARPU. Last quarter Sirius management had this to say about ARPU:
Revenue in the quarter was up 11% to just over $1.2 billion on the strength of our subscriber additions as well as growth in ARPU. ARPU in the quarter was $12.66, growing more than 3% from $12.26 in the prior year.
And, in response to a question, CFO David Frear added:
I was a little surprised at the growth in the ARPU, too. It certainly is more than I expected, that tells - some of it is just favorable mix that we do - we have a very complicated price grid. And so we took - as we said a number of times over the years, that we're constantly tinkering with the grid, tinkering with what we emphasize in our marketing efforts. And we had a great combination of things here. We did change some rates last year, and so we have the effect of that still rolling through. Every time we change rates, it takes about a year-and-a-half for things to roll through. So I think it's just a confluence of factors that generally, we try to encourage you to think of us as having sort of gently rising ARPU over time, and that's what - that's still what we expect.
One of those factors that I expect to see continuing to roll through the self-pay population is the removal of annual and multi-year discount plans. And if the paid promotional subscriber population begins to flatten, that also should boost ARPU.
While advertising revenue is only a very small portion of ARPU and a small part of the company's total revenue, it has been growing significantly faster than the total. And since management has chosen to comment on it, it is probably worth noting that it grew 17.4% in Q1 after growing 21% in 2015 and 13% in 2014. By comparison, subscriber revenue grew 11% in 2016 after growing 8% in both 2014 and 2015.
The last item is the Connected Vehicle Services revenue. This business has essentially been flat at $25 million per quarter, and in May, Frear finally conceded that it is moving along slower than expected.
...what we're finding is that we're going to get to exactly where we thought before, it's just going to take a little more time because the auto makers are a little slower in their roll-outs. So, what they thought they were going to do two years ago, they're still going to do it, they're just getting to it a couple of years later.
Considering when OEMs typically roll out new models, it seems unlikely that we would see the CVS revenue number changing much in Q2. If it does, there could be a surprise move higher.
Sirius is noted for issuing conservative guidance and then gradually increasing that guidance throughout the year. The market probably expects the company to change one or more of its guidance figures, which are currently
Net self-pay subscriber additions of approximately 1.4 million
Total net subscriber additions of approximately 1.6 million
Revenue of approximately $4.9 billion
Adjusted EBITDA of approximately $1.78 billion
Free cash flow of approximately $1.4 billion
It remains to be seen which guidance figure will be changed in Q2.
Summary
With such a large installed base, it seems unlikely that the company can offer much in the way of surprises. And without a positive surprise I don't expect to see a sharp move higher. Instead, I expect to see the shares behave in the way that Frear discussed ARPU:
...we try to encourage you to think of us as having sort of gently rising ARPU over time...
While a gently rising share price may not thrill many investors, it's a lot better than the improvement investors have seen since it reached $4.18 in October of 2013.
Disclosure: I am/we are long SIRI.
I wrote this article myself, and it expresses my own opinions. I am not receiving compensation for it (other than from Seeking Alpha). I have no business relationship with any company whose stock is mentioned in this article.
Additional disclosure: In addition to my long position in SIRI, I have $4 covered calls written against a portion of my position and I regularly trade blocks of Sirius. I also may sell $4.50 covered calls against my uncovered position at any time. Otherwise, I have no plans to trade any of the other companies discussed in this article over the next 72 hours.