Will Verizon Win the Yahoo! Auction?
Early reports say yes. Provided that this is true, the move comes as little surprise, honestly. Earlier this week, we outlined that of the five remaining buyers for Yahoo (YHOO), only a few would get a chance at a final offer.
Reportedly Verizon (NYSE:VZ) was the only company offering less than $4 billion, but the company wasn't looking to buy its real estate or patents either. Recent updates suggest that Verizon spent roughly $5 billion on the deal, which includes real estate, but no patents.
So why is it fitting that it's Verizon? There's the fact that Verizon has already acquired AOL Inc., showing a history of this type of acquisition. But before that deal, it was rumored that a tie-up between AOL and Yahoo! (YHOO) could be in the works, exacerbated further when AOL CEO Tim Armstrong and Yahoo CEO Marissa Mayer were spotted together late one night at a bar.
They could just be friends, right? Either way, the irony is all too real with Tim Armstrong (now with Verizon via the acquisition) leading the charge on the Yahoo auction. Seeing the details from the sale will be interesting, but perhaps even more so it will be nice to have this saga put in the past.
Shares of Nintendo Drop, Short Interest Triples
The over-the-counter-traded Nintendo (OTCPK:NTDOY) hasn't fared too well over the past few days, falling over 20% since Monday's closing price. On Monday, we reported that shares of Nintendo were up more than 100% over the past month, with its market cap soaring to ~$36 billion.
For what it's worth, the Tokyo-listed Nintendo is faring better, down just 10% over the past four trading sessions.
But not everyone is a believer in the hype, even while some analysts may be predicting billions in revenue ($3 billion of which could be headed toward Apple (NASDAQ:AAPL)). According to the most recent updates, short interest has more than tripled to a not-so-robust 2.57% of the float.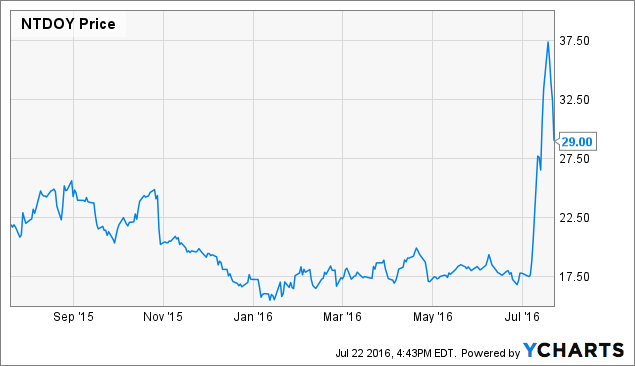 NTDOY data by YCharts
It's unclear what shorts are betting against though. Is it the fact that Nintendo doubled in market cap and were clearly overbought? Or the fact that the company only owns a 32% stake in the Pokémon Company, which alongside Niantic - a spinoff of Alphabet (NASDAQ:GOOG) (NASDAQ:GOOGL) - developed Pokémon Go. In other words, all that profit isn't simply flowing into Nintendo's Zelda-themed treasure chests. My guess is that is was probably both.
Side Note: Pokémon Go has finally launched in Japan and also has become the most downloaded game in its first week ever, according to Apple.
Amazon Wades Into…Banking?
The e-commerce juggernaut is in practically every other business, so why not banking? Well, it's not technically banking, because it doesn't appear that Amazon (NASDAQ:AMZN) will be loaning any money. Specifically, the company has reportedly entered into a partnership with Wells Fargo (NYSE:WFC), "in which the bank will offer interest rate discounts to select 'Prime Students.'"
Students who are shopping for current loans (or looking to refinance old ones) will be able to shave off a half percentage point from that loan, provided that they are a qualifying Prime Student.
So what does this deal really mean? It shows that CEO Jeff Bezos & Co. truly understands his customer. For students, a half percentage point off their loans could more than pay for the annual membership of Prime. More so, the company is either helping to retain subscribers or bring new ones in. The hope, I'm assuming, isn't that students will only take advantage of Amazon's online offerings, but also stick with the company over the long-haul.
Amazon, always a hotly contested stock here on Seeking Alpha largely due to its valuation, has amassed a market cap of more than $350 billion and is a stone's throw from its 52-week high. Goldman Sachs analysts say there could be 20% more upside, while some users question if Investors Have Missed Their Chance or if The Stock Has Stalled.
PayPal Posts Solid Growth, Stock Slumps Badly
PayPal (NASDAQ:PYPL) posted 15.2% revenue growth (20% ex-currency), 7% year-over-year EPS growth, active account growth of 11% along with increased transactions per account, and a 25% increase in transactions.
Sorry for the numbers blitz. Despite all of this however shares are down some 7% Friday. That's got to be disappointing, especially after the company's full-year guidance was raised too. Albeit, full-year EPS estimates are roughly in-line with expectations, if not ever-so-slightly disappointing, although revenue guidance is slightly above consensus.
Initially shares climbed 6% on the results, so the stark reversal is noteworthy. So what's behind the decline?
It could be attributed to the fact that 12% of the company's revenues come from the U.K. and revenue growth in this regard is concerning investors. More likely than not though, it's the company's deal with Visa (NYSE:V) that's got investors dumping shares of PayPal.
However, the situation lacks clarity and already there seems to be some disagreements. Wells Fargo downgraded the stock, while Wedbush Securities has called it "a phenomenal move for PayPal," although its analyst did question the short-term impact.
It probably didn't help that going into the report the stock was hovering near 52-week highs, which as usual, tends to drag expectations higher as well.
Disclosure: I am/we are long V.
I wrote this article myself, and it expresses my own opinions. I am not receiving compensation for it (other than from Seeking Alpha). I have no business relationship with any company whose stock is mentioned in this article.
Editor's Note: This article discusses one or more securities that do not trade on a major U.S. exchange. Please be aware of the risks associated with these stocks.