Source: Yahoo Finance
A year ago today, Qualcomm Inc. (NASDAQ: QCOM) announced that it would be cutting its workforce by about 15%. In a press release, Qualcomm's CEO Steve Mollenkopf outlined his company's response to the substantial increase in chip manufacturing competition throughout Silicon Valley. In order to cut costs and compete within the market, he stated, "We are right-sizing our cost structure and focusing our investments around the highest return opportunities while reaffirming our intent to return significant capital to stockholdings and refreshing our board of directors."
This was both worrisome and exciting for investors as the stock had been realizing a steep decline in prior quarters. Either Qualcomm would be the next tech giant to fall, or this new strategy would ultimately save the company. So, 365 days later, the latter seems like it holds true.
Qualcomm's drastic workforce adjustments were a response to the general decrease in demand for the chipmakers service and lower sell in China. In cutting 15% of their workforce, they reduced costs by about $1.1 billion out of their $7.3 billion budget from the 2015 fiscal year.
Per Reem Nasr of CNBC, this is not all Qualcomm's management decided to do. Qualcomm announced a partnership with hedge fund Jana Partners to restock their board of directors. After realizing a 20% decrease from 2014 to 2015, Qualcomm's structural revisions have boosted their stock back up 10 points YTD. Fresh insights coupled with cost cutting have given Qualcomm the competitive edge necessary to compete in global and domestic markets.
Although the chipmaker bounced back from their difficult 2015, have they already cashed in all of their chips (so to speak) or is there an ace in the hole we have yet to see? Steve Mollenkopf, to no one's surprise, says Qualcomm's recent Q3 earnings are "just the beginning."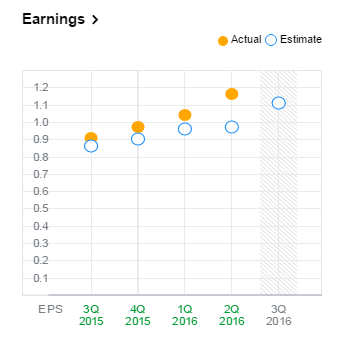 Source: Yahoo Finance
Many analysts agree with Mollenkopf as earnings are projected to increase well into 2016's third quarter. Yet, the question of further growth is certainly a gray area as Qualcomm has just broken even from where the stock was at last summer.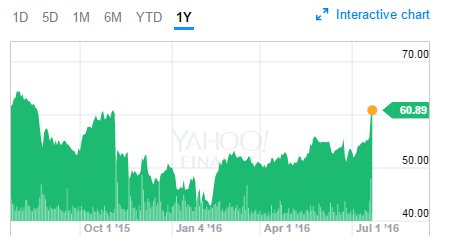 Source: Yahoo Finance
While this graph might call much investor optimism into question, there are many important things to keep in mind. The first being most analysts did not even predict Qualcomm to be back where they were this past summer. Undoubtedly, they have exceeded expectations and have the capacity to continue to do so. Qualcomm was expected to release earnings of $0.97 on revenue of around $5.6 billion per Thomas Reuters. However they actually reported earnings of $1.16 on $6.03 billion in revenue. Further, analyst estimates held Qualcomm at making $1.82 billion in sales from their licensing business while they actually reported $2.04 billion. This is fairly significant because it not only means Qualcomm is inventing things, but they are profiting off them as well.
Further, Qualcomm is making groundbreaking moves to revamp the communication equipment industry of which they are a part of. Aside from budding off the latest trend of augmented reality we all saw on Pokemon Go, Qualcomm claims to also be leading the charge in "solving the 1000x data challenge." They are currently working on densifying small cells to prepare for the inevitable onslaught of consumer demand for mobile traffic. Their "Qronicles of Invention" segment of their website writes that to address this problem: "we need to evolve small cells in all directions: all forms-micro, pico, femto, metro, relays etc.; all technologies - 3G, 4G, Wi-Fi, all integrated; deployments by operators as well as users." This could be as foreign as a concept to you as it is to me, but if these ideas result in dollars, then they make sense.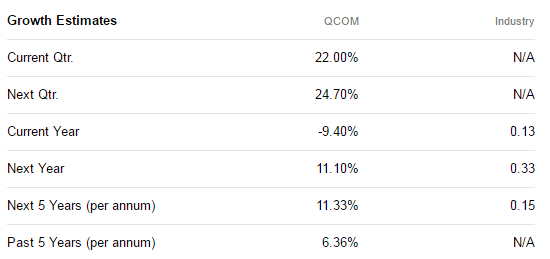 Analysts are predicting that these new releases will grow Qualcomm quite substantially. After coming off a booming third quarter, Qualcomm only continues to grow. Their chipsets that power many smartphones seem to be paying off. According to Brian Reigh of Android Authority, "while (Qualcomm's) projection for MSM chip shipments during Q3 was between 175 million and 195 million, they actually beat their own estimates by at least 6 million, shipping a total of 201 million chipsets." This was in part because of their Snapdragon processor.
With a name like Snapdragon, no wonder revenue is high. Many producers such as Samsung (OTC: OTC:SSNLF) are using the Snapdragon to power their own devices and even phones. With Samsung up 6% quarter to quarter, Qualcomm also realized some powerful sales figures. Clearly, as competition was a problem in the past, restructuring has had a major impact on Qualcomm. Although smartphone sales were down in the prior months, the high-end Snapdragon was sold at high volume. CEO Steve Mollenkopf attributes his company's success to original equipment manufacturers abroad in China. He stated with the third quarter results, "we delivered strong results this quarter, with EPS well ahead of our guidance based on meaningful progress with licensees in China. Our chipset business is also benefiting from a strong new product ramp across tiers; particularly with fast growing OEMs in China."
With promising new products set to release from both Samsung and Qualcomm in the next quarter, it's hard not to be bullish. Especially when they predict revenue growth of 14% and 6% growth in MSM shipments. As Qualcomm looks to follow suit of their third quarter results, it appears as if this chipmaker holds all the trumps. Look for growth as a result of new technological breakthroughs and restructuring.
Disclosure: I/we have no positions in any stocks mentioned, but may initiate a long position in QCOM over the next 72 hours.
I wrote this article myself, and it expresses my own opinions. I am not receiving compensation for it (other than from Seeking Alpha). I have no business relationship with any company whose stock is mentioned in this article.
Editor's Note: This article discusses one or more securities that do not trade on a major U.S. exchange. Please be aware of the risks associated with these stocks.