"Psychology is probably the most important factor in the market, and one that is least understood." --David Dreman
Why is the market so high? How can this market go up? This has to be another bubble. The rally is over, there is dramatic downside risk for those that are invested in the stock market.
Just some of the comments that are making the rounds now. This commentary has been around for a while, as not only is this the most hated bull market in history, this new market breakout has also fallen into that category.

The backdrop for the investment scene as I see it today.
Job growth appears to have slowed this year. Some of that may be noise in the data, or firms may have grown more cautious in hiring, reflecting uncertainties about global growth and this year's presidential election. The data suggests that hiring at small and medium sized firms has remained relatively strong.
Some of the slowdown in job growth is likely related to the tightening in the labor market. The general consensus is that job growth is likely to slow this year as companies are having a hard time finding qualified workers.
Wage growth is still moderate as average hourly earnings are up 2.6% over the 12 months ending in June. Perhaps this will continue on an upward trajectory into year end. The broad range of economic data has been sketchy, but the latest round of reports suggest a pickup in growth in the second quarter, led by the consumer. Last week's surprise jump in retail sales didn't hurt that theory.
The housing sector continues to improve. Business fixed investment is still soft, but this is a worldwide issue. In all, the U.S. economy is in relatively good shape, in my view a Goldilocks situation. We have seen that backdrop, and it is one that has been a positive for owning equities in the past.
The Federal Reserve remains neutered unit the end of the year given all of the global uncertainty. When they resume policy normalization it should come as a result of a stronger economic outlook, and will be nothing to fear.
Low long term interest rates are usually a sign of trouble for the economy, but the catalyst here is that long-term interest rates are low everywhere. Brexit is going to be a long and uncertain process, with what appears to be no immediate impact on markets. China is undergoing a major economic transformation. It is for the better, and does not imply a hard landing. The U.S. is an attractive location for global investment, and the flight to safety to the U.S. should keep bonds yields relatively low.
Now that the S&P is setting new highs some start to envision grandiose returns. We can then start to go from the sublime to the ridiculous. Plenty of talk now about how high the S&P can go. On the flip side, I recently had a participant here in a reply to my missives, boldly predict sub par returns for the stock market for years to come.
"I do believe we'll have a really bad 30 years for equities. I think real returns will actually be negative over a 10-30 year period. My honest guess is that over the next 30 years, total real returns of approximately -2 or 3%. Next 10 years, maybe -8% compounded.
Ladies and Gentlemen, that type of commentary would fly in the face of EVERY historical results since stock market returns have been tracked. However, we are to now believe sitting here in July of 2016 that we can now predict and expect negative stock market returns as far as the eye can see.

My view on market returns are a bit different, and suggest a more logical way of approaching investing in equities. I try not to think too far ahead. Trying to put together a strategy for the near term is difficult enough. Next year and beyond is next to impossible.
So I take my view of the markets in small increments of time, and that has served me well. Concentrating and focusing on just two things. Those that are important, and those that I can control. Anything else is wasted effort, and yields nothing.
The opposing views on the market situation will continue to surface with the macro issues that the market faces. The treasury yield, Eurozone and the fallout from Brexit, China, etc. These issues and more have been a part of the investing landscape for a while, and investors have dealt with them. It will be necessary to do so if they are to continue to be successful.
As an example of what I am referring to. I can tell you that in 2012 the yield curve was like it is today, when the 10 year note dropped to a low of 1.39%. Jim Chanos and others were writing exposes on the roads to nowhere and the ghost towns that were in China, suggesting a collapse of their entire economy. The european debt crisis was at its peak. The S&P was at 1150 back then, four to six months later the S&P broke out of a long term base pattern. This Friday the index closed at 2174.
Of course there is a lesson to be learned from the last 2 paragraphs. Those that understand that message are in far better financial shape than those that continue to stick to the wrong footed market strategies that have failed.

Economy
Lower U.S. productivity growth has been under the microscope for a while now, and there is no shortage of theories as to why this is happening. From 2011 to 2015, labor productivity only grew by 0.4% a year in output per hour of work, which is far below the 2.3% per year average since the 1950s.
One of the reasons offered is that it is being mis-measured given the fast moving shifts in the composition of the U.S. economy with the evolution of services like Facebook, Amazon, etc. Another reason offered was that the slowdown in capital spending implies workers are not getting the newest/best equipment to become more efficient.
However, the most bullish reason was expressed in the New York Times, which read:
"Think about a business that is investing for the future. It hires a bunch of people and opens new offices and builds new factories. But while it is doing all that stuff, its actual productivity is quite low. It has a lot of people working a lot of hours, but very low economic output until its operations are fully up to speed. Maybe, just maybe, that is happening with the United States economy at large. Businesses are adding workers in preparation for the future, but it will take time for their investments to pay off in terms of gross domestic product."
There is yet another scenario that is not so rosy. The U.S. demographic picture has changed. People are living and working longer, and the workforce is a more risk-averse populace that naturally is going to be less innovative than it once was. It may be an interesting point to contemplate.

A sign of better employment and wages for those that doubt the wage growth in the last few years.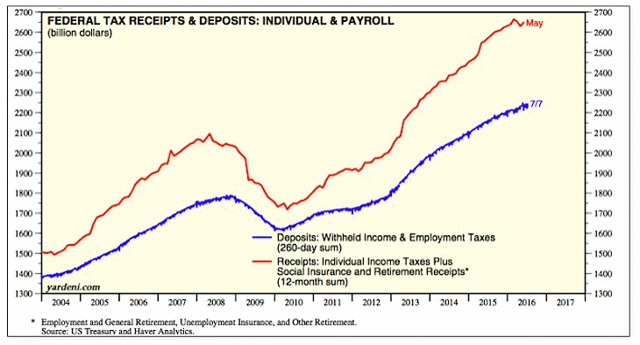 Federal tax receipts don't increase if there aren't more employed and those employees aren't earning more money. Maybe the skeptic view that every new job is a hamburger flipper, isn't quite the case.
Manufacturing in the Philadelphia region unexpectedly weakened in the month of July as the Philly Fed report turned negative and missed expectations. While economists were forecasting a headline reading in the Business Conditions Index of 4.5, the actual reading came in at -2.9, which was the lowest headline reading since January.
Bespoke notes that the majority of components in the report were positive and showed improvement relative to June. New Orders, for example, saw a big jump, rising from -3.0 up to 11.8. The only three components that were negative this month were Inventories, Number of Employees, and Average Workweek, but even with the negative readings, all three showed improvement.

This week's release of the monthly sentiment survey from the National Association of Home Builders showed a modest decline in July. While economists were expecting the sentiment index to come in at a level of 60, which would have been unchanged from June, the actual reading declined slightly to 59.
Housing Starts and Building Permits for the month of June both came in stronger than expected. Housing Starts came in at a seasonally annualized rate of 1.18 million compared to estimates for an increase of 1.16 million. In the case of Building Permits, June saw an increase of 1.15 million, which was in line with expectations.
Mortgage applications rebounded from their post July 4th lows and printed the highest level for the whole year following that holiday in 8 years.
Existing home sales were very strong as home sales increased 1.1% last month to a seasonally adjusted rate of 5.5 million.

Global Economy
It is worth noting that Chinese retail sales are up modestly with back to back double digit year over year growth rates. A positive sign that rebalancing towards consumption is proceeding, albeit at a slow pace.
It comes as no surprise that the latest German Business Confidence indicator took a plunge after the U.K decision to leave the EU.
ZEW President Achim Wambach said of the survey;
"The Brexit vote has surprised the majority of financial market experts. Uncertainty about the vote's consequences for the German economy is largely responsible for the substantial decline in economic sentiment. In particular, concerns about the export prospects and the stability of the European banking and financial system are likely to be a burden on the economic outlook."
The International Monetary Fund downgraded its forecast for global economic growth as Britain's surprise vote to leave the European Union last month weighs on consumer confidence and investor sentiment. The IMF notched down its global growth estimate for this year and next by 0.1 percentage point, putting 2016 at 3.1% and on par with last year's pace, the slowest since the financial crisis.

Earnings
So far this earnings season, 230 companies have reported their Q2 2016 numbers. That's just over 10% of the total number of companies set to report this season The earnings beat rate has been extremely strong at 70% this season, which would be higher than any quarter since 2006 if the reporting period were to end today.
However, the top line revenue beat rate,stands at just 56.2%, which is much lower than the bottom line beat rate. While much lower than the EPS beat rate, if earnings season were to end today, the revenue beat rate would be a six quarter high.
Thomson Reuters Weekly Earnings Data:
Forward 4-quarter estimate: $126.70

P.E ratio: 17(x)

PEG ratio: 15(x)

SP 500 earnings yield: 5.86%

Year-over-year growth of forward estimate: +1.15%
Changes between sectors and changes in downward or upward revisions in those sectors are very important data points to watch now. I do expect to see the forward estimates for Energy and Basic Materials to start to improve dramatically in the next few weeks.
Summarizing all of the forecasts that I have seen, the general consensus for Q2 is calling for about 5% operating EPS growth, ex-energy.
The Earnings Yield
Why would investors opt for stocks when they are at all time highs? No one is suggesting to go all in at this time, but if one has paid attention to the stock market message they should have had a sizeable investment in equities for quite some time now. There is a multitude of reasons that stocks go up or down over time.
A discussion that often comes up from time to time revolves around the ramifications of the earnings yield. Earnings yield is the quotient of earnings per share divided by the share price. It is the reciprocal of the P/E ratio. The earnings yield is quoted as a percentage, allowing an easy comparison to going bond rates.

A flight to perceived safety has driven yields of US Treasuries and government bonds of other nations down to extremely low levels. The large disparity in investors' appetite for bonds and stocks jumps out in the wide gap between the yield on 10 year Treasuries and the earnings yield. The Thomson Reuters data reports the present earnings yield is 5.86%. At the moment there is a 4.26 percentage point spread over the 1.60% yield on a 10 year Treasury.
Consider for a moment the choice that the market is currently offering to investors. If you purchase the lower risk Treasury and hold it for 10 years until maturity, you are locking into a 1.6% annualized return that is not protected against inflation. In this hypothetical example, you will earn 1.6% annualized on a pre-tax basis, or 1.3% after tax, assuming a 35% federal tax rate. Since inflation average 2.5-3%, you would lose money on that investment in real terms.
Compare that to the dividend yield on the S&P 500 index of 2.1%, or the Dow 30 at 2.5%. Unlike fixed interest securities, stocks can potentially provide a considerable degree of inflation protection. Those dividend income streams are now higher than the fixed rate on Treasuries and history tells us that they will likely grow with inflation.
With the current earnings yield at these levels which is higher than that of alternative asset classes, those who move into cash, bonds or metals at this time are paying a historically high opportunity cost. For those that believe they can move in and out of cash seeking to time the market, think again. Statistics show that they underperform the S&P 500 by a considerable margin.
Of course each individual has to weigh their allocations to equities in the context of an overall investment plan and their tolerance for risk.
Sentiment

Individual investors have been downright depressed for much of the year, but they have shown signs of turning the corner in the last few weeks. Much is being made about the bullish sentiment reading from July 15th ,showing that it jumped from 31.1% up to 36.9%. It's the highest weekly reading since early March.
Of course the observations now arise that we must be reaching frothy levels when it comes to sentiment. Well, not so fast. The reality is that at 36.9%, bullish sentiment is still below its bull market average of 39.95% and has been below 40% for 37 straight weeks.
The latest weekly update from AAII now shows that bullish sentiment has dropped from 36.9% to 35.4%. That makes this the 38th straight week where bullish sentiment has been below 40% and the 72nd time in the last 73 weeks that we have seen sub 40% levels of bullish sentiment.
Sentiment may be starting to percolate, but the bulls are hardly running people over just yet.

Morningstar reports that actively managed Funds and ETFs saw the largest outflow of money since October 2008. While there were inflows into passively managed funds. In my view that is the exact opposite of what I believe should be done now. At These levels it is all about selecting individual names that will outperform the major indexes. However, it is understood that strategy isn't for everyone. What this does show is the overall cautionary sentiment that still exists towards the equity market.

Crude Oil
U.S. weekly domestic gasoline demand is at all time highs and has steadily proven strong relative to history throughout this year. Global oil demand per capita is also trending up along with total consumption.
Crude inventories have declined for nine straight weeks. Longest streak since at least 1983. However the technical picture remains mixed, and a move to the $41-$42 level may be in the cards.
WTI closed the week at $44.25 down $1.70 for the week. That is a two month low.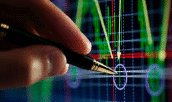 The Technical Picture
Josh Brown's article on an "outside year" drew my attention. Please take some time to read his thoughts.

it contains bullish material and may not be suitable for every investor.
Strength often begets strength. MKM Partners says in 19 of 20 instances since 1928 in which the S&P went at least a year without a new 52-week high, the S&P was higher a year later for a median return of 20.8%. In all 20 occurrences, it was higher at some point in the next 12 months by at least 6%.
The bulls have some positive history on their side. Bespoke Investment Group notes:
"Since 1928 of the 14 times the SPX made a new all time high, at least 52 weeks below an old high water mark, the forward returns one year later were impressive,+12.30%. However, the draw downs were even more impressive at just -2.73%."

"This marks the 15th time since 1950, that it took the index 12 months or more to mark a new high from the previous one. In the 14 previous occasions, the index was higher a year after the new high every time. The average 12 month gain was 18%, and the smallest gain was 3.1%. In addition, the next major peak for the stock market occurred a minimum of 15 months after the new high.
The key to the market strength is a broad based expansion in the percentage of individual stocks trading to a new high, and there have been strong signs of that with leadership now moving from dividend payers toward cyclicals and technology in the past few days. The Technology index (NYSEARCA:XLK) rose over 1.7% this past week as it moved to a new high. It was accompanied by the new high achieved by the Industrial index (NYSEARCA:XLI). The Technology sector is the largest sector in the S&P and this bodes well for more upside for the overall market.
The cumulative advance/decline line shows an explosive surge in the number of stocks moving higher. It led the price breakout by several months and has confirmed the new highs with a continued surge over the last month or so, merely slowing a bit for the Brexit nervousness.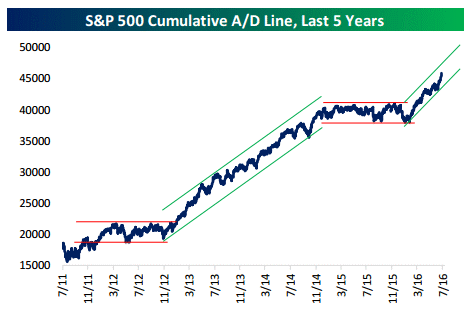 Source: Bespoke
This type of breadth is extremely bullish and shouldn't be dismissed too quickly, as it increases the odds for better than average returns in the next three to six month period. Ninety percent upside days are rare, but last week we experienced the third 90% Upside session in just as many weeks.
Last week it was all about the breakout from an extended sideways pattern.
After such break the trading that follows gives us a clue as to what may develop next. I am well aware that there can be false breakouts and spoke to that last week.
"The market internals remain strong, so as each day passes the odds of this being a false breakout diminishes."
The daily chart shows the breakout level, and I have taken the liberty of penciling in a new uptrend channel that could be the road map that the S&P will follow.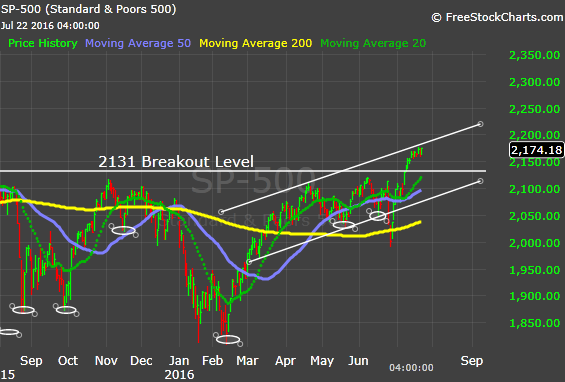 Chart courtesy of FreeStockCharts.com
Another trading week in the books and the S&P remained quite strong, with the Dow 30 joining in on the new high party. That alone adds to my thoughts that this is NOT a false breakout. Normally, we would expect a sharp pullback after such a strong move, because the overall market is so extended. However, a pattern could be emerging where the index retains the majority of its previous move and holds tight. This is the 'flag' portion of the pattern. The direction of the initial move is usually continued after brief consolidation.
Therefore, I would not be looking for any huge pullback here. That said, I am not using any hedging strategies at the moment. What I am looking for is a shallow pullback. If anything we could see the S&P retreat to the 2130- 2140 level as a first step and a test of the breakout level.
The low level of the VIX (12.02) is the new warning for the week. While I often have stated that overbought markets and oversold VIX levels, are harbingers for pullbacks, there can be exceptions.
The period from the end of May 2014 to the beginning of July 2104 saw the VIX stay below 13 for about 8 weeks, with a low of 10.28. In the same time frame the S&P gained 4.4%.

Individual Stocks and Valuation
The irony of the skeptic's argument on valuation is that they are in certain respects correct. The overvaluation is in the sectors that have been chased and overbought. A number of the remaining sectors are far from overvalued given the interest rate backdrop.
As part of my final disclosure last week I indicated that I might be purchasing Qualcomm (NASDAQ:QCOM) in the coming days. I did in fact purchase shares for my account. They reported a solid earnings quarter and the stock has responded.
"Old Tech" and been discussed here often. These companies provide the trifecta that investors are looking for. Yield, growth and solid balance sheets. Many investors shy away from buying stocks on breakouts. It seems there is that bargain hunter mentality in all of us, always looking to pick stocks up at lows. At times I do like to buy the upside move on names that offer dividends and solid balance sheets.
It may be time to take a look at an old tech name, Cisco (NASDAQ:CSCO). The stock broke out of a long base pattern with a new high this past week. It now looks to be a buy on any pullback, but I don't see it trading down much from here.
Another in that category and a candidate for purchase is Microsoft (NASDAQ:MSFT). They beat on both the top and bottom line. That just might be enough now to push that one to the mid 60's, and set a new high in the process.
Both offer solid yields and pristine balance sheets loaded with cash. Dividend increases are now the norm for these two companies. Income generators with a chance for double digit appreciation.
A very informative article suggesting further strength may lie ahead for the REIT sector. There are plenty of opportunities there and THE source for everything REITS here on SA is Brad Thomas. His latest missive on the sector, and an article that speaks about Physicians Realty (NYSE:DOC). A name that he brought to my attention, which led to a subsequent purchase in 2015.

During the market fall in the wake of Brexit, the typical commentary from most went something like this;
"It seems to me rather apparent that we're primed for extended, perhaps substantial, market weakness."
It hasn't turned out that way at all. The history of this bull market has shown us that an important concept for investors to stay focused on is "change". How an investor survives in the investing world is their willingness to change. It's how one improves and how you don't make "The Big Mistake."
It is no secret, the biggest headwind for equity prices is valuation. Unlike most of the current bull market, P/E ratios are not at historically normal levels. The forward P/E ratios are above the 20 year range. I am not as distressed about that as some, given that we are well below the historical rate of the 10 year note at 5%-6%.
Still there is talk is of a bubble now in this market, and that has been one of the primary arguments for the Bears. Perhaps it's best to wait and see just how earnings play out in the next quarter or two before continuing on that track. Because if earnings do continue to improve, we could easily see an earnings driven continuation of the bull market.
That said, there are other factors at work that could bring in mania and actually expand multiples. With the majority of investors incorrectly positioned to take advantage of further upside, the longer the market stays resilient, the worse it gets for those that fall into this quandary.
Portfolio managers and hedge funds who have fought the trend by sitting in cash will have decision after decision to make. It isn't easy to explain and answer the calls that question why they aren't participating in the new highs. International investors have already seen where the grass may be greener, as I surmise they have contributed to the explosive move.
Of course if mania does strike and that sort of behavior is repeated, there is no reason P/Es can't expand far further than their current level. If that occurs it would be irrational and unsustainable. But that hasn't prevented such manias in the past, and I believe it can happen again.
That is how Bull markets end. They die on Euphoria. However, before the Bulls get nervous here, we are a long way from that developing. Before it is all said and done, the skeptics will suffer even greater losses when this market truly reaches a REAL overvaluation stage. I expect that they will continue to fight the tape all the way to THE top.
When and how long this scenario takes to play out is anyone's guess. Months, years, no one knows for sure. I do however believe that it will indeed take place as it has done with every bull market. This time will be no different.

You see the people that have come out and voiced their views about why all of what we have seen in this bull run is so wrong, are obsessed with their being right in academic debates. Admonishing the investment world for what should be happening every chance they get. So much so that they have lost sight of making money.
The beauty and attraction of the investing world for me is that one need not have a PhD after their name. In fact, I maintain that simple everyday common sense rules the investment world. Take that PhD in love with their own theories and I will show you someone who's about to blow up when the environment changes.
The obsessing over one metric or another like a child holding onto their security blanket has been pervasive, and in doing so they have turned their back on the possibility of change.
That overconfident academic who has their infallible system blames the market when it goes against them. They are in my view fanatics with no understanding of adaptive systems.
We have also witnessed the group of market participants that pound their fist on the table for a certain outcome too many times to ever go back on it. They are simply tragic heroes going down with their ship. They are so inflexible and dug in, there is simply no turning back for them .
It's pretty obvious when you think about it. Do you want to fall into one of those categories, or do you want to make money ?
At the depths of the February lows it was the taunts of;
"Can't you see what is going on around you? Why stay in this market? Now, someone please make the case for markets to rise, or even tread water anywhere near where they are now."
I attempted to answer those questions back then, the stock market has confirmed my answers.
So that brings me to now ask a question that need be answered by anyone that has admonished investors for being in the stock market during one of the most difficult periods in history.
"Can't you see what the stock market is telling you?"
Because anyone that has stayed long this market surely has listened to its message. Going forward, I am looking for situational opportunities that can be exploited without regard to the noise that is all around me. Specifically in the Oil and Gas sector. In the process, I will be avoiding the wizards that seem to have all of the answers, but very little to show for it.
Best of Luck to All!
Disclosure: I am/we are long CSCO,DOC,MSFT,QCOM.
I wrote this article myself, and it expresses my own opinions. I am not receiving compensation for it (other than from Seeking Alpha). I have no business relationship with any company whose stock is mentioned in this article.