Introduction
Illinois Tool Works (NYSE:ITW) is, with a market capitalization of in excess of $40B, one of the larger companies out there, but unfortunately it doesn't look like the company gets the attention it deserves here on Seeking Alpha. Since the start of this year, just 5 articles have been written about this company, and I started to wonder the lack of attention might provide an interesting investment opportunity…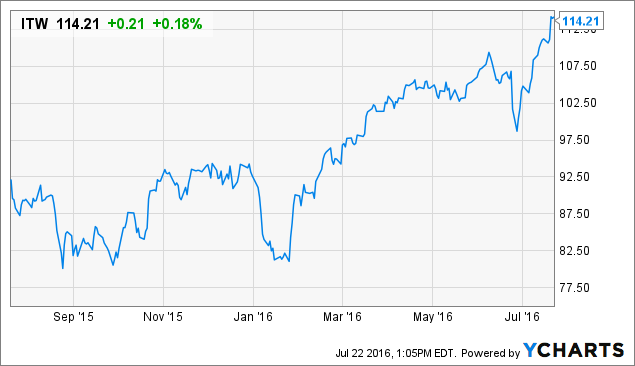 Strong profits and cash flows
Illinois Tool Works saw its revenue in the second quarter of the year fall by 0.1%. This doesn't mean the business model is failing or that ITW's sales are slowing down, as the lower revenue was entirely caused by the changes in the currency exchange rates in the past quarter. If you would exclude these forex changes, ITW's revenue would actually have increased by 1.2% (or almost $50M!).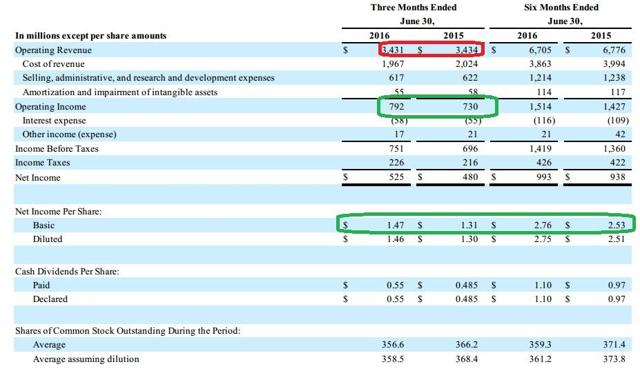 Source: SEC filing
Despite the fact the net revenue remained stable (I do consider a 0.1% lower revenue 'stable'), ITW was able to reduce its operating costs by almost 3% whilst the SG&A expenses also came in 1% lower compared to the second quarter of the previous financial year. This caused ITW's operating income to jump by almost 10% to $792M. This also means the operating margin increased from 21.25% in Q2 FY 2015 to 23.1% in the most recent quarter, and that's definitely something Illinois can be proud of! The interest expenses did increase, as did the tax bill, but the bottom line was still showing a 9% increase in net income as ITW generated a net income of $525M in the second quarter and $993M in the first half of the year (+6%YoY). The H1 EPS was $2.76, an increase of almost 10% thanks to ITW's continuous share repurchase program which reduced the average share count during the semester by in excess of 3%.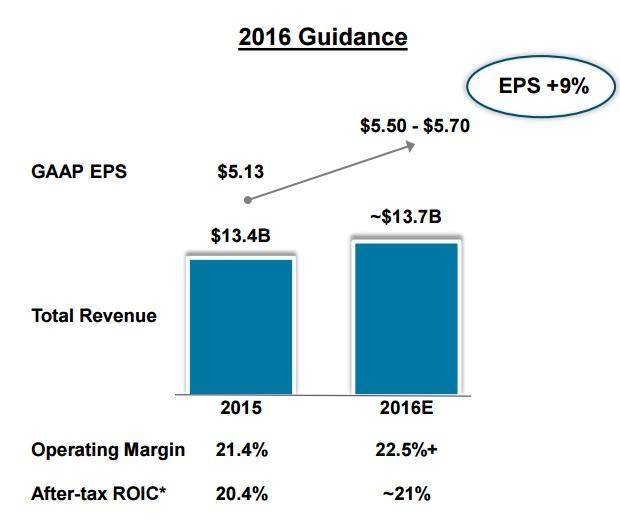 Source: company presentation
A net income of $993M is great, but I'm also very pleased to see Illinois was able to convert 90% of its net income into free cash flow, as its free cash flow came in at $893M. Unfortunately ITW has only provided a 'simplified' cash flow statement, and it's unknown how the 'net cash provided by operating activities' was impacted by changes in ITW's working capital position. The 10-Q report hasn't been filed yet, but I'm not really expecting any huge surprise (although there was a positive impact of $92M in the Q1 operating cash flow).
The net debt remains under control
With a free cash flow of almost $900M, Illinois Tool Works is on track to once again generate close to $2B in free cash flow this year (the adjusted free cash flow last year was $2.1B). I secretly hope ITW can do better than last year (on an adjusted basis, excluding the changes in its working capital position), but I will need to see the 10-Q first before being able to fine-tune my assumptions. So, for now, I will be using a pro forma adjusted free cash flow of $2B for the current financial year.

Source: company presentation
The current quarterly dividend of $0.55 per share is costing the company approximately $775M per year (and this amount should technically decrease as ITW's share count is decreasing but as Illinois has a stable history of increasing its dividends, the cost of the dividend will very likely increase rather than decrease due to the higher payments per share), which means ITW will have at least $1.2B it could spend on other purposes.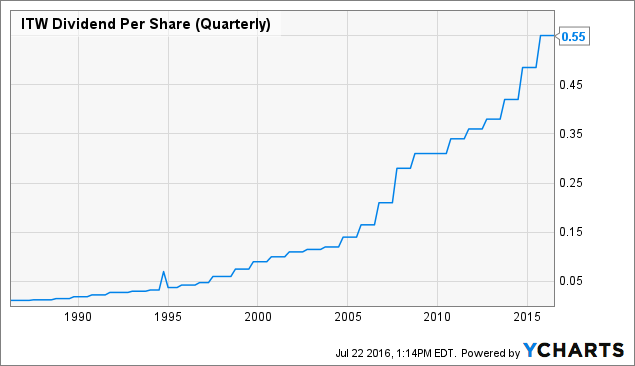 ITW Dividend Per Share (Quarterly) data by YCharts
The company remains a huge fan of share buybacks, and has repurchased $500M worth of stock in the second quarter (for approximately 4.5 million shares), and I expect a substantial portion of the free cash flow will continue to be used for this purpose.
On top of that, ITW continues to expand, and as of July 1st it will consolidate the operations of EF&C as well, which it bought for $450M. the total revenue will be $220-240M in the second half of 2016 (indicating a full-year revenue of close to half a billion dollar) and even though ITW does confirm there will be no impact on the company's EPS, I would expect this deal to contribute to Illinois' free cash flow.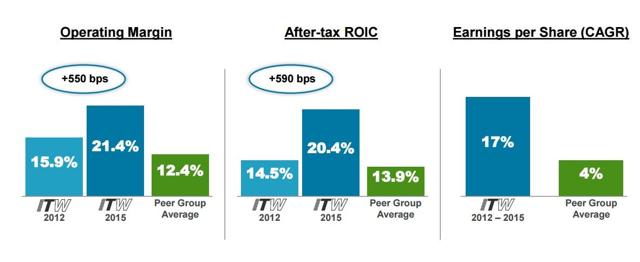 Source: company presentation
That being said, even though I absolutely agree on paying the dividend and acquiring new subsidiaries and even though I can understand the aggressive share buybacks, Illinois will also have to keep an eye on its net debt. The net debt stood at $4.3B as of at the end of last year, and increased to $4.8B by the end of the previous quarter. That's not a problem at all considering ITW's EBITDA should be approximately $3.5B, indicating the net debt/EBITDA ratio will remain below 1.5, but I dislike companies that are using too much debt. A ratio of 1.5 sounds fine to me (and is understandable in this era of cheap debt), but once that level has been reached I'd be in favor of slowing down the share buybacks.
Investment thesis
Illinois Tool Works seems to be an excellent 'buy and hold' stock, as it pays a decent (and increasing) dividend (the current yield is almost 2%) at a payout ratio of less than 40%. On top of that, buying back stock (in moderate amounts) and acquiring new subsidiaries also is a great move to build this company into something bigger.
At a current free cash flow yield of approximately 5%, ITW isn't expensive but instead of buying the stock right now and right where it's trading at, I might try to write a put option. Selling a put with a strike price of $105 and an expiration in December yields an option premium of $2.20, resulting in an annualized yield of in excess of 5% should I not be assigned stock. And should I have to purchase ITW at $105, my average cost basis would be $103, resulting in a pro forma free cash flow yield of 5.7%.
Disclosure: I/we have no positions in any stocks mentioned, and no plans to initiate any positions within the next 72 hours.
I wrote this article myself, and it expresses my own opinions. I am not receiving compensation for it (other than from Seeking Alpha). I have no business relationship with any company whose stock is mentioned in this article.