Weekly Recap
After two consecutive weeks of underperformance versus the S&P 500 (NYSEARCA:SPY), the REIT sector (NYSEARCA:VNQ) resumed its multi-year rally as earnings season got off to a strong start and interest rates moderated.
The REIT sector begins earnings season with high expectations. REITs have rallied over 10% over the past quarter compared to a 4.5% rise in the SPY as macroeconomic trends of lower interest rates and sector-specific trends of moderating supply, decent demand, lower cap rates, and expectations of tighter financing for speculative construction projects continue to add legs to a multi-year REIT rally.
On the week, REITs rallied 2% led by strong performance in the hotel and healthcare sectors. Mortgage REITs (BATS:REM) rallied as yields on the 10-Year Treasury (NYSEARCA:IEF) ticked down to 1.55% from 1.60%, reversing the trend of the past two weeks.
Homebuilders (BATS:ITB) and commercial construction companies (NYSEARCA:PKB) finished the week mixed after strong outperformance last week. Monthly housing permits and starts data, one of the most important data releases affecting REITs, slightly beat expectations, but prior months were revised downward. The market reaction to the data appears to be net neutral. The moderating supply growth thesis remains intact, though there are pockets of oversupply in the apartment sector. The YTD underperformance of the residential sector reflects this concern.
We saw an interesting and positive divergence between REITs and the SPDR Dividend ETF (NYSEARCA:SDY), which have been highly correlated over the past year. The SPDR Dividend ETF was only modestly higher on the week, underperforming REITs. While this may be attributable to better than expected earnings thus far in the REIT sector, we believe it may also be indicative of a boarder shift and realignment into REITs by mutual funds and ETF investors ahead of the GICS sector split.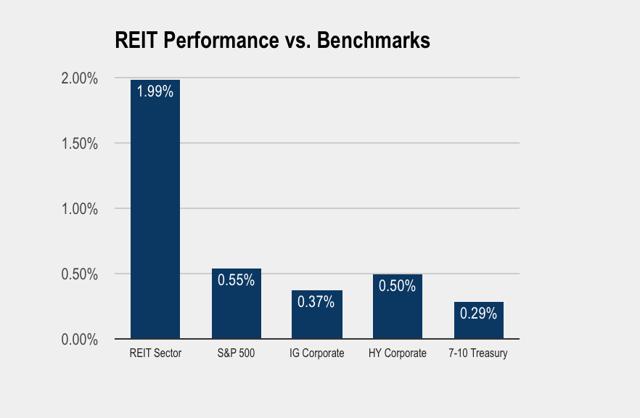 Sector Performance
All REIT sectors finished the week higher led by hotels, healthcare, net lease and office. Residential REITs underperformed as single family rentals, apartments, and self-storage were the laggards.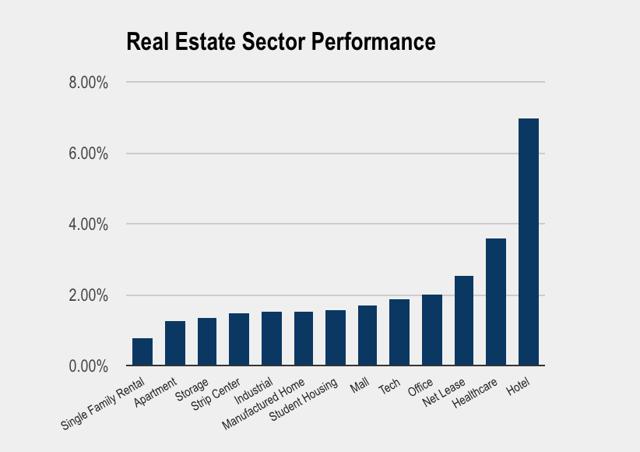 A positive outlook from Lasalle (NYSE:LHO) did wonders to start to reverse dismal performance over the past year. Hotels are still down over 20% over the past 52 weeks, the only REIT sector in negative territory over that time.
FFO beats from Prologis (NYSE:PLD) and Equity Lifestyle (NYSE:ELS) affirmed the elevated valuations of the industrial and manufactured housing sectors. We wrote piece this week on manufactured housing REITs, "Manufactured Housing: Buffet's Favorite Sector." We concluded that despite recent strong performance, the sector is underappreciated and there is still long-term value, particularly in Sun Communities (NYSE:SUI).
REIT Quadrant Factors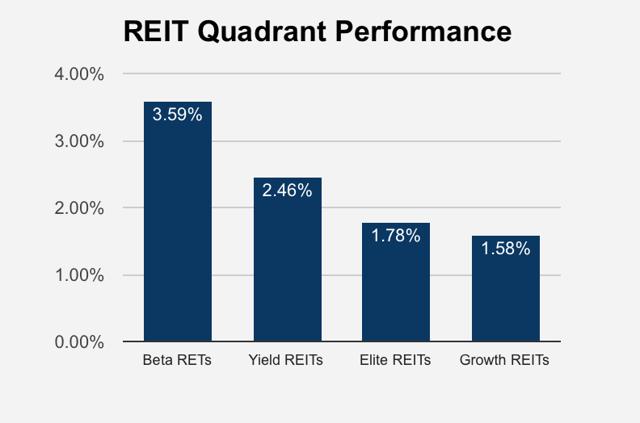 Beta REITs, an index of the most highly leveraged REITs, were the best performers on the week. The heavy concentration of hotel names, which are highly levered to strong economic data, account for the strong performance.
Yield REITs, a proprietary index of the most yield-sensitive REIT names, were next with a 2.5% jump on the week. Healthcare and net lease account for the bulk of changes in the index.
Elite REITs, those REITs included in the S&P 500 index, slightly underperformed the broader REIT index.
Growth REITs, an index of high growth and low payout names, lagged the index as higher growth sectors including tech and self-storage took a pause amid a strong quarter.
Deeper Dive
Every weekly recap, we like to dive a little deeper into one particular topic or issue affecting real estate equities.
This week, with earnings season ramping up next week, we think it's useful to look at the performance of real estate equities over the past quarter. From this, we can understand market expectations heading into the busiest two week of the earnings season.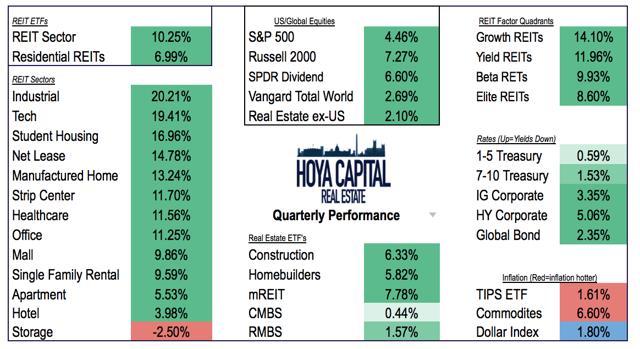 Clearly, expectations are muted for self-storage and apartments. The darlings of the REIT sector for two consecutive years, these sectors are facing issues relating to pockets of oversupply and moderating rent growth. Residential REITs appear to have the most to gain from positive earnings and guidance surprises.
On the contrary, expectations are already high for industrials, tech, and student housing. PLD's strong quarter strengthened convictions in the elevated valuations in the industrial space, but we await results from data center and student housing names. A weaker than expected quarter from Intel (NASDAQ:INTC) has us concerned that outperformance of data centers over the past year may moderate.
As the final earnings season before the GICS split, this may mark the end of the era. It was an era characterized by a persistent under-appreciation and undervaluation of the REIT sector by generalist investors. REITs emerged through their reckless and risk-fueled "teenage" years in 2007-2009 battered but not broken. Issues remain, particularly in the smaller externally managed REITs, but the sector enters adulthood stronger than ever, but priced for near-perfection amid a 20%+ YTD rally.
Make no mistake about it: in the investing universe, this year belongs to REITs.
Disclosure: I am/we are long PLD, ELS, INTC, SUI.
I wrote this article myself, and it expresses my own opinions. I am not receiving compensation for it (other than from Seeking Alpha). I have no business relationship with any company whose stock is mentioned in this article.