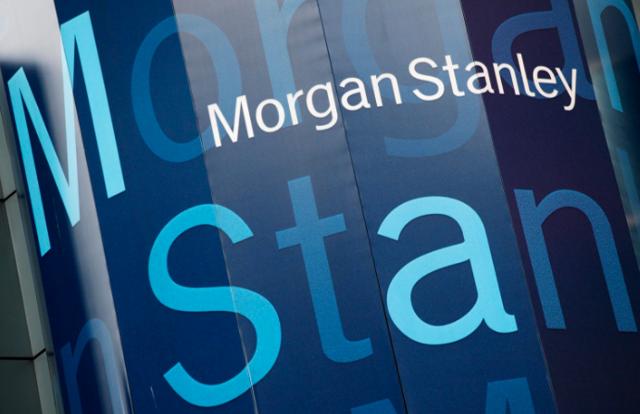 I've been a big proponent of Morgan Stanley (NYSE:MS) for a long time as I've thought that it trades at a depressed valuation for no good reason. MS is a very well run IB that also happens to have an extraordinary wealth management business tied to it and thus, I like its model more than that of Goldman Sachs (NYSE:GS). But the stock continues to languish and has been significantly under its TBV for a long time, including at present, so heading into Q2 earnings, expectations were very low. But MS came through once more and proved it is cheap.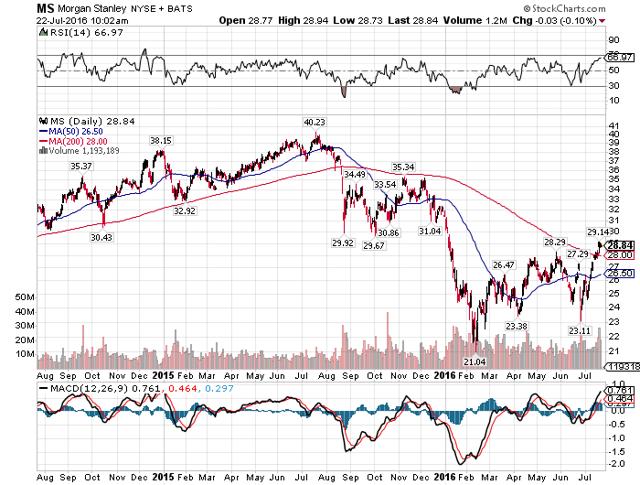 Lower revenue has been the name of the game for financials in Q2 and that certainly applies to MS as well with the top line ceding 8.5% during the quarter. Revenue at MS is usually pretty volatile because of the model it runs and the sometimes idiotic accounting rules it has to contend with. But a nearly 9% loss in total revenue is sizable regardless of the cause.
We know, for instance, that equity underwriting was absolutely horrendous in Q2 and that affliction struck MS. Advisory revenue was strong against last year's Q2 although that piece of the pie is a little on the smaller side for MS. The always-interesting FICC also produced a flat number against last year's Q2. It was certainly nothing to write home about but given the struggles the big banks have had with FICC in the recent past, flat isn't bad at all.
Wealth Management is always a terrific profit center for MS and nothing about that has changed; revenue and profit levels were down slightly in Q2 but this is a segment that produces pre-tax margins in the low 20s. That is a tremendous business and I'm certainly not worried about some quarter-to-quarter noise.
MS did take a sizable decline in its Investment Management business where revenue fell by $168 million and pre-tax profit was almost cut in half to $118 million. Asset management fees were roughly flat but MS took a beating on its carried interest and investment gains during the quarter. This is a segment that produces very volatile revenue and profits and in Q2, it went the wrong way for MS. There will be a rebound here; it is just a matter of how long the rough patch will last and how deeply it will cut.
The good news on this mostly negative revenue picture is that MS - like every other investment bank - has been cutting compensation costs as revenue has declined. That works very well when revenue declines but it fails to offer upside leverage for shareholders in good times as compensation costs rise and fall with revenue on a rough basis. But for MS, the 10% drop in compensation expense saved margins in Q2 and that allowed the firm to beat its EPS expectations despite dreadful revenue. Critics will say no company can cut its way to profits and while that's true over the long term, short term, cutting can be very effective and GS and MS both used that tool very well in Q2. No company can continuously sustain 9% losses in revenue but we've seen MS take hits before and bounce back; that's part of owning an IB because their model leads to very volatile revenue.
One reason I've liked MS a lot recently is that its capital base is absolutely huge. MS carried a fully phased-in CET1 ratio at the end of Q2 of 15.8%, in the top echelon of big financials to be sure. That massive capital base has allowed MS to get permission to return an enormous amount of capital over the next four quarters. The yield is now 2.8% even after a sizable rally since the CCAR announcement and MS is going to buy back 6% to 7% of the float depending upon the stock price over the next four quarters. That will be a terrific tailwind to EPS and the yield is fantastic as well. MS' capital base is certainly a strong positive for the stock in a variety of ways and although its capital base will build more slowly now, MS is in great shape.
At just under $29 following its recent rally, MS is still only trading for 92% of tangible book value and that figure is much lower for traditional book value. Such is the plight of financials these days but even GS is trading much closer to its TBV, at 98% or 99% after it reported earnings that weren't as strong as MS. Indeed, I like MS more than GS not only because it is cheaper but because it has a stronger capital base, more predictable earnings, a much better dividend and a model that is closer to a traditional financial than a pure investment bank thanks to its wealth management business. Still, MS gets no respect from the market but it should trade at least on par with GS and likely a little bit better in terms of valuation.
The same TBV multiple as GS would put MS in the $30 to $31 area although MS does trade at a premium when considering next year's earnings; MS is at 9.9 times next year's estimates and GS is at 9.4. Regardless of how you value them, MS has a superior model in my mind and given higher capital returns, makes for a better stock to own if you only want to have one. Q2 earnings were disappointing in some areas to be sure but also reassuring that the current valuation of only 92% of TBV is still far too low. I still believe patient shareholders will be rewarded with MS; it is just a matter of time because all of the pieces are in place and MS is executing as well as it can in the current environment.
Disclosure: I am/we are long MS.
I wrote this article myself, and it expresses my own opinions. I am not receiving compensation for it (other than from Seeking Alpha). I have no business relationship with any company whose stock is mentioned in this article.