Introduction
Rowan Companies (NYSE: RDC) is an American offshore driller. The company, like most other American oil companies, is headquartered in Houston, Texas. The company has a $2.1 billion market cap and provides offshore drilling rigs to the oil industry. These offshore drilling rigs allow oil companies to drill the necessary wells to increase their production and grow their oil volumes.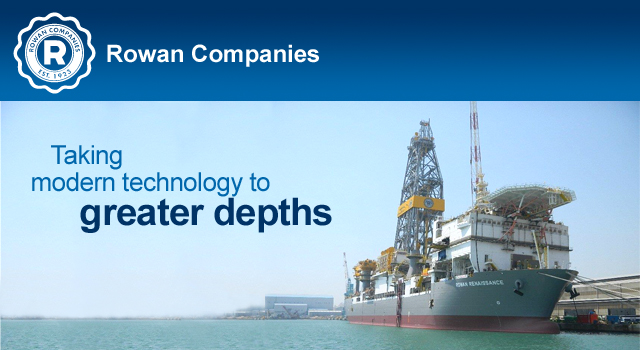 Rowan Companies has however had an easier time than most other offshore drilling companies. Since its mid-2014 highs, Rowan Companies has seen its stock price drop by roughly 50% compared to many other offshore drillers that have seen their market cap drop by more than 80%. However, despite this drop, Rowan Companies perceived financial strength in the offshore drilling market means it is seen as being a safer investment. That means its stock price has been driven up artificially high.
Rowan Companies Fleet
Now that we have an overview of Rowan Companies along with how the company's stock price has remained strong compared to other offshore drillers, it is time to talk about the company's fleet.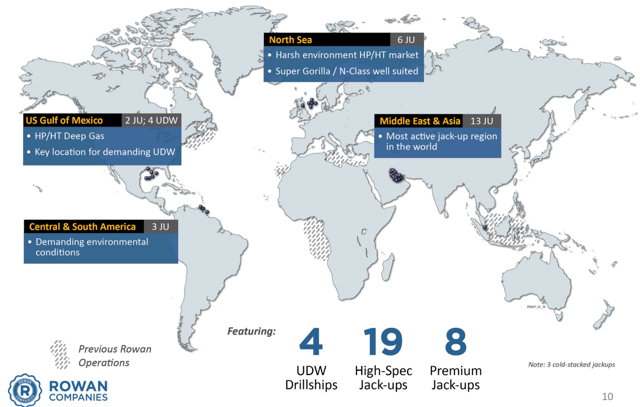 Rowan Companies Fleet - Rowan Companies Investor Presentation
Rowan Companies has a total of 31 rigs spread across 4 ultra-deepwater drilling ships, 19 high-spec jackups, and 8 premium jackups. The company's fleet profile is well spread out with significant portions of its fleet concentrated in the Gulf of Mexico and the Middle East. These two places tend to be regions of steady oil production. As a result, the steady oil production from these regions minimizes the chances of a contract cancellation.
However, looking at Rowan Companies fleet makeup, I begin to get somewhat worried for two significant reasons. First, ultra-deepwater rigs are the core of any company's backlog. These rigs tend to be signed up for contracts that last for several years. As a result, new contracts signed before the downturn can provide crucial earnings during the downturn. However, as we can see above these rigs only make up just over 10% of Rowan Companies fleet.
The rest of the company's fleet consists of high-spec jackups. These jackups have seen their day rates drop drastically and have had a much harder time gaining a contract these days. As a result, as these rigs have difficulties gaining a contract, that will provide a damper on Rowan Companies' earnings. The fact that Rowan Companies' ultra-deepwater rigs are such a small portion of the company will hurt its ability to weather a long term crash.
The second issue that I see is that all of the company's all important ultra-deepwater rigs are concentrated in the Gulf of Mexico. That places these rigs at risk of either political changes (a halt on drilling in the Gulf for environmental reasons) or at risk of an oil spill causing a halt in drilling. More so, the Gulf has higher production breakeven rates than many other significant oil regions.
Financial Position
Now that we have an overview of the company's fleets, we can discuss the company's financial position.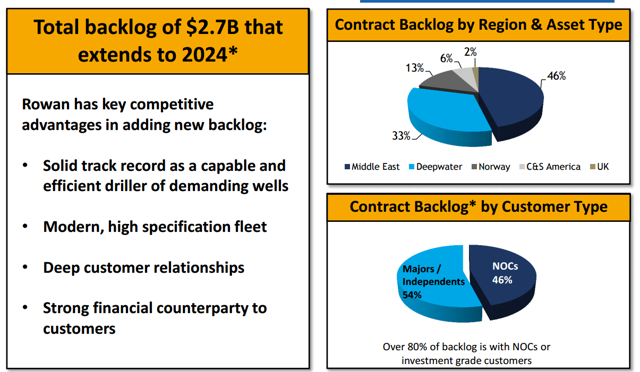 Rowan Companies Backlog - Rowan Companies Investor Presentation
Rowan Companies' present backlog is $2.7 billion and extends until 2024. That is a long timeframe for its backlog. Competitors such as Ensco (NYSE: ESV) have their backlog expiring in 2020. The majority of the company's backlog is split across the substantial fleet presence it has in the Middle East along with the Deepwater assets that it has. More so, the majority of this backlog is with investment grade customers who would be much less likely to cancel a contract.
The company's financial strength will also make it easier for it to gain new contracts in the present environment. With day rates at their lows, customers have their pick of the litter in terms of who to hire. Why hire someone who might go out of business before they finish the job? It's just not worth the risk. However, there are potential negatives in the company's backlog as well.
A $2.7 billion backlog, despite how long it extends for, is quite smart. Ensco, despite having a backlog that ends several years earlier has twice the backlog of Rowan Companies. Noble Corporation (NYSE: NE) has a backlog that extends close to 2024 that is also twice the amount. Many of these backlog contracts were signed before the crash at higher dayrates and as a result are very profitable for offshore drillers in the current environment. Rowan Companies' small backlog means noticeably lower profits over the next few years compared to its competitors.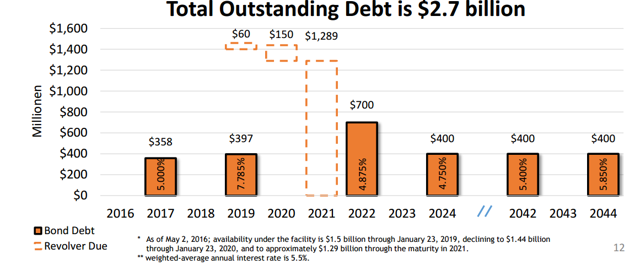 Rowan Companies Outstanding Debt - Rowan Companies Investor Presentation
However, Rowan Companies' strength and the reason why the company's equity hasn't taken a huge hit over fears of bankruptcy, is its debt profile. The company has total outstanding debt of just $2.7 billion of which a mere $0.8 billion is due over the next five years. The company also has a revolver worth $1.5 billion that is available through 2021 giving it 5-6 years of financial strength in which it can choose to make an acquisition.
In fact, the company's debt profile is so low, that the company's current projected free cash flow from its existing backlog will be able to cover all of its debt maturities until the 2022 one. With oil prices widely viewed as hitting their bottom in January of this year, prices have almost doubled since then. This strong financial profile leaves Rowan Companies with more than enough financial headroom to survive the oil crash.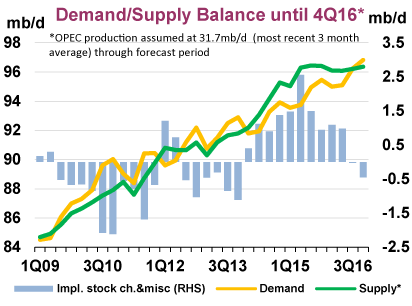 Oil Supply and Demand Balance - IEA
However, here's the thing. The above image shows the oil supply and demand balance until the fourth quarter of 2016. As you can see, oil supply and demand first went out of balance in mid-2013. Assuming January 2016 was the bottom for prices, that means it took roughly 18 months for prices to bottom out from the start of the supply glut. Based on the above graph of a late-2016 end of the supply glut, that means we can expect prices to fully recover over the next 18 months from that point or by early 2019.
And Rowan Companies' financial strength is impressive. If you are looking for the offshore driller that has the least chance of going bankrupt during the oil crash it would be one of the best options. However, investors investing in the offshore drilling market right now shouldn't do so for security. They should do so because of the potential for high equity returns. And, the fact that Rowan Companies has dropped so little since the start of the crash means that its potential to provide impressive returns are limited.
Conclusion
All offshore drillers have had a difficult time since the start of the oil crash, and Rowan Companies is no exception. However, because of the company's fleet concentration in relatively secure oil environments along with the company's very secure financial position, the company has seen its equity prices fall less than most other offshore drillers.
However, now that oil prices have bottomed, and most offshore drilling equities have hit their low, purchasing an equity for its perceived safety on the way down is a bad idea. And since my calculations show that the oil crash will not last more than another two years or so, purchasing an equity for its ability to survive a crash into the 2020s is not necessary.
As a result, I recommend investors in the offshore drilling sector look at companies other than Rowan Companies.
Disclosure: I am/we are long NE, ESV.
I wrote this article myself, and it expresses my own opinions. I am not receiving compensation for it (other than from Seeking Alpha). I have no business relationship with any company whose stock is mentioned in this article.