In a recent interview, Mr. Nelson Peltz described General Electric (NYSE:GE) as a "great long-term investment", and I could not agree more with his assessment of this company. I have written many bullish articles on GE over the last year, but I am even more bullish now than I was in January 2015 when the stock was at $25. And yes, this is still the case even after GE reported Q2 2016 results that were not well-received by the investment community. To start, I do not believe that the earnings results were disappointing --more on this below.
Management's long-term plan to exit the financing business and transition GE into a more industrial-focused company has already created a lot of value since the plan was first announced, but let's not forget that this strategy is not about the results for this quarter or the next, but instead, it's more about fiscal year 2018 and beyond. To clarify, the quarterly results are not meaningless because they are indeed the snapshots that show how this company is progressing towards its future state but it's important not to lose sight of the fact that it is more about the progress being made.
The management team has continuously stressed the importance of the short-term targets that the company has established in order to accomplish the long-term goals, so investors should be able to tell that this point is front of mind for the individuals that are running this company. The Q2 2016 results showed that the long-term plan is still intact even in this "slow growth and volatile environment", as described by management.
The Q2 2016 Earnings Results, A Lot To Like Here
GE reported Q2 2016 adjusted EPS of $0.51 on quarterly revenue of $33.5b, which is a big improvement from the same quarter in the prior year (full disclosure: Q2 2016 adjusted EPS was positively impacted by the gain from the Appliances sale). For Q2 2015, GE reported adjusted EPS of $0.31 on quarterly revenue of $27.8b.
More importantly, GE beat the consensus EPS estimate of $0.46 by over 10%, and the company has also been able to beat the earnings estimates in each of the last five quarters.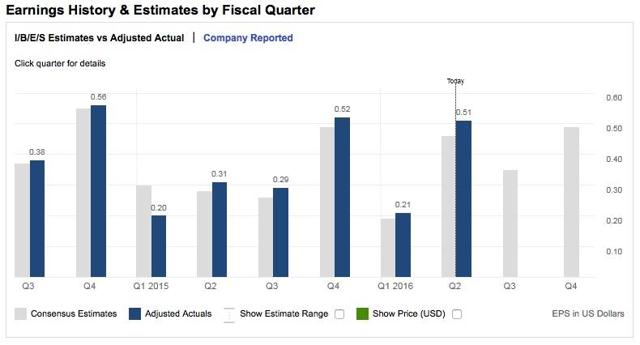 (Source: Fidelity)
This is an impressive feat for any company, but it is even more impressive for a company that is in the middle of a major transition. This streak will likely not stop here either because management believes that the majority of the industrial businesses are in "great shape" heading into late 2016/early 2017:
I thought we'd give you some context for the company beyond 2016, particularly given the volatility of our markets. First, Alstom is on track, and I expect us to hit all of our goals. Transportation and Oil & Gas are in tough cycles. They represent 15% of our earnings, and it's hard to see them improving in 2017. But at the same time, Power and Aviation remain strong. They're 60% of our earnings, and we see consistent performance year over year. They have very strong service franchises, productivity programs, and our market positions are growing. Healthcare, Energy Connections, and Renewables have generally favorable markets and real opportunities for growth and margin expansion. In particular, Healthcare feels sustainable, with diverse growth and market momentum. These businesses represent 25% of our earnings. And we'll continue to execute on GE Capital and Corporate.

So really, 85% of our company is in great shape, winning in markets with high visibility, and so we remain on track for the 2018 bridge to $2.00 a share of EPS. The strength of our diversified model is key in a volatile environment.

-Mr. Jeffrey Immelt, CEO during the Q2'16 Conference Call
The fact that GE is down ~2% on these earnings results should not lead investors to believe that profits should be taken while shares are above $30, because, in my opinion, the company's future looks extremely bright. Let's dig a little deeper into the Q2 2016 numbers.
For the quarter, the industrial and Verticals EPS were up big YoY as the company reported an adjusted EPS figure of $0.40 (up 29%).

(Source: Q2 2016 Earnings Presentation)
The quarterly results were helped by the strong performance of the Power and Aviation segments, which are two segments that have reported improving results over the last few quarters.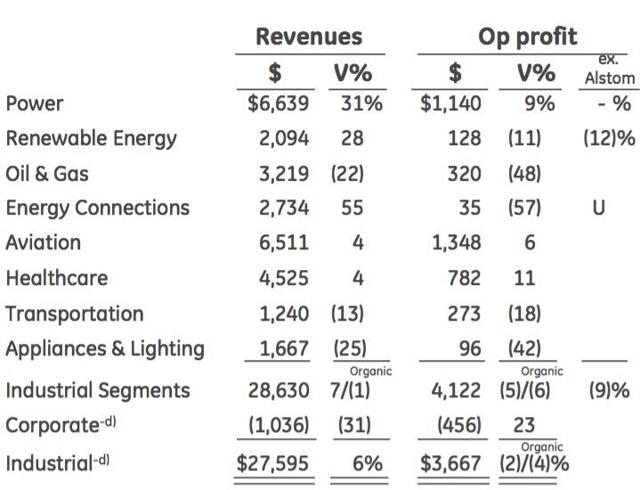 (Source: Q2 2016 Earnings Presentation)
As expected, the Oil and Gas ("O&G") segment's revenue and profit were down significantly for the quarter. The Transportation segment is another problem area that management highlighted in the conference call. On the positive side, management is projecting for the two important segments, Power and Aviation, to have strong performances over the last two quarters of the year.
So, why was GE's stock price down today? The weak orders that the company reported are overshadowing the quarterly earnings beat because the soft numbers have investors concerned about the future (i.e. weakening in the economy).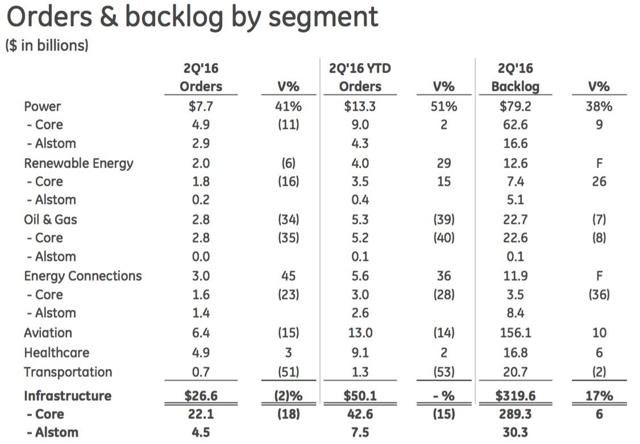 (Source: Q2 2016 Supplemental Information Report)
The O&G and Transportation segments' orders are dragging down the total for the quarter, but there is one bright spot on the orders front. The Services orders (the high margin business) are up almost double digits, and this is after a few quarters of strong performance.
It is important to also mention that management expects for orders to be flat over the last half of 2016, so, in my opinion, the weak orders for this quarter should not yet be considered a major concern. Let me stress the word "yet," because further deterioration would definitely be a cause for concern. Given this, investors should closely monitor the orders numbers over the next two quarters to determine if expectations should be lowered down.
Bottom Line
Mr. Nelson Peltz stated that GE is a company that has "probably the best collection of industrial assets on the planet" and he later described GE has a "phenomenal" company. These words are from a very talent and experienced investor that has a proven track record of success over many years, but I am not saying that investors should rush out to buy GE shares tomorrow just because Peltz thinks that it is a great long-term investment. Instead, I believe that the more you dig into the results and research this company the more you will agree with Mr. Peltz and any other GE bull that there is a lot to like about this company's prospects over the next few years.
The Q2 2016 results were nothing to write home about, but the results should also not cause long-term investors to be concerned about their investment in this storied compnay. Another catalyst that will help propel the stock price higher through 2018 is the progress being made on the digital front (see here and here for a recent articles on this topic), which management continues to tout as the "next big thing". Any significant dips in GE's share price should be considered a buying opportunity for long-term investors.
If you found this article to be informative and would like to hear more about this company or any other company that I analyze, please consider hitting the "Follow" button above.
Disclaimer: This article is not a recommendation to buy or sell any stock mentioned. These are only my personal opinions. Every investor must do his/her own due diligence before making any investment decision.
Disclosure: I am/we are long GE.
I wrote this article myself, and it expresses my own opinions. I am not receiving compensation for it (other than from Seeking Alpha). I have no business relationship with any company whose stock is mentioned in this article.