Another week, another barrage of horizontal / directional rigs. With thirteen horizontal rigs added this week, the total number of adds during the last four weeks is thirty-two. But with the total oil and horizontal rig count still at only 1/4 th of the levels last seen at the peak of the oil boom, are the new additions enough to offset the natural decline in the production curve?
Crude oil prices (NYSEARCA: USO) remained virtually unchanged for the day.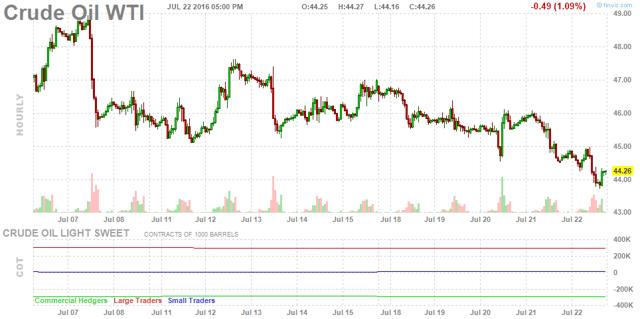 Source: Finviz.com
Data: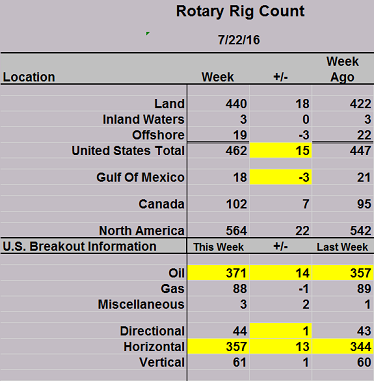 Source: Baker Hughes
* Total U.S. oil rig count increased by fourteen. Thirteen of these are horizontal and one is directional, which means they can be used to drill multiple wells. While the total U.S. oil rig count at 371 is only 1/4 th of the total rig count at the peak (October 2014), today's rigs are substantially more productive as they are mostly horizontal (77%) and are located in the most productive fields. In addition, they benefit from the cumulative expertise gained during the shale boom years.
Whereas during the 2009-2014 period there was enough capital to allow for exploration and development of marginal fields and the focus was on expansion rather than profitability, we suspect that today's oil companies are actually interested in producing oil, preferably at a profit. Therefore, today's rigs should result in higher production flows than your average rig just a couple of years ago.
* Horizontal rigs increased by thirteen, for a total of thirty-two rigs added during the last four weeks. We would expect producers to continue adding horizontal rigs at a rapid pace during the summer.
* Directional rigs increased by one, following last week's seven rig increase.
* Natural gas rigs decreased by one.

Source: Baker Hughes, Orangutan Capital
* Eight new rigs in the Permian; the most established oil-producing basin in the country. The rig count in the Permian is now back to early February levels (still low by historical standards). This brings the total oil rigs added in the Permian to 26 in the last six weeks.
* Eight new oil rigs in the Barnett basin and one rig out of Haynesville, which are primarily natural gas basins.
*Four new rigs in DJ-Niobrara and Eagle Ford basins, which are primarily shale plays.
Conclusion:
A lot of new horizontal rigs added this week, after two weeks of strong additions. Even when the total oil rig count is still at only 1/4 th from the peak, today's oil rigs are substantially more productive than the rigs of yesterday. While there still no reason to panic, at the current rate, production could flatten before the end of the year once DUCs are taken into account. On a global basis, while Saudi Arabia continues to pump at maximum capacity, there is about 1 million barrels per day in outages from Libya and Nigeria that could come back online at any given moment plus some room for growth in Iran and Iraq.
Disclosure: I/we have no positions in any stocks mentioned, and no plans to initiate any positions within the next 72 hours.
I wrote this article myself, and it expresses my own opinions. I am not receiving compensation for it (other than from Seeking Alpha). I have no business relationship with any company whose stock is mentioned in this article.