Exxon Mobil (NYSE:XOM) has seen its share price rally over the past six months.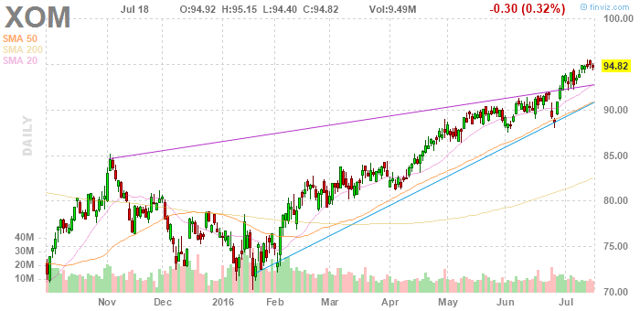 This is hardly a surprise, as oil prices rallied about 90% from under $30 a barrel to over $50 a barrel as of last month. Exxon Mobil is the largest energy company in the world, and its profits are dependent upon oil, so higher barrel prices raise Exxon's value.
Whether or not oil will continue to rally remains to be seen. Jeff Clark of Daily Trade Alert notes that oil has gone down to the mid-$40s, approaching his downside target of $43. He believes that 'Oil prices have lower to go.'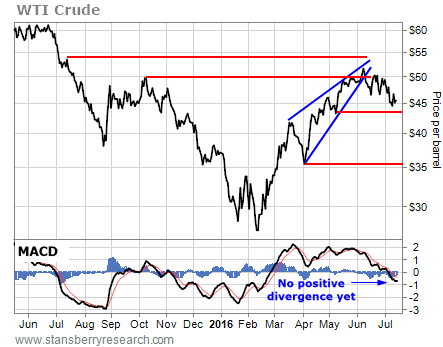 With that in mind, investors who may be interested in Exxon Mobil should ponder whether the stock is worth buying now, or at a later date. The case for investing in Exxon Mobil is fairly well-known: as stated above, it is the largest energy company in the world, with a market capitalization of $392.11 billion. It is an integrated oil and gas firm which engages in the exploration for, and production of, crude oil and natural gas. In addition, Exxon also manufacture and transport oil and gas products.
The proof of Exxon Mobil's profitability can be seen from its net income figures over the past five years. In 2011, Exxon made $41.06 billion, and in 2012 made $44.88 billion. In 2013, net income fell to $32.58 billion, and in 2014 to $32.52 billion. In 2015, net income fell precipitously to $16.15 billion. As noted, Exxon's profitability is dependent upon oil, and the falling price of oil over the past five years is reflected in the net income figures that Exxon posted.

However, not only did Exxon remain profitable throughout this period, it was also able to continue paying its shareholders consecutively rising dividends. Indeed, Exxon has paid shareholders consecutively rising dividends for thirty-three years, making it a Dividend Aristocrat.
Exxon Mobil is currently trading in the mid-$90's range with a forward price-to-earnings ratio of 20.85. It currently offers a dividend yield of 3.20% with a payout ratio of 94.00%, which seems unsustainable - though Exxon's cash flows will likely not stop Exxon from being able to continue paying dividends to their shareholders.
Earnings per share over the past twelve months was $3.11, and the EPS growth rate for the next five years is forecast to be 26.80%, leveling off to 5% afterwards. Using a discount rate of 12.95% (the required rate of return on Exxon Mobil's common stock), I calculate fair value for Exxon Mobil to be $95.54 - the stock is trading at fair value at this time.
So if you wanted to buy into Exxon Mobil, now is a time at which you would get it around fair value. Investors seeking a margin of safety who feel that the oil rally is due to run its course, however, may want to wait for a pullback before parking any money here.
DISCLAIMER: I am not a financial professional and accept no responsibility for any investment decisions a reader makes. This article is presented for information purposes only. Furthermore, the figures cited are the product of the author's own research and may differ from those of other analysts. Always do your own due diligence when researching potential investments.
Disclosure: I/we have no positions in any stocks mentioned, and no plans to initiate any positions within the next 72 hours.
I wrote this article myself, and it expresses my own opinions. I am not receiving compensation for it (other than from Seeking Alpha). I have no business relationship with any company whose stock is mentioned in this article.