Introduction
In an article I wrote earlier this year, I was wondering if Omnicom (NYSE:OMC), a publicity agency, was still attractively valued after its share price increased by more than 15% in just a matter of weeks. The share price remained relatively stable since then (a 6% share price is interesting but not shocking, so I think 'stable' is a good way to describe the performance), and as the company's operating and financial results came rolling in, I wanted to find out if Omnicom was still trading at a free cash flow yield valuation of 7.5%.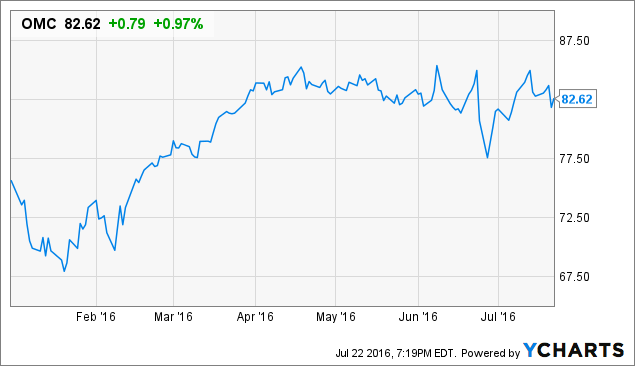 A very, very robust result in the first half of the year paves the way for a good H2
In the second quarter of the current financial year, Omnicom was able to boost its total revenue by approximately 2.1% to almost $3.9B, confirming Omnicom's position as one of the world's top tier advertising agencies. That's great but what's even more impressive is the fact the organic growth rate was no less than 3.4% and the only reason why the effective revenue increase was lower than this percentage is caused by a 1.6% impact from currency headwinds.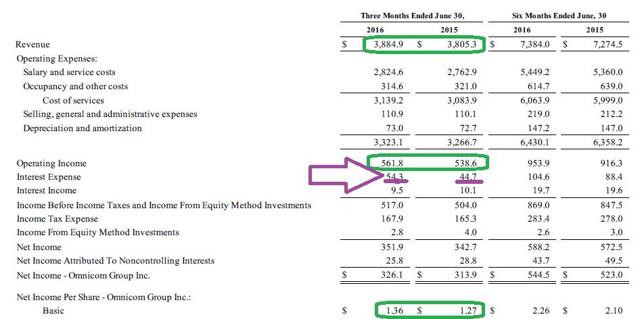 Source: SEC filings
Sure, together with the revenue increase, Omnicom saw its operating expenses increase as well, but this couldn't prevent the operating income from increasing by approximately 4% to $562M. That's fantastic as the operating income was increasing faster than the revenue, but the increased interest bill (see later) has tempered the optimism a little bit as the pre-tax income increased by 'just' 3% in the second quarter (versus an increase of 2.5% in the first semester of the year). The net income (attributable to Omnicom's shareholders) in this first six months of 2016 was $545M, a 4% increase from the $523M in the first semester of the previous financial year.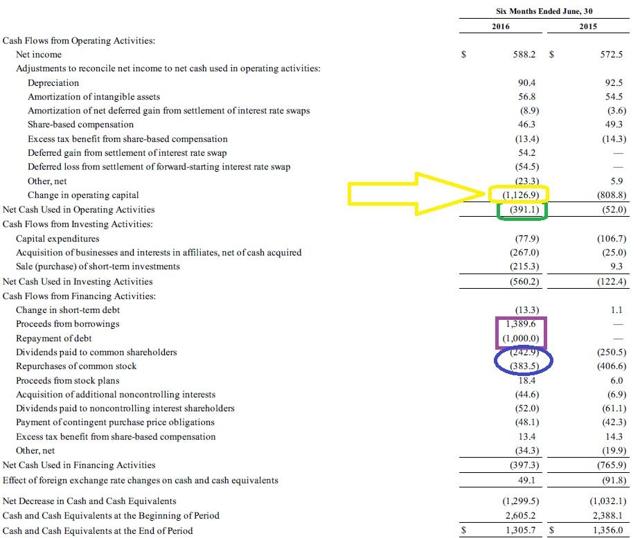 Source: SEC filings
You will indeed see Omnicom's operating cash flow came in negative, at minus $391M. That might seem to be a big shock, but you'll immediately see that (A) the negative operating cash flow was entirely caused by the changes in Omnicom's working capital position and (B) the unadjusted H1 operating cash flow last year was also negative after the first semester, before turning positive in the second half of the year.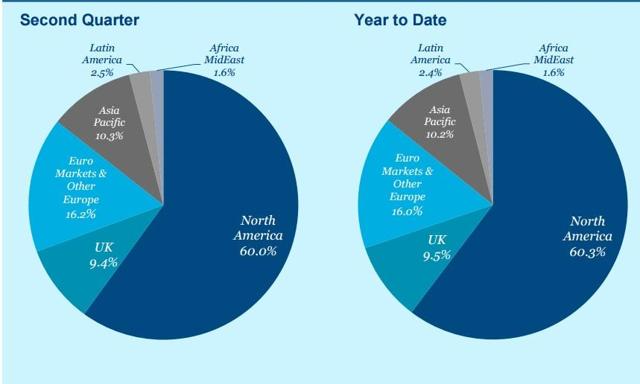 Source: company presentation
Omnicom decided to settle some outstanding bills, and a lot of its cash flow was used for that purpose. In fact, if you would calculate the adjusted operating cash flow, Omnicom would have generated $736M in operating cash flow (versus $757M in the previous year). As the capex fell by approximately $30M, the H1 adjusted free cash flow was approximately $10M higher than last year as it came in at $658M, which was subsequently used to pay the dividend ($243M) and the ongoing share repurchases ($384M).
Refinancing the 2016 notes was an excellent idea
In my original article, I expressed my hope Omnicom would repay the senior notes that were maturing in 2016, as this would save the company approximately $59M per year in interest expenses. The note has now indeed been repaid, but instead of using its cash position, Omnicom floated a new bond.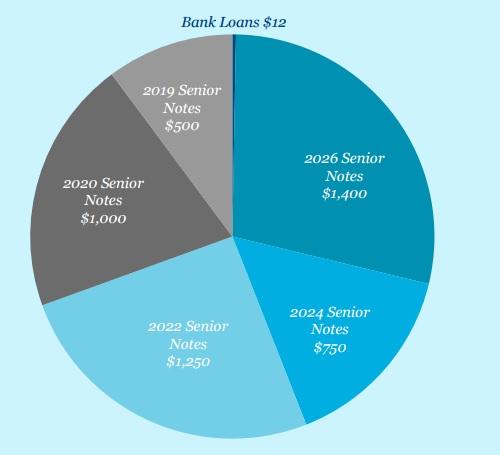 Source: company presentation
At first, I was a little bit disappointed, considering Omnicom definitely had (and still has) enough cash on the balance sheet to simply repay the note without having to refinance it. But Omnicom had other priorities and instead of spending the cash on repaying the debt, it decided to improve its working capital position by reducing the accounts payable by $1.3B and reduce its total working capital deficit by approximately $1B. So refinancing the existing debt seemed to have been a prudent move. On top of that, the interest rate is relatively low (3.6% on a 10 year note), and having raised $1.4B in debt at the current interest rate will reduce the interest expenses by $8M per year ( from here on), despite having raised more cash. So, okay, yes, I can understand why Omnicom's management team did this.
Investment thesis
It wouldn't be fair to take the company's decision to pay some of its accounts payable into account in the first half of the year, and that's why the adjusted operating cash flow paints you a fair picture of how the company really performed in the first semester. Yes, the total operating cash flow indeed decreased, but the capital expenditures decreased at a faster rate, so the adjusted free cash flow increased by approximately 1.5%, and that's definitely not a bad thing!
It looks like Omnicom's full-year adjusted free cash flow will come in at approximately the same amount as last year ($1.4B), but as the company continues to reduce its share count (it has repurchased 3 million shares since the end of last year on a net-basis), the FCF per share will increase. Assuming a share count of 235M by the end of this year, I think Omnicom will generate $5.95 per share in free cash flow. This means the company is currently still trading at a FCF yield of 7.2%. That isn't high, but keep in mind that in case of an economic contraction, advertising budgets will be the first ones to be cut, so the higher FCF yield is definitely warranted.
Disclosure: I/we have no positions in any stocks mentioned, and no plans to initiate any positions within the next 72 hours.
I wrote this article myself, and it expresses my own opinions. I am not receiving compensation for it (other than from Seeking Alpha). I have no business relationship with any company whose stock is mentioned in this article.