The mood around Schlumberger (NYSE:SLB) has become more positive recently. The company reported a better than expected second quarter: revenue decreased 20% but beat expectations by $70 million, and CEO Paal Kibsgaard believes the oil sector's worst days are behind it. In the latest quarter, SLB's North America segment fell 26% year-over-year but increased 19% sequentially, while International revenues declined 20% y/y but grew 8% over the previous quarter. Kibsgaard sees the sequential growth as evidence that the oil sector has bottomed, and that, given the sharp decline in E&P activity, a supply deficit is inevitable so long as demand growth holds. The company believes rising oil prices will give SLB leverage to roll back some price concessions, which, in turn, would prevent supply from rising too quickly. But we believe management is being too optimistic in its outlook, and that oil prices will fail to rise significantly above current levels well through 2017.
The assumption that oil demand growth will hold steady is misguided, as is the notion that rising rig counts are proof of a path to recovery. Last summer a similar thing happened: massive production cuts drove oil prices to $60, but the price cratered soon afterwards (Figure 1). We think oil prices are still too low to encourage enough customers to increase their spending, and that SLB will continue to struggle.
Figure 1: Oil Price Chart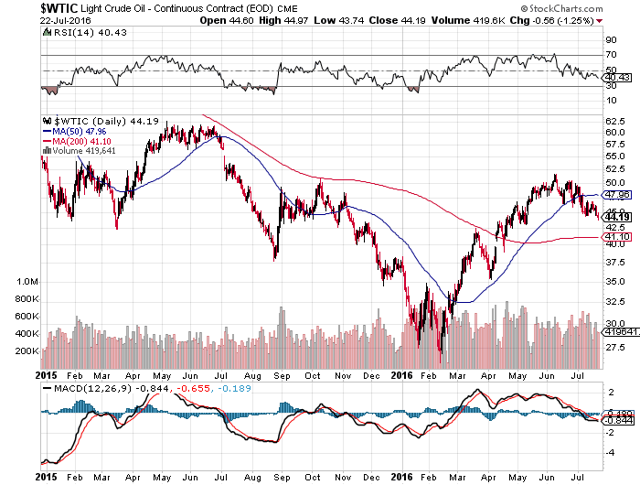 Source: stockcharts.com
It seems that management is confusing refining demand with end-market demand. Refineries have taken advantage of cheap crude prices to produce more gasoline and diesel, but refineries have not been able to sell their products to end-users. Inventories of crude oil and refined products hit a record high during the week ended July 8th. The Energy Information Administration reports that crude inventories did fall, but the decline was outweighed by a larger increase in refined product supplies, which pushed the total commercial supply of crude oil and refined products up 7.1 million barrels to 1.38 billion. Storage tanks are running out of space, and refiners may have to cut prices to get rid of the inventory they don't have room for.
Ultimately it is end market demand that matters for oil, and we see little reason for optimism. Industrial production in the US is in the midst of what might be a secular downturn (Figure 2), and GDP grew at a 0.5% annualized rate in the first quarter, its slowest pace in two years. The aerospace and auto sectors have kept oil demand stable, but these industries are being propped up by low interest rates and cheap oil itself, not real income growth. The weakness is certainly not unique to the US. Industrial activity around the world has slowed, led by China. China's rebalancing from an investment and manufacturing-driven economy to one based on consumption means that industrial production levels are unlikely to grow anywhere near the rate they did during the last commodity boom. China's investment and industrial production levels have fallen short of expectations this year, which has forced the government to step in with cheap money to help the economy reach its growth targets. Macroeconomic conditions around the world are still weak, and we think it is more likely that oil demand growth will slow than increase.
Figure 2: Industrial Production Index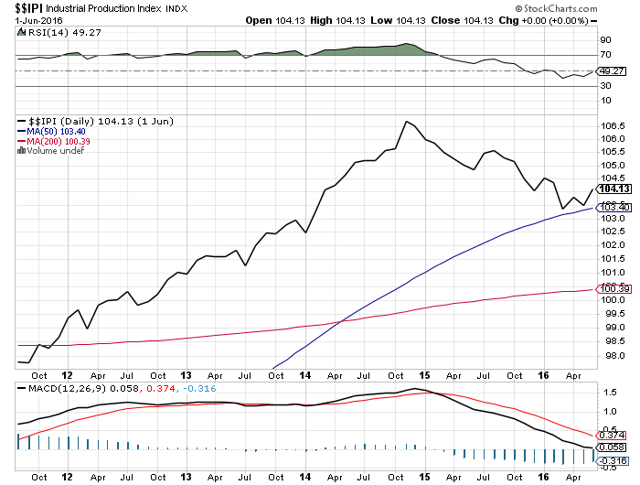 Source: stockcharts.com
Conclusion:
SLB thinks oil is on a path toward recovery, but we urge caution. The combination of huge inventories and slowing demand growth mean that a shortage is unlikely, and we expect oil prices to stay close to where they are for the next year. This is a problem for Schlumberger, because current prices are too low to incentivize enough producers to expand their budgets. SLB will continue to struggle, and now is not the time to buy in.
Disclosure: I/we have no positions in any stocks mentioned, and no plans to initiate any positions within the next 72 hours.
I wrote this article myself, and it expresses my own opinions. I am not receiving compensation for it (other than from Seeking Alpha). I have no business relationship with any company whose stock is mentioned in this article.