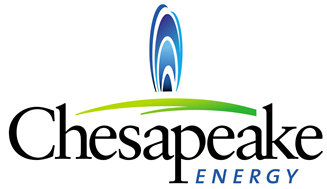 A couple of weeks ago I penned a piece on energy companies in which I contended that the shakeup in the energy markets is over, and that rationality has returned to the price discovering process. If you remember, at the beginning of the year energy prices tumbled on growing global crude oil supply fears, and crude oil crashed to its lowest price in more than a decade.
However, energy prices have cleared reached their bottom, and rebounded nicely since. Crude oil returned to the $20s earlier this year, but the picture has fundamentally changed: WTI crude oil for September delivery has traded back up to $44/barrel, and Brent crude oil (also the September delivery contract) sells for almost $46/barrel at the time of writing.
The rebound in energy prices has been profound and very real. You judge for yourself, is the bottom in or not?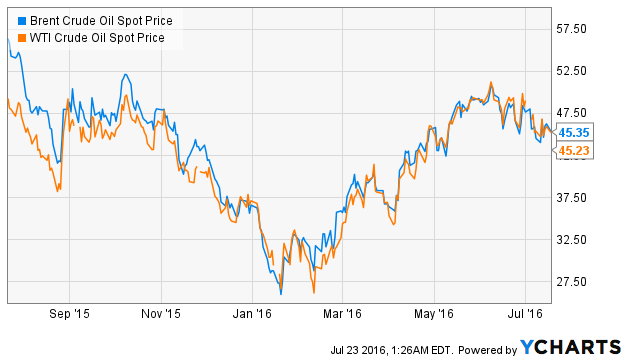 Source: Chesapeake Energy
The rebound in energy prices has helped upstream companies (at least in terms of investor sentiment), especially those that are fighting for their survival, including Chesapeake Energy Corp. (NYSE:CHK).
Chesapeake Energy has achieved a couple of victories so far this year, including wringing concessions (credit facility amendments, covenant relief) from lenders, and selling assets to repair its balance sheet.
Here is a summary of Chesapeake Energy's achievements year-to-date: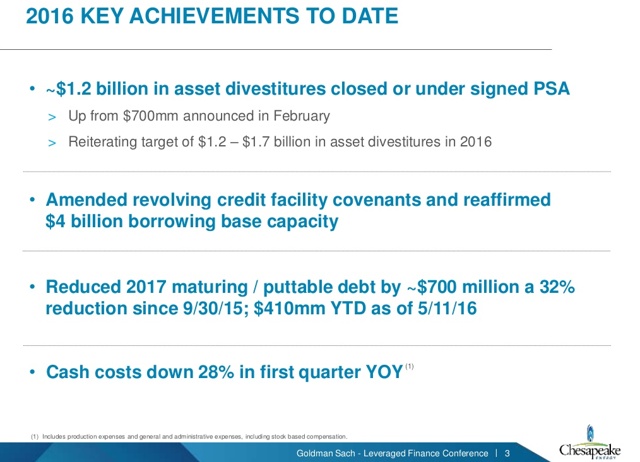 Source: Chesapeake Energy
While recovering energy prices in the 2nd quarter will be reflected in Chesapeake Energy's upcoming earnings (the energy company will release financial and operational results on August 4, 2016 before the market opens), which may inspire new investor confidence in the company, especially since the risk of significant impairments on Chesapeake Energy's oil and natural gas properties is greatly reduced. As a result, the rebound in energy prices will likely lead to a brighter earnings picture for Chesapeake Energy's 2nd quarter, which in turn will contrast nicely with 1st quarter earnings (Chesapeake Energy booked $853 million in impairments in Q1'16).
The rebound in energy prices may, however, not be the only positive development for Chesapeake Energy.
After the company succeeded in negotiating beneficial amendments to its credit facility earlier this year, the company's attention will likely shift more towards asset sales moving forward. Chesapeake Energy has guided for $1.2-$1.7 billion in total gross proceeds from divestitures for 2016, and the cash will likely be used to pay down debt...an area where Chesapeake Energy has already made great progress this year by the way: "Chesapeake Energy: Killing Two Birds With One Stone".
Your Takeaway
Chesapeake Energy's 2nd quarter earnings, which will be released in two weeks time, have surprise potential since energy prices have recovered significantly from their lows in the 1st quarter, and impairments are not going to be as big an issue for the company as they have been in the past.
Further, Chesapeake Energy might give shareholders an update about its asset sales, a crucial source of cash for the cash-strapped company. In any case, Chesapeake Energy's upcoming 2nd quarter results have significant surprise potential, which in turn improves the company's reward-to-risk ratio. Buy for capital appreciation.
Disclosure: I/we have no positions in any stocks mentioned, and no plans to initiate any positions within the next 72 hours.
I wrote this article myself, and it expresses my own opinions. I am not receiving compensation for it (other than from Seeking Alpha). I have no business relationship with any company whose stock is mentioned in this article.