Volatility at 1-Year Low after Brexit
World ETF Performance
Ticker
Name
Return since Brexit
1 Week
1 Month
YTD
IWRD
iShares Core MSCI World UCITS ETF
0.90%
0.16%
1.66%
3.34%
SPY
SPDR S&P 500 ETF
3.05%
0.65%
4.39%
6.56%
DIA
SPDR Dow Jones Industrial Average ETF
3.17%
0.34%
4.47%
6.62%
EWG
iShares MSCI Germany ETF
-4.84%
0.20%
-1.74%
-5.38%
EWQ
iShares MSCI France ETF
-5.99%
-0.26%
-2.52%
-4.09%
EWU
iShares MSCI United Kingdom ETF
-6.65%
-0.13%
-4.10%
-4.28%
CSSX
iShares Core EURO STOXX 50 UCITS ETF
-2.14%
0.51%
-0.96%
-6.38%
EWJ
iShares MSCI Japan ETF
0.25%
-0.17%
2.51%
-2.15%
AAXJ
iShares MSCI All Country Asia ex Japan ETF
3.98%
0.92%
6.02%
7.17%
EEM
iShares MSCI Emerging Markets ETF
3.48%
0.78%
5.98%
11.74%
MCHI
iShares MSCI China ETF
3.94%
1.05%
6.29%
-0.74%
Source: Bloomberg
| | | | | | |
| --- | --- | --- | --- | --- | --- |
| Ticker | Name | Return since Brexit | 1 Week | 1 Month | YTD |
| SPY | SPDR S&P 500 ETF Trust | 3.1% | 0.7% | 4.4% | 6.6% |
| DIA | SPDR Dow Jones Industrial Average ETF Trust | 3.2% | 0.3% | 4.5% | 6.6% |
| XLF | Financial Select Sector SPDR Fund | 1.5% | 0.7% | 3.6% | -0.6% |
| XLU | Utilities Select Sector SPDR Fund | 4.8% | 1.5% | 5.1% | 21.9% |
| VIX | Volatility Index | -30.3% | -5.1% | -43.2% | -34.0% |
| - | EURO STOXX 50 VOLATILITY | -45.6% | -34.9% | -51.3% | -11.2% |
| GLD | SPDR Gold Trust | 5.2% | -0.4% | 4.5% | 24.5% |
| UUP | PowerShares DB US Dollar Index Bullish Fund | 4.4% | 1.0% | 3.9% | -1.7% |
| FEZ | SPDR EURO STOXX 50 ETF | -6.1% | -0.3% | -2.8% | -7.8% |
During the last few weeks we were bombed with vast amounts of news and changes to the status quo. We observed the referendum results in UK leading to a Brexit, EU entering in uncharted waters, Italian banks prices plunging and political turmoil in Turkey and Armenia.
Despite the "negative" news and the risks arising from the events across the globe, stock markets (with one exception: EU countries) have positive returns. S&P500 and DJ are up by 2.9% and 3.1% respectively. FTSE100 is up by 6.2% since Brexit (with a starting point the day before the referendum results were announced).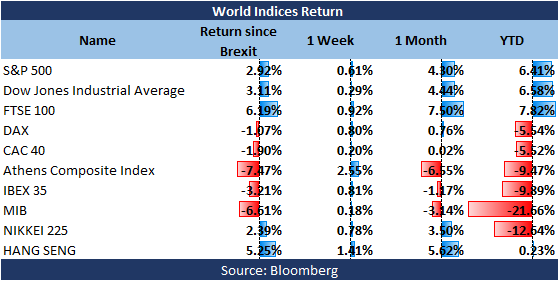 Since Brexit, VIX has declined 30% and Eurostoxx 50 Volatility has slid 45.6% which under the current circumstances and the risks does not seem to be fundamentally plausible.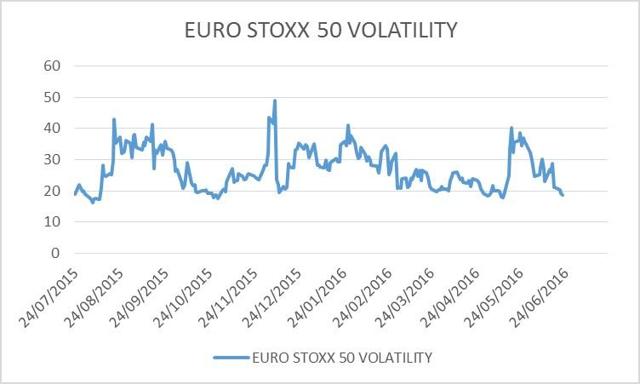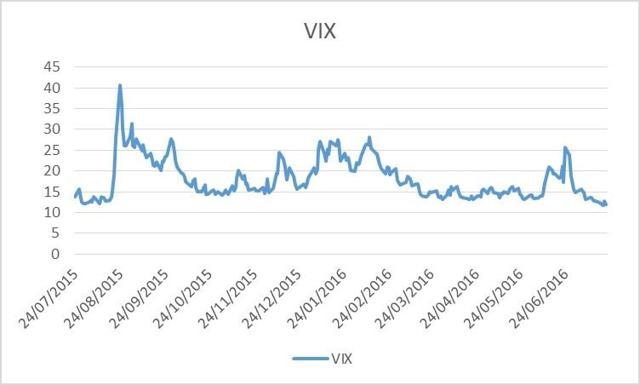 Central Banks' Role
Central banks seem to fail to give the right message to markets due to uncertainty. The Fed kept rates unchanged last month, with the Brexit being quoted as an excuse. We believe that they will keep rates unchanged in the next meeting despite the good economic figures, mainly due to uncertainty around Brexit and the upward trends in USD.
Bank of England on the other was expected to lower rates in the meeting which took place 2 weeks ago but surprised investors by keeping rates unstable as the effects of Brexit have not been reflected in the economy yet. This pushed FTSE lower but the market expectation dictate for a rate hike in August along with a package of monetary loosing.
ECB has also shown some caution as Fed and BOE by keeping rates and QE measures on the same level as there is no clear picture of how Brexit will affect the Eurozone.
We see more uncertainty arising from the failure of Central Banks to shape the path of future interest rates. Although most market participants believe that ECB and BoE will loosen monetary policy, their stance still remains neutral and they have not indicated any possible hikes or cuts in interest rates which could be just a strategy to give investors the impression that there is no need for extreme monetary policy decisions. Fed is also expected to keep interests in the same level in the next meeting claiming the same reasons as ECB and BoE.
Weekly FTSE and S&P Winners/Losers
FTSE Weekly Winners/Losers
Ticker
Name
Weekly Return
EZJ
easyJet plc
-9.91 %
AAL
Anglo American PLC
-7.22 %
BLT
BHP Billiton PLC
-7.20 %
NXT
Next PLC
-4.94 %
RIO
Rio Tinto PLC
-4.31 %
TUI
Tui AG
-4.21 %
BT
BT Group PLC
-4.00 %
IAG
International Consolidated Airlines Group SA
-3.84 %
TSCO
Tesco PLC
-3.68 %
ANTO
Antofagasta PLC
-3.23 %
ARM
ARM Holdings PLC
41.13 %
SGE
Sage Group PLC
6.21 %
ADM
Admiral Group PLC
4.43 %
LAND
Land Securities Group PLC
4.40 %
RSA
RSA Insurance Group PLC
3.66 %
BLND
British Land Company PLC
3.66 %
LGEN
Legal & General Group PLC
3.61 %
AHT
Ashtead Group PLC
3.54 %
IHG
InterContinental Hotels Group PLC
3.42 %
PRU
Prudential PLC
3.42 %
Source: Bloomberg
S&P500 Weekly Winners/Losers
Ticker
Name
Weekly Return
NFLX
Netflix Inc
-12.70 %
LUV
Southwest Airlines Co
-12.35 %
DO
Diamond Offshore Drilling Inc
-8.98 %
MUR
Murphy Oil Corp
-8.94 %
CF
CF Industries Holdings Inc
-8.24 %
MRO
Marathon Oil Corp
-7.23 %
NUE
Nucor Corp
-6.97 %
RIG
Transocean Ltd
-6.34 %
HAS
Hasbro Inc
-5.96 %
GWW
W W Grainger Inc
-5.82 %
CHK
Chesapeake Energy Corp
21.95 %
EBAY
eBay Inc
15.76 %
QCOM
Qualcomm Inc
11.69 %
URI
United Rentals Inc
11.55 %
CI
Cigna Corp
10.88 %
HUM
Humana Inc
10.80 %
CTAS
Cintas Corp
10.60 %
BIIB
Biogen Inc
10.56 %
CMG
Chipotle Mexican Grill Inc
9.29 %
STX
Seagate Technology PLC
9.27 %
Source: Bloomberg
Stock Markets Outlook
The past week has been quite good for equity markets with the main indices around the world showing positive performance. However, European indices are still yet to recover from Brexit while the FTSE has returned 6.2% in the period. We believe that the recent rally of the equity markets is not supported by fundamentals given the political instability in Europe and Middle East as well as the macroeconomic risks arising from this. The economic sentiment has already been influenced with retail sales in UK taking a serious hit last month. We believe that the start of talks about the way UK will exit EU and the slowdown in country's growth could weigh on investors sentiment. In addition a hike in discount rates used to evaluating UK stocks could mean lower valuations. A great deal of caution is needed as the rally has driven prices up without any fundamental change in earnings expectations and the volatility remains in historical lows.
Next Week's Economic Calendar
The economic calendar for next week includes the G20 meeting the consumer confidence in US (Tuesday), GDP for UK and Fed's interest rate decision (Wednesday), GDP (US and EU) and Unemployment in EU on Friday.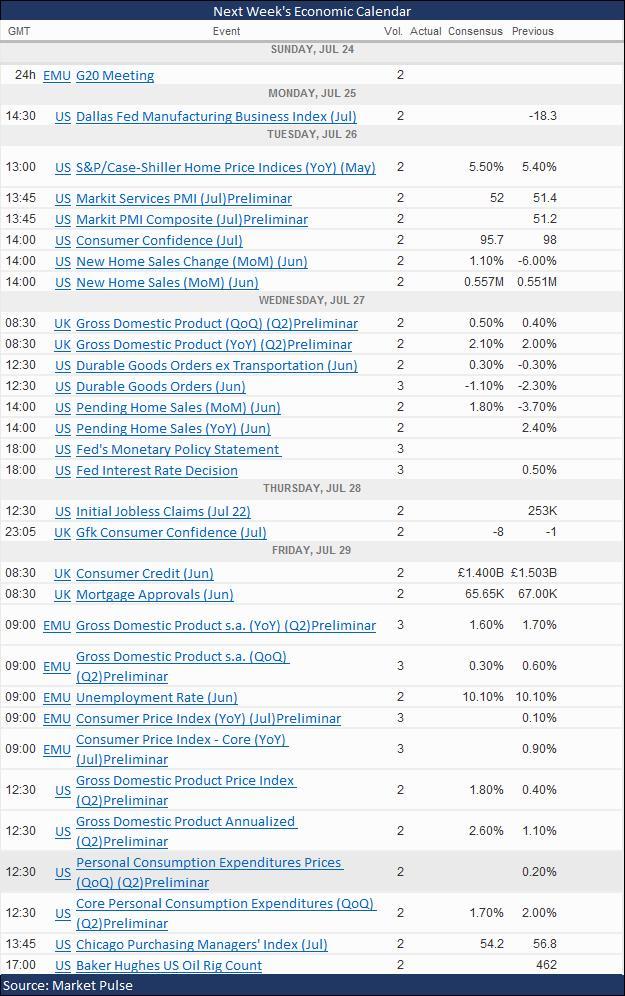 Disclosure: I/we have no positions in any stocks mentioned, and no plans to initiate any positions within the next 72 hours.
I wrote this article myself, and it expresses my own opinions. I am not receiving compensation for it (other than from Seeking Alpha). I have no business relationship with any company whose stock is mentioned in this article.