Navient (NASDAQ:NAVI) is the new face of the historic Sallie Mae, the company that has financed student loans and allowed many Americans to attend college for decades. It has provided loans to 12 million customers, and so is crucial to the current state of affairs in higher education. Given the calls that many have made about a bubble in higher education, NAVI would be a clear short target. However, the case needs to be made that higher education is indeed a bubble and that Navient will suffer in the case it pops.
Fundamental Analysis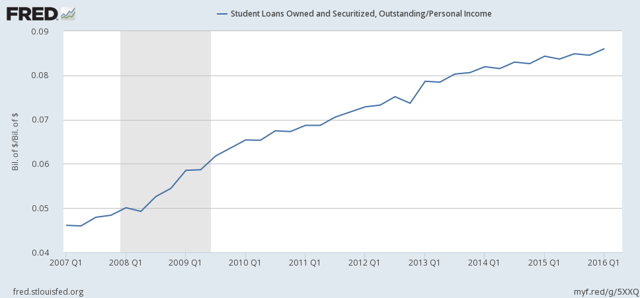 As an obvious understatement, student loans are a big market. In 2007, student loans were valued at less than 5% of all of the personal income in this country. Most recently, student loans have soared to become nearly 9% of all personal income, about doubling in just 9 years.
While many have talked about consumers deleveraging, it seems that instead of putting debt on credit cards, consumers have been going into debt to pay for college education for their children. And given the massive price increases in tuitions, it is easy to understand.
While debt accumulation does not necessarily mean that there is a bubble, default and delinquency rates do. According to the Wall Street Journal, of the borrowers who talked about federal student loans, 40% are either behind or not making payments at all, and even though Navient claims that conditions are improving, "that progress largely reflected a surge in those entering a program for distressed borrowers to lower their payments."
So what we are seeing is that those students who have taken out loans are not able to repay. Can you imagine a bond market where 40% of the loans you have made are now delinquent? With nearly $1.4 trillion currently owed by students, there is $560 billion in distressed debt out there that is not correctly valued. In fact, it is probably worth absolutely nothing. Navient can try to spin it however it wants, but it knows that this is a massive problem, and this with unemployment rates below 5%. Imagine what is going to happen if we start to see any kind of rise in unemployment!
In its most recent earnings conference, CEO Jack Remondi stated, "For the class of 2015, 7% of borrowers were more than 90 days past due after six months in repayment. Three times lower than the class of 2010. It's also 22% lower than the class of 2014." Is this really the best news that it can come up with? After having only had to repay for 6 months, 7% of its borrowers are already 90 days past due? Where in the world do you see this kind of delinquency outside of payday loan centers and rent to own stores?
These bonds are not being correctly priced, and with a price to book of 1.24, they are being massively overpriced. That book is possibly worth half of its stated value, and if unemployment rises it is worth even less.
Technical Analysis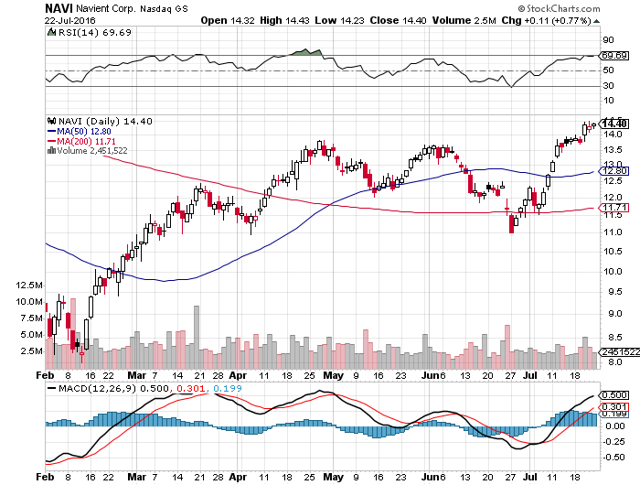 After having posted a golden arrow in April, Navient has oscillated but basically gone nowhere. There seems to be strong resistance at $14 that was just challenged today as Navient posted earnings. Corresponding to this breakout we see RSI indicating overbought status. The last time that this happened, NAVI posted a quick 10% correction. That also happened when the RSI went to 60 just last month, and that brought about a 20% correction.
Recent memory shows that when NAVI reaches these peaks, a quick correction is just around the corner. So even in the short term we can expect NAVI to drop at least below $13 within a month. Long term, and based on the awful fundamentals, NAVI is going to go back to $8.5, and I expect much lower. If the business delinquencies report for the 2nd quarter of 2016 is again ugly, then we should expect high yield to crash and Navient along with it (since their recoveries have paralleled each other). Navient could be closer to 0 in the next few months if high yield tanks, since this would likely spark a recession that Navient will in no way be able to survive.
Summary and Action to Take
Given the terrible fundamentals in student loans and the continuing defaults, Navient will not be able to survive even a small shock to the economy. If unemployment dips even more, delinquencies will rise even further and bankrupt this company. For now, I would buy put options for the quick correction that I expect, and also short the stock outright for a longer term correction. Whatever you do, do not attempt going long with such a toxic product as student loans.
Disclosure: I/we have no positions in any stocks mentioned, and no plans to initiate any positions within the next 72 hours.
I wrote this article myself, and it expresses my own opinions. I am not receiving compensation for it (other than from Seeking Alpha). I have no business relationship with any company whose stock is mentioned in this article.