Since PayPal's (NASDAQ:PYPL) IPO on July 20, 2015, the stock price has more or less ebbed to and fro: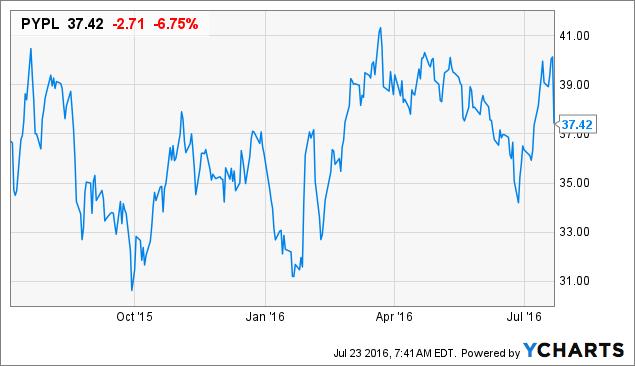 We see that in the past year, PayPal overall has reverted to a mean $37 mark in spite of the invariable lows and highs. As a recently listed company, perhaps investor sentiment for PayPal is not as strong as it potentially could be. This is especially plausible when we see that the company's free cash flow has continued to rise over the past year by 23 percent, and the company has gotten cheaper on a price to free cash flow valuation basis: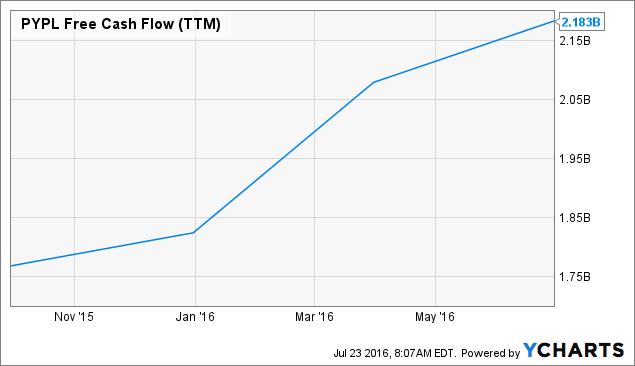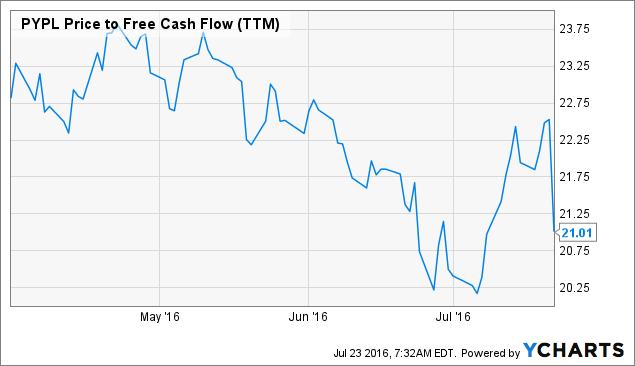 In this regard, I see a value opportunity for PayPal at a price of $37 and suspect that the market is significantly undervaluing the company. My opinion is not simply based on free cash flow metrics.
As a company, PayPal is virtually the only one in the industry which specializes solely in worldwide online payments. While PayPal invariably faces competition from services such as Amazon Payments, Apple Pay or Google Wallet, these services form only a part of a more integrated product offering for these companies, which has meant less flexibility. For instance, Google Wallet does not allow for transfer of money to other users as the platform is strictly for merchant payments. Moreover, due to wider brand recognition and a more international base, PayPal is becoming the de facto service for online payments.
Moreover, specialist companies attempting to compete with PayPal have so far been unable to achieve both the scale and brand recognition that PayPal has. For instance, Square (NYSE:SQ) has seen its operating expenses rise dramatically as it has struggled to expand to keep up with PayPal. The result has been a net loss of $77.6 million for the first six months ended 2015. Moreover, the company only controls 10% of its core market of businesses making $100,000 to $1 million in annual sales.
From a competitive standpoint, I see PayPal's dominance as enduring strongly for the foreseeable future. Admittedly, the company does face a challenge in that larger companies also have leverage to negotiate lower transaction rates given that such companies bring larger volume and the cost of switching payment systems is relatively low. In this regard, bargaining power remains on the side of customers.
However, as was pointed out, free cash flow as well as overall revenues for the firm continue to rise. In this regard, I am not too concerned about bargaining power in the short-term for as long as the company has the ability to increase transaction volume. Indeed, we see that in billions of US dollars, the company has managed to consistently grow transaction volume overall. This could well mean that PayPal develops a "Walmart-like" business model, where it can process payments with low transaction costs while increasing revenues through high volume.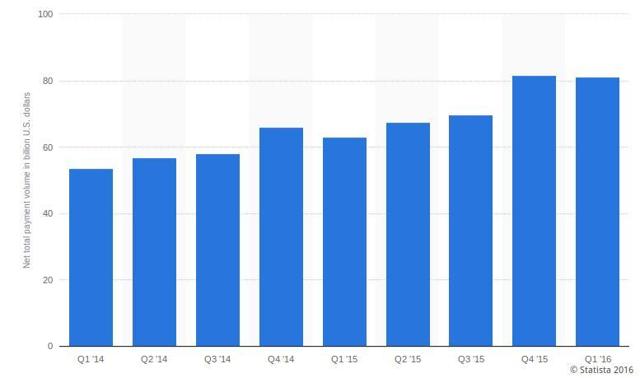 Source: Statista
To conclude, I see PayPal as having a significant competitive advantage in its marketplace and anticipate that higher volume will outweigh downward pressure on transaction payments. Moreover, with price having stayed constant and free cash flow rising, I take the view that PayPal is undervalued and we could well see a break above the $41 mark in the coming months.
Disclosure: I/we have no positions in any stocks mentioned, and no plans to initiate any positions within the next 72 hours.
I wrote this article myself, and it expresses my own opinions. I am not receiving compensation for it (other than from Seeking Alpha). I have no business relationship with any company whose stock is mentioned in this article.