Just over a year ago, I made the argument that Sweden's stock market was significantly overvalued, and downward pressure on interest rates as well as concern over the country's property market would result in further declines.
In the year that has followed, my forecast was confirmed with the OMX Stockholm 30 Index falling from a level of 1600 to 1377.47 at the time of writing: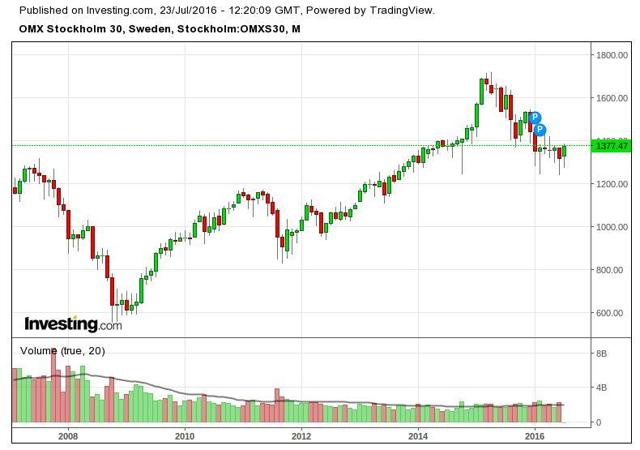 As we can see on the chart, this represents a significant fall in the context of the overall return of the index over the past ten-year period.
Moreover, with a weakening krona having become a primary casualty of lower rates in Sweden, the recent Brexit event has not helped matters in this regard. In the aftermath of Britain's decision to leave the European Union, plans to quell negative rates in the country being put on hold since a rise in rates could put prospects for an economic recovery in danger. Moreover, Bloomberg reports that SEB AB, the largest currency trader in Sweden, does not expect the Riksbank to raise rates until October 2017 due to global economic risks.
Additionally, a combination of negative rates and a declining krona had pushed up housing prices even further as more potential buyers looked to the domestic market rather than overseas. This caused an unsustainable rise in prices which have subsequently started falling, and Brexit has "fuelled the fire" so to speak. While apartment prices have risen 40 percent in Stockholm in the past three years, they have subsequently fallen by 2.7 percent in May which is the greatest decline since late 2008: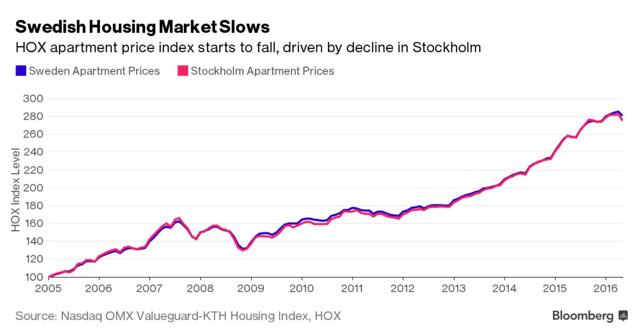 Source: Bloomberg
So, what does all this mean for the Swedish stock market? Well, given that financial sector companies account for large weightings on the overall index, a combination of negative rates and the subsequent dry up in borrowing rates as the property market slows down, the financial sector has declined and the OMXS30 has subsequently declined as well. For instance, Nordea Bank AB (OTCPK:NRBAY) (NDA-SEK) and Svenska Handelsbanken AB (OTCPK:SVNLY) (SHB-A) have declined by 30% and 22% in the past year respectively. Accordingly, the overall index has fallen in tandem.
Ultimately, it does not look like negative rates will be lifted in Sweden any time soon, in spite of growing strain on the property market. I expect that borrowing rates will begin to decline significantly in spite of negative rates, and this will accordingly have a negative effect on the overall index.
Disclosure: I/we have no positions in any stocks mentioned, and no plans to initiate any positions within the next 72 hours.
I wrote this article myself, and it expresses my own opinions. I am not receiving compensation for it (other than from Seeking Alpha). I have no business relationship with any company whose stock is mentioned in this article.
Editor's Note: This article discusses one or more securities that do not trade on a major U.S. exchange. Please be aware of the risks associated with these stocks.